Trade Review Of The Day: Yelp Looking Like the Real Deal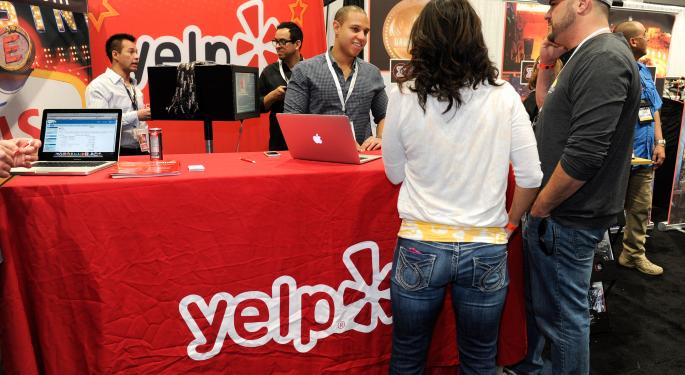 ---
Internet Software & Services had a stellar 2013 and is the place to be once again through the first month of the new year.
While the hot stocks like Facebook, Google, and Pandora Media garner all of the attention as they break to new all-time highs, some under-the-radar names have emerged as great plays as we head into the second month of 2014.
Yelp (NYSE: YELP) is one stock that has been "flying under the radar" lately after being spotlight through most of 2013. YELP skyrocketed from $18.85 at the end of 2012 all the way to a $75 open on October 21. That is good for a 297 percent gain in just under 11 months! Talk about a momentum trade!
However, following the October 21 top, YELP hit a rather significant consolidation phase. The stock traded a rather volatile range from mid-October to early November, and looked like it was in for a serious breakdown towards the end of November. Normally, after a big momentum move like YELP had, traders knock the thing back down to earth and retrace a lot of the parabolic move. But that's not what happened with YELP.
In December, buyers stepped in around $60 and put up a strong month. Then in early January, YELP broke out of the intermediate-term range to the upside, which is very significant. YELP had a two month consolidation phase for traders to work off the overbought condition, which eliminates the "massive blow up" risk after a big momentum move. It also proves that the rally is still on, and may just be getting started.
Currently, YELP has pulled back a bit from fresh all-time-highs on January 21 to test the breakout. YELP seems to have found short-term footing around the $73-$75 area, and has clear upside to at least the January 21 high.
From current prices, a quick move to the January 21 high would net a gain of 9.11 percent. A stop at $72 seems appropriate, making the downside risk 6.12 percent. Thus, even though the stock can be volatile, the potential reward outweighs the potential risk, and the technical picture is working in the buyer's favor.
The buzz surrounding YELP may have quieted as 2013 came to a close, but there is a great trading opportunity here. And if YELP can break to new highs in February, it might be in for another big momentum move moving forward.
When to Consider Entering The Trade:
At the current price (~$76.70).
When to Consider Exiting the Trade:
At a close below $72.00 (Breakdown) / An intraday price of $83.69 or above (Profit-Taking)
Disclosure: At the time of publication the editor and affiliated companies own the following positions: None
Note: Positions may be bought or sold while this publication is in circulation without notice.
Yelp Inc - Last 30 Days

Yelp Inc - Last 3 Months

Yelp Inc - Last 6 Months

Posted in: Long Ideas Education Trading Ideas General Best of Benzinga