Pig Farmer Mr. Womack Always Found Success In The Markets...The Reason Why May Surprise You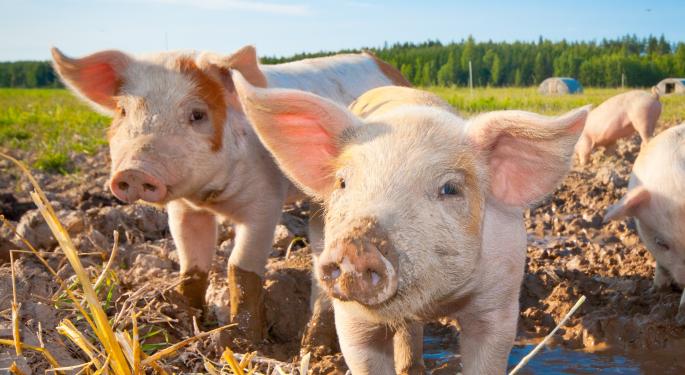 Mr. Womack (the pig farmer) was introduced to the world by John Train back in 1978 article in Fortune magazine. He was an investor who on balance had never lost money in the stock market.
Womack may have had a pick or two that didn't work, out but most of them did and he made some pretty impressive returns in the stock market.
His technique was the essence of simplicity.
When he saw that the newspapers and TV were full of dire predictions about the market and warnings of doom and gloom were everywhere, he jumped in his truck, drove to town and bought a bunch of stocks that had fallen a lot and paid dividends. He then drove home and went back to doing whatever it is farmers do with their time.
See also: The Market Noise Is Just That - Noise
When he saw a few years later that the news was now full of confident forecasts of continually rising stock prices and bold headlines of the massive profit potential of stocks, he drove back to town and sold them. He went back to farming until the news once again turned dark and ugly and repeated the process.
In layman's terms, he bought low and sold high.
Could it really be that easy? Can you beat the market just by buying huge sell-off and selling when the market turns euphoric and upbeat?
Let's make some quick 'back of the envelope' calculations with a value twist and see if it actually works. An investor who was able to buy within 20 percent of the lows and sold within 20 percent of the eventual high between 2002 and the end of 2012 did okay for himself. He bought stocks in June of 2003 and sold them in August of 2005 and then was back in the market in January of 2009 and out in June of 2013.
Womack earned, not including dividends, about 7.45 percent annually just a little short of the fully invested return of 8.03 percent during that time. Assuming he collected a few dividends along the way and we did as well, if not a little better, than the fully invested portfolio.
Now, let's add a value twist.
It is known from academic studies and real world results that investors who concentrate on stocks trading below book value earn a return premium of 50 percent over the market indexes. It seems silly to add that to the index return when it is known that using value in combination of things like F-scores and gross profitability to asset ratios actually earn a premium of closer to 70 percent but let's be conservative and use 50 percent. Now investors earn an average annual return without dividends of 10.08 percent. That does not include dividends or any interest we earned on our cash while we were out of the market.
See also: How To Unlock The Secret Of Superstar Investing
Now take a look at a somewhat more astute individual who is more attuned to the cycles of fear and greed and is able to buy within 10 percent of the low and sell within 10 percent of the high. This individual is on stocks from July of 2002 and goes back to cash in November of 2006. He jumps back in the stock market in January of 2009 and is out in August of 2013.
The index investor earns a return of 9.89 percent while his value-oriented cousin racks up an eye popping total return of 14.2 percent annually on average. Again, this does not include dividends or interest on cash while out of the market. The buy and hold investor earned a return of 8.03 percent provided he had the stomach to stay in through both gut churning declines and eventual recoveries.
It seems Mr. Womack was right all along.
The path to market success is not trading every day or trying to make predictions about which stock or sector would be the most popular over the next few weeks. It doesn't have much to do with beating quarterly estimates or what kind of pretty pattern the price chart is making. Investors need to think more like the pig farmer and less like a horse bettor to make money in the market over time.
Buying cheap stocks at the point of maximum pessimism is the key to investing success.
A lot of skeptics will suggest that buying within 20 percent of the low is just not possible, but if you pay attention to the ratio of total market capitalization of US stocks the total gross national product, The Tobin Q ratio, the Value Line Median Appreciation Potential and the number of stocks trading below book value and for less than current assets at any given time, you can come pretty close.
In addition if you focus on buying stocks at a discount to their asset value and sell them when they become fairly valued you will naturally be buying more stocks as markets bottom and selling them as stocks get near a peak.
Buy low, sell high and buy safe and focus on cheap stocks.
Simple in theory, hard in practice -- but it works extraordinarily well.
Tags: Fortune John Train Mr. Womack pig farmers
Posted in: Long Ideas Education Trading Ideas General Best of Benzinga