Anka Metcalf, Founder of TradeOutLoud.com, Keeps Upbeat Attitude on the Market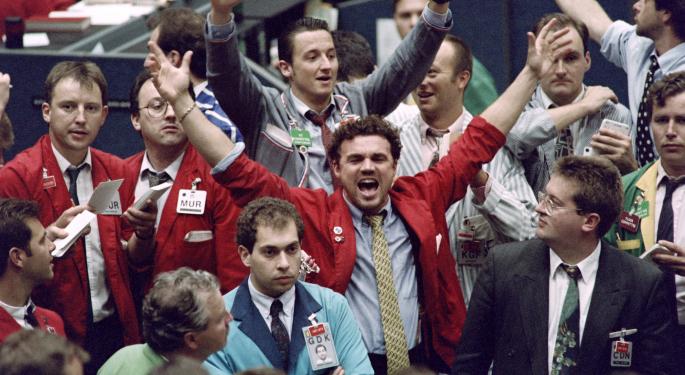 Anka Metcalf said she follows the entire universe. It's a lofty perch, for sure, but one that helps keep her on top of things.
"I scan every night and every morning before the market opens," Metcalf told Benzinga's pre-market broadcast. "I use two monitors just for scanning."
Metcalf has been active in the trading and investing arena since 2003 and has been a full-time day-trader since 2005. She holds a bachelor's degree from the University of Bucharest and a Master's degree from the Academy of Economic Studies in International Transactions and Stock Market. She is an experienced equity, forex and futures day, swing and position trader.
Metcalf claims to be a very active gap trader, where she zooms in on the one-two minute charts. On the intradays, she follows the trend and selects a stock after 10 a.m., when trend is somewhat established. She is a long-time user of Trade Ideas.
Related: Cannabis Stock Analyst Talks About High Revenue Potential
"At the open, I look for gaps. The scanner looks for my (built-in) criteria," Metcalf said. "Momentum plays a big role for scalping opportunities. Looking for support/resistance levels - looking to trade with the market."
She wasn't too thrilled when speaking about J.C. Penney (NYSE: JCP). Metcalf said if the stock goes below $9.50, she believes it could break below $9 and end up reaching its previous 52-week low of $6.24. "Not very bullish. not too thrilled to go long," she said.
Metcalf focuses mostly on about five or six currency pairs, such as the euro-dollar and dollar/yen, and usually keeps about eight or nine positions open every day.
Over the years, Metcalf has created a unique and highly successful, simple and easy-to-follow trading system based on price support and resistance levels. This is coordinated with trigger times, chart correlation and a proprietary set of rules that enable her and her traders to be very selective, patient and find high odds trades with ease.
"The most important thing I teach is technical analysis," she said, while putting an emphasis money management and to reinforce with discipline. "You're not just going to jump in if (a stock) takes off without you. You have to wait for another opportunity or just wait for another stock to come up."
Metcalf said once you get proper education, you should have realistic expectations. "Don't go unarmed: find a good mentor you can follow and learn from before you trade."
Posted-In: Anka Metcalf MarketfyEducation Entrepreneurship Personal Finance Trading Ideas Interview General Best of Benzinga
View Comments and Join the Discussion!