Blankfein, Buffett Bring '10,000 Small Businesses' Initiative to Detroit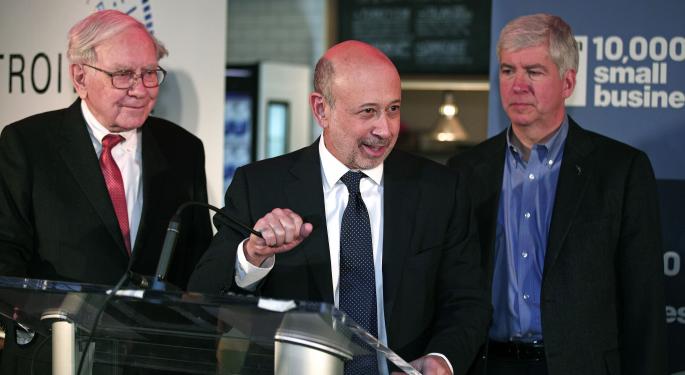 Lloyd Blankfein, CEO of Goldman Sachs (NYSE: GS), was in Detroit on Tuesday, along with Berkshire Hathaway (NYSE: BRK-A) CEO Warren Buffett and several Michigan and Detroit-area politicians and businessmen.
Blankfein and Buffett introduced the launch of Detroit's 10,000 Small Businesses, a $20 million initiative intended to help create jobs and spur economic growth.
Detroit marks the 17th city the initiative has been brought to since 2009, part of a $500 million investment across the country.
"Growing small businesses - the leading engine of growing jobs," Blankfein said at the event inside Detroit's Ford Field. "Our goal is simple - to create jobs by getting small businesses the tools and support they need to grow."
See also: Invest Like Warren Buffet
Those in southeast Michigan have seen the Motor City crumble quickly and painfully over the last four decades. Residents are currently awaiting the judge's ruling on the city's bankruptcy filing. Blankfein has seen the biggest of cities fall into despair. While it would be the biggest U.S. city to ever be declared bankrupt, he has seen others fall on hard times.
"When I left college, New York City was bankrupt. It was a ghost town," Blankfein said, speaking to New York's economic troubles in the early and mid-1970s. "But you wouldn't know it five years later."
Detroit's business community (such as Dan Gilbert and the Ilitch Family) and start-up initiatives have seen a huge surge over the last few years. The 10,000 Small Businesses, which will begin in March 2014, looks to help those start-ups and small companies grow even further.
Small businesses located in southeast Michigan can qualify.
Other targeted qualifiers include:
Companies that consist of at least two full-time employees (including the owner);
Have been in operation for at least two years;
Revenue over $100,000 in the most recent fiscal year;
Business model scaled to create more jobs.
According to ICIC analysis of U.S. Census Bureau date for the Detroit -Warren-Livonia community, the southeast Michigan area is home to nearly 42,000 small businesses. The number of small businesses with fewer than 500 employees fell by over 10 percent from 2000 to 2010, according to a report in Small Business Administration.
The institutions offering classes include Wayne State University, Macomb Community College and Oakland Community College, the largest of its kind in Michigan.
Owners will have access to business education, where they can develop a growth plan to increase revenues and hire new employees. Goldman Sachs will commit $15 million in lending capital to two area intermediaries - Invest Detroit Foundation and Detroit Development Fund - which will use the funds to make loans for the owners. There will also be business advice, technical support and networking available to participating businesses.
"It's very exciting to be in Detroit today," Michigan Gov. Rick Snyder said, adding that about 20 businesses have already been accepted to the first set of classes.
Posted-In: News Education Entrepreneurship Events Economics Startups Small Business Interview Best of Benzinga
View Comments and Join the Discussion!