The Art of Trading Responsibly With BEAM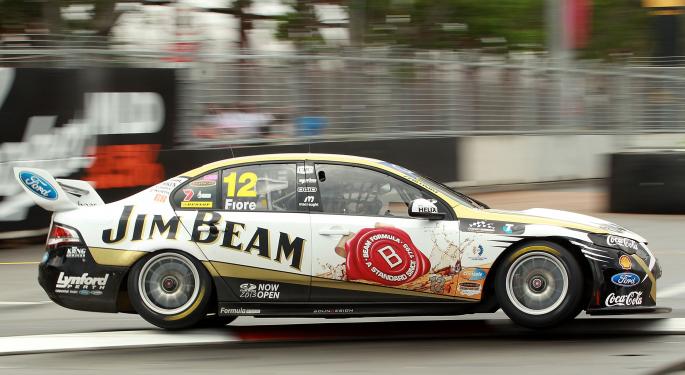 ---
Wednesday's Trade of the Day is a long swing-trade of the makers of Jim Beam, Beam Inc (NYSE: BEAM).
Given the extended nature of the market and heightened risk at these elevated levels, now feels like the right time to trade more conservatively. While taking shots on some of the more speculative stocks is always fun, BEAM represents a good trading opportunity and is a relatively less risky bet.
BEAM was having a decent year until a tumultuous summer hit alcohol producers (see also: Molson Coors (NYSE: TAP), Anheuser Busch (NYSE: BUD) April - July). After bottoming out around $61 at the end of August, BEAM has been on a bullish run through Q3 and into the final couple months of the year. Though the action has been choppy, BEAM features a set of higher highs and higher lows while maintaining healthy levels relative to its 50-day moving average.
BEAM recently hit highs of $70.34 on October 29, which is also the current short-term resistance level. Analyst Robert Ottenstein of ISI Group initiated BEAM on November 8 with a price target of $70, and BEAM's positive intermediate- and short-term trending suggest that the stock will push towards this price moving forward.
Thus, today's trade will be to play the long side of BEAM for a test of recent resistance at $70.34. BEAM doesn't make its next earnings announcement until January 24, 2014, so there is lessened risk of a volatile down-day during the holding period. To limit downside risk, our stop will be right at last Wednesday's intraday low ($66.67), as a close below this price would indicate that the technical picture no longer favors a move higher. The upside on this trade is 3.15 percent while the downside risk is 1.88 percent, making the reward to risk ratio a little over 2:1.
Obviously BEAM's potential upside isn't a home-run play, but playing a little more conservatively feels like the right thing to do given the market we're currently in.
When to Consider Entering The Trade:
At the current price (~$67.95).
When to Consider Exiting the Trade:
At a close below $66.67 (Breakdown) / An intraday price of $70.10 or above (Profit-Taking)
Disclosure: At the time of publication the editor and affiliated companies own the following positions: None
Note: Positions may be bought or sold while this publication is in circulation without notice.
Beam Inc - Last 30 Days

Beam Inc - Last 3 Months

Beam Inc - Last 6 Months

Tags: Jim Beam
Posted in: Long Ideas Education Trading Ideas General Best of Benzinga