Why MWI Veterinary Supply Was The Long Trade Of The Day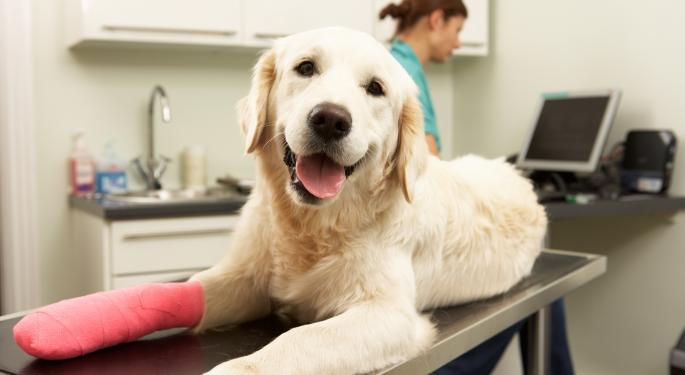 ---
While the market feels a bit toppy and major indices have rolled to a grinding halt this week, there are still plenty of stocks to trade to add some alpha to your portfolio.
A great way to play when things get dull is to buy intermediate- and long-term uptrending charts on a pullback. At the very least, these stocks are moving, so there are moves to be captured.
Today, MWI Veterinary Supply (NASDAQ: MWIV) fits this set-up, and taking a closer look reveals an attractive swing-trading opportunity.
See also: Specialty Medical Supplies CEO Chip Starnes on Being a Hostage
Looking at MWIV on a weekly basis reveals that the Health Care Distributors stock has been on a tear since January of 2012, only pausing for significant consolidation twice along the way (July '12, April '13). More recently, MWIV has been trending steadily higher since May, making higher highs and higher lows through the second half of this year. Currently, the stock has pulled back down to its 50-day moving average after hitting new all-time highs just south of $170 on October 22.
MWIV looks great operating just above its 50-day moving average, holding above it on a closing basis after testing it for three straight sessions last week. There is also considerable support around $155 as previous resistance becomes new support following a breakout on an up-trending stock. MWIV finally broke above $155 in the second week of October after failing to for a month straight. After bouncing off of $155 three times in a row recently, it is clear that $155 is a strong support level.
MWIV looks poised to make a quick run back to its all-time highs at $169.74 in the short-term. Health Care Distributors have been solid this quarter, and have not taken part in the Health Care sector stalling due to weakness in Biotech. Stops should be set at a close below $154.62, which would indicate a technical breakdown. With immediate upside to $169.74 and a stop at $154.62, from current prices the reward to risk ratio on this trade comes in at 7.43 percent to 2.18 percent, or a ratio of over 3:1.
With positive trending in the long-, intermediate-, and short-term, great support at $155, low correlations to the greater market, and a nice amount of short-term upside, MWIV looks like a great swing-trading opportunity this afternoon.
When to Consider Entering the Trade:
At the current price (~$158).
When to Consider Exiting the Trade:
At a close below $154.62 (Breakdown) / A close at $169.74 or above (Profit-Taking)
Disclosure: At the time of publication the editor and affiliated companies own the following positions: None
Note: Positions may be bought or sold while this publication is in circulation without notice.
MWI Veterinary Supply Inc - Last 30 Days

MWI Veterinary Supply Inc - Last 3 Months

MWI Veterinary Supply Inc - Last 6 Months

Tags: veterinary
Posted in: Long Ideas Education Trading Ideas General Best of Benzinga