Why You Should Buy EQT During an Oil & Gas Exploration & Production Flush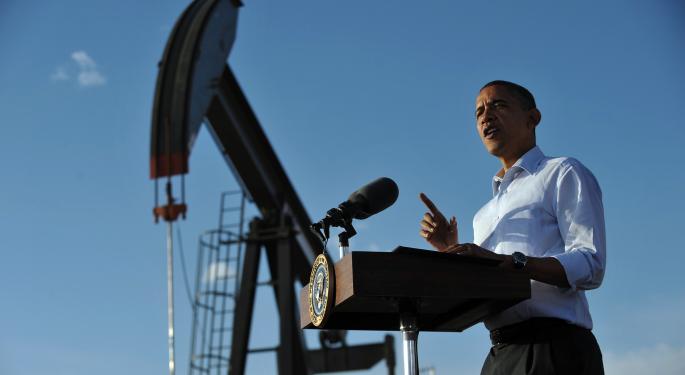 ---
Wednesday's market action hasn't been very good, though citing "liquidity concerns from China," as the primary driver of a 12 point drop on the S&P 500 in the first half-hour of trading isn't exactly a compelling cause for major concern.
Nevertheless, when the "necessary pullback" during bull runs does happen, certain spaces get slammed. Wednesday, it looks like Semiconductors and Oil & Gas Exploration & Production are the sub-industries taking a beating. While it's probably not the greatest strategy to pick out buys in problem areas, EQT Corp (NYSE: EQT) presents itself as a great buy this morning.
First, take a quick look at other Oil & Gas Exploration & Production stocks on a daily chart, just to get an idea of what's happening in the space today: FANG, BCEI, GPOR, EPL, XEC. They all elicit the same reaction - "Ouch!"
Now take a look at EQT, and suddenly it looks like we're dealing with a steady Staples stock. Buyers have stepped in this morning, and currently EQT is the best performing stock in the entire sub-industry.
EQT has been a "buy" ever since it held the $85 support level in the second week of October. After pulling back from weekly highs of $92.75 in mid-September, the stock pulled back to the $85 area over the next three weeks and quickly bounced higher, maintaining its positive trending and comfortable technical set-up.
Today's price action is even more encouraging. Despite residing in a sub-industry that is getting crushed this week, EQT has held up extremely well, and there has been some positive buy-side action on healthy volume this morning. Oil & Gas is one of those spaces that pulls back violently for a few days, then turns on a dime. Given the recent action, EQT should be able to hold the $85 price level while traders hammer this "rotation" move.
Even at current prices, EQT is an attractive buy as it hovers above its 50-day moving average. Thus, today's pullback in the space can be viewed as more of an "opportunity" or "discount" rather than a legitimate concern.
So, with a stop at the $85 area that recently held, and prospects for a move back to the mid-$90's, EQT is today's most compelling buy. Oil & Gas may not be a great space to play at the moment, but a good mantra to trade by is to "own the best and ignore the rest!" Below are some comparative charts showing EQT's relative out-performance of FANG (what a lot of Oil & Gas Exploration & Production stocks look like), just to visually show the ideas.
When to Consider Entering the Trade:
Buy at the current price (~$87.98).
When to Consider Exiting the Trade:
At a close below $85.22 (Breakdown) / A close above $91.41 (Profit-Taking)
Disclosure: At the time of publication the editor and affiliated companies own the following positions: EQT
Note: Positions may be bought or sold while this publication is in circulation without notice.
EQT Corp - Last 30 Days

EQT Corp - Last 3 Months

EQT Corp - Last 6 Months

Posted in: Long Ideas Education Technicals Trading Ideas General Best of Benzinga