How to Capitalize on Netflix's Misfortune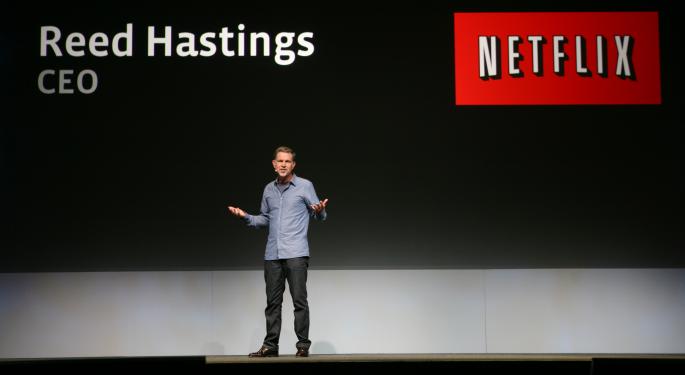 ---
Internet Software & Services has been one of the strongest sub-industries this year, and owning any of its constituents has been a profitable hold in 2013.
However, today there is some serious volatility in the space, due mostly to Netflix's (NASDAQ: NFLX) wild morning. NFLX opened the session +9.25 percent following a positive Q3 earnings announcement (beat on EPS, revs, raised guidance) and upgrades from several high-profile ratings agencies.
However, in one of the more bizarre moves in recent memory, NFLX was absolutely slammed for two straight hours, falling over 14 percent intraday and taking a lot of the Tech space with it. A handful of great stocks flushed lower with NFLX simply because they are related companies in a market move known as a "sympathy move."
While some sympathy moves can be infuriating, there are positive aspects of such a move. Looking a NFLX's dive - It offers a rare opportunity to get great prices on the other stocks it dragged down with it. While a broad range of stocks have sold-off in sympathy to NFLX, those same stocks likely won't share as strong a correlation with it moving forward.
So, while sympathy moves often ruin pretty looking daily charts, they also offer opportunities to get in on an otherwise strong stocks that will be looking to rebound in the short-term, or at least bounce a bit on the notion that the negative price action "wasn't that company's fault."
Web.com Group Inc (NASDAQ: WWWW) has been a stunning performer this year, and has a great technical set-up in the short-, intermediate-, and long-term. While the October 8th sell-off is a little concerning, the subsequent rebound and price action since has been very encouraging.
Even if NFLX didn't stumble this morning, WWWW would have been a terrific buy based on its sterling technicals. However, now that WWWW is available for 2.35 percent lower thanks to the NFLX sympathy move, it is even an even more attractive trade candidate. With a tight stop at $29.70 and a price target up in the mid-$30's at recent October highs, WWWW offers a great opportunity for a low-risk, high-reward trade on one of the year's best-performing Tech stocks. We would be buyer's at current prices and hold above $29.70, looking for a run back to $33+.
WWWW is a nice buy today, though there are plenty of other great ideas to consider if you're looking to play off of NFLX's misfortune: Pandora Media (NYSE: P), LinkedIn (NYSE: LNKD), WebMD (NASDAQ: WBMD), and Sohu.com (NASDAQ: SOHU). All have moved lower in sympathy while retaining great technical set-ups in the short-term.
When to Consider Entering the Trade:
Buy at the current price (~$30.57).
When to Consider Exiting the Trade:
At a close below $29.70 (Breakdown) / A close above $33.39 (Profit-Taking)
Disclosure: At the time of publication the editor and affiliated companies own the following positions: None
Web.com Group Inc - Last 30 Days

Web.com Group Inc - Last 3 Months

Web.com Group Inc - Last 6 Months

Posted in: Long Ideas Education Technicals Movers Trading Ideas General Best of Benzinga