No Health Insurance? This Company's Advanced Medical Technologies and Care Could Be Just for You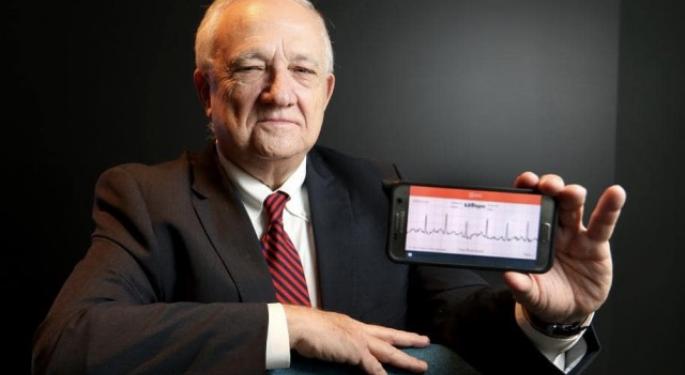 Dr. Yacov Geva, president, and CEO of G Medical Innovations
The following post was written and/or published as a collaboration between Benzinga's in-house sponsored content team and a financial partner of Benzinga.
The American Healthcare system is currently facing a unique situation. One of the world's most advanced economies, — with the largest pharmaceutical market with giants like Pfizer (NYSE: PFE) and Johnson & Johnson (NYSE: JNJ) — despite its technological advancements, is struggling to provide affordable healthcare to US Citizens.
From high costs, to a confused medical insurance system, the country cannot seem to find a lasting solution to the challenges crippling the medical sector.
Currently, the U.S. has one of the highest healthcare costs globally, spending about $3.6 trillion on healthcare in 2019 alone. That is an average of about $11,582 per person.
America's healthcare costs have increased over the past few decades — from 5% of gross domestic product (GDP) in 1960 to more than 18% in 2019.
The Center for Medicare & Medicaid Services (CMS) projects that by 2028, medical costs will climb to $6.2 trillion — about $18,000 per person — and will represent about 20% of GDP.
Further more, the healthcare system is deeply entangled with other social problems — disparities in income, education, housing, race, gender, and even geography. Low-income people and families are the most disadvantaged in accessing affordable care.
Per capita, health spending in the U.S. is more than 2 times higher than in Australia, France, Canada, New Zealand, and the United Kingdom.
The numbers don't look too great, and there seems to be a need for a concerted effort from stakeholders — the government, healthcare providers, Health Insurance companies and health-related technological companies — to salvage the situation.
Affordable Medical Care for the Uninsured
One company says it is helping America fix the healthcare deficit by making advanced medical care and technology accessible to all, especially low-income citizens and the uninsured population. This is G Medical Innovations Holdings (NASDAQ: GMVD).
G Medical innovations was established in 2014 with a very clear focus on developing vital-sign technologies and monitoring services. The technologies and services are designed to reduce the cost of healthcare and increase the patients' quality of life and quality of care.
G Medical Innovations is a next-generation mobile health (mHealth) and e-health company that develops and markets clinical and consumer medical-grade health monitoring solutions and offers end-to-end support for e-health projects.
With extensive experience in digital health and project management, the company is committed to raising the global level of healthcare by empowering caregivers and patients to better monitor, manage and improve clinical and personal health outcomes.
G Medical Innovations' impressive product array includes G Medical PATCH, Prizma Monitor With Universal Case, and Prizma G2. The devices can measure vital signs as electrical signals from the heart, oxygen saturation (SPO2), body temperature, heart rate, stress levels, glucose, weight, and blood pressure.
Dr. Yacov Geva, president, and CEO of G Medical Innovations, speaking at the Benzinga smallCAP conference, said the company's products are of higher quality and more affordable than the competition.
"The G PATCH measures 6 channels of ECG (electrocardiogram) versus 1 channel of ECG by the competition. This is a significant difference since the heart is a 3 dimensional organ and so, by having more channels, we can significantly increase the probability to find more arrhythmias," he said of the company's G Medical PATCH (G PATCH) product.
The company has received emergency clearance by the Food and Drug Administration (FDA) for the G PATCH to help in diagnosing the severe condition of Long QT Syndrome (QT Prolongation). It is currently the only product that monitors that syndrome, while the Prizma monitors vital signs.
G Medical Innovations' technology is an FDA-approved device that produces diagnostic data with electronic medical records (EMR) functionality.
Over the Counter
G Medical Innovations is focusing on meeting the needs of millions of people in the consumer market as well.
"We are looking to capitalize on the 10s of millions of Americans that need to be able to monitor themselves, including millions of Americans who don't have any insurance but need the means to get medical services. The Prizma can be a very substantial bridge for those uninsured," Dr. Geva explained.
The Prizma device is a great over-the-counter solution for diagnostic data monitoring, for proactive health consumers. Highlights include:
FDA-approved for over-the-counter use by consumers to collect and store their own health diagnostic data
Health-conscious individuals take an active role in their preventive health
User-generated data retained in personal profiles in-app and online
Subscription-based clinical monitoring and call center support
Data collected can be used by a medical professional for interpretation and assessment for telehealth and telemedicine
G Medical Innovations plans to sell the Prizma G2 for $247 with different service levels. "Service levels include the basic subscription via the cloud for $10 a month, and premium service level that includes 24/7 call center support, staffed by certified technicians, for $49 a month," Dr. Geva said.
Read more about G Medical Innovations here.
The preceding post was written and/or published as a collaboration between Benzinga's in-house sponsored content team and a financial partner of Benzinga. Although the piece is not and should not be construed as editorial content, the sponsored content team works to ensure that any and all information contained within is true and accurate to the best of their knowledge and research. This content is for informational purposes only and not intended to be investing advice.
View Comments and Join the Discussion!
Posted-In: G Medical Partner ContentBiotech Penny Stocks Health Care General