The COVID-19 Vaccine Makes Its Way to the UK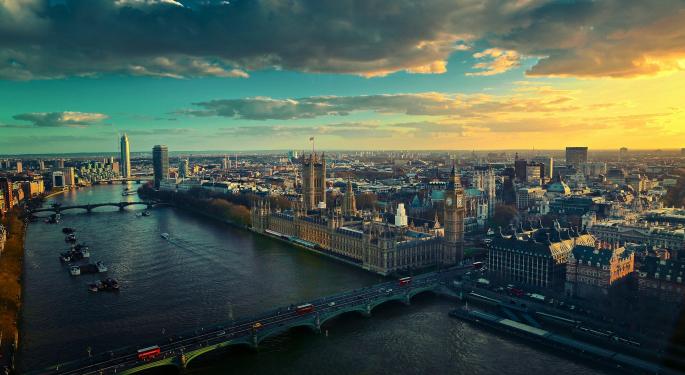 The UK has officially become the first country to approv thee Pfizer (NYSE: PFE) and BioNtech (NASDAQ: BNTX) COVID-19 vaccine. Wednesday marked a landmark moment in the battle against the pandemic as the first doses of the vaccine will be rolled out throughout the country as early as next week. UK has been among the worst hit by the pandemic with highest death toll in Europe and its government being heavily criticized for its handling of the crisis. It needed to pull off big to save the day and it has leapfrogged both the EU and the US in approving the vaccine.
Logistical challenges
Shipping, distributing and administering this particular vaccine is by no means easy as it needs to be kept at temperatures of minus 70 degrees Celsius which equates to minus 94 Fahrenheit prior to its use. Once the vaccine is taken out of its special suitcase called the 'pizza box' with dry ice, it is mixed with a liquid solution and can last up to five days at 2 to 8 degrees Celsius. Fortunately, this can be easily found in hospitals and their regular refrigerators. Roughly 800,000 doses of the vaccine were being packaged at the company's Belgian manufacturing plant on Wednesday. How and when they will arrive to the UK's 50 hospitals is a secret for security reasons. Doctors and nurses in the country's National Health Service will be among the first to be vaccinated, along with nursing home staff.
mRNA technology
This particular vaccine uses a new approach called the messenger RNA, or mRNA. To put it simply, it is a form of a genetic code that cells can "read". Once this vaccine is administered, the mRNA instructs cells in the body to create a piece of spike protein that is part of the virus it aims to defeat. The immune system then sees it, identifies it as a foreign invader, and is therefore prepared to defend itself when the actual virus hits by creating antibodies. Scientists have experimented with this technology for years, but not a single vaccine made it to the market- until now. These two companies joined forces and made a prophetic bet in this novel avenue to antibody creation. They ended up delivering extraordinary results in a stunning amount of time.
The side effects
Serious side effects were absent throughout the large-scale trials. The only notable side effect was fatigue in some participants. But, this is actually a 'good thing' as Paul Offit, professor of pediatrics at the Children's Hospital of Philadelphia, explained to CNN on Wednesday. Such side effects show that the immune response is actually working. Therefore, the flu-like side effects are actually a good sign that the vaccine is doing its job. By the time you're entitled to a second dose, you're already in a much better position to fight the virus.
J&J is still in the race
Unlike Astrazeneca (NASDAQ: AZN) and Moderna (NASDAQ: MRNA), Johnson & Johnson (NYSE: JNJ) is the only candidate promising easy single dosing and storage, making its vaccine the most suitable to be distributed and administered across the globe. Therefore, despite a late start, its vaccine might still win the race due to pricing and convenience. Its one-dose trial preliminarily reported favorable safety and efficacy data in early October, so it is reasonable to expect another update before the end of the year. If it remains on track, it could be distributed to the public at the beginning of next year. Its vaccine will be stable for three months without requiring South Pole-like temperatures as a refrigerator will do just fine. The cost per dose will be around $10, which also makes it much less expensive than Moderna's $32 or Pfizer's $19.50, although AstraZeneca is leading that race by planning to charge around $3 per dose. Both AstraZeneca and J&J will not be seeking the profit throughout the pandemic. If J&J's one-dose candidate is proven effective, it will have what it takes to be a highly competitive candidate.
Help is on the way
According to UK's PM, Boris Johnson, the protection provided by vaccines is what will ultimately enable us to reclaim our lives and help the economy to come back from the dead. But this particular scientific development is much more than that as the process that usually lasts a decade has been achieved within less than a year. It is an ode to the immense value of human potential that resulted in immeasurable technological advancement. The pandemic gave the industry that was long criticized for its greed a shot for redemption, and pharmaceutical companies jumped at it, becoming the only superheroes that can save us out of this horror that took more than 1.4 million lives across the globe. Dear world, help is on the way.
This article is not a press release and is contributed by IAMNewswire. It should not be construed as investment advice at any time please read the full disclosure. IAM Newswire does not hold any position in the mentioned companies. Press Releases – If you are looking for full Press release distribution contact: press@iamnewswire.com Contributors – IAM Newswire accepts pitches. If you're interested in becoming an IAM journalist contact: contributors@iamnewswire.com
The post The COVID-19 Vaccine Makes Its Way to the UK appeared first on IAM Newswire.
View Comments and Join the Discussion!
Posted-In: IAM NewswireBiotech News Health Care General