Why Array BioPharma Shares Fell Thursday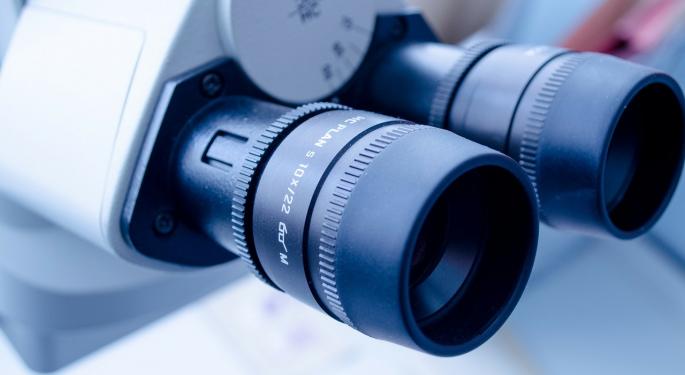 Pharmaceutical company Array BioPharma Inc. (NASDAQ: ARRY) shares dipped more than 3 percent Thursday following comments from a sell-side analyst that investors may have to wait longer for results from Array's BeaconCRC colon cancer study.
The results were expected to be presented at the American Society of Clinical Oncology meeting later this month, but the late-breaking abstract no longer appears on the conference's program, a Bloomberg reporter tweeted Thursday.
Michelle Fay Cortez said the abstract was removed from the conference agenda.
If you're expecting to hear $ARRY's BEACON CRC data at #ASCO19, you might want to adjust your expectations. Abstract removed from the program. @CristinNara

— Michelle Fay Cortez (@FayCortez) May 16, 2019
Array BioPharma CEO Ron Squarer addressed the company's presence or lack thereof at the upcoming ASCO meeting while speaking Thursday at the Bank of America Merrill Lynch Healthcare Conference in Las Vegas.
The company has long said that it will announce the results in the first half of 2019, the CEO said.
"Some of the confusion around ASCO comes from the fact that we had to put a placeholder in — it's quite common — a long time ago, not knowing when the data would be available. We feel that we're still on track from our original expectations and so, as I said, if we are able to announce top-line results before ASCO, we'll see if we can't have some audience there."
If the data comes after the ASCO meeting, there are other upcoming meetings where the company could present, Squarer said.
"You don't always get to choose when your data's ready to be announced."
Benzinga has reached out to Array BioPharma for comment.
Array Biopharma shares were down 1.58 percent at $21.83 at the close Thursday.
Related Links:
The Daily Biotech Pulse: Osmotica Flies, Catalyst Plummets, GW Pharma On Track To File For Expanded Use Of Epidiolex
Piper Jaffray, Stifel Defend Array Biopharma As Stock Falls On Profit-Taking
Editor's note: this story has been updated with comments made Thursday by Array BioPharma CEO Ron Squarer.
View Comments and Join the Discussion!