11 Stocks That Moved From ESMO 2018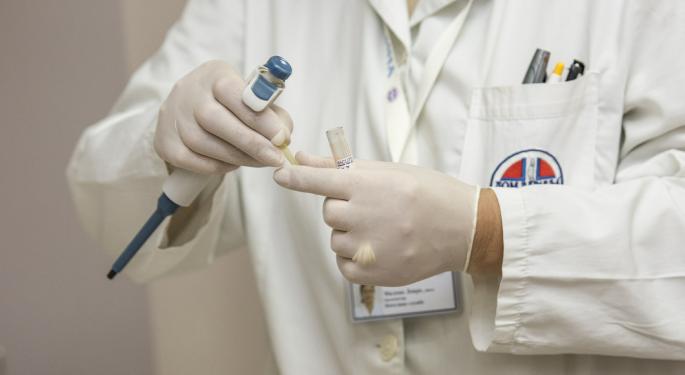 The 2018 European Society for Medical Oncology Congress started Oct. 19 and runs through Oct. 23. Presentations at the congress over the weekend created flutter among stocks of large-cap pharma and biotech companies.
Although at the outset most data looked promising, sifting through the nitty-gritties, investors expressed disappointment at some of the trial results. Here's a list of stocks that are moving Monday, and a peek into what triggered the moves. (Note: This is not a complete list of presentations from the five-day conference.)
The Gainers
Dynavax Technologies Corporation (NASDAQ: DVAX)
Interim Phase 1b/2 data from a study dubbed SYNERGY-001 showed Dynavax's lead candidate SD-101, an intratumoral TLR9 agonist, in combination with Merck & Co., Inc (NYSE: MRK)'s Keytruda, in patients with advanced melanoma naïve to PD-1/L1 therapy showed an overall response rate of 70 percent in patients receiving less than or equal to 2 mg dose, and a 48 percent ORR in patients receiving 8 mg dose of SD-101.
The company termed the results as encouraging, as the ORR in the 2mg group remained consistent with data presented at the 2018 ASCO meeting, despite patients increasing by 50 percent. The combo was found to be well tolerated. The data was presented as a late-breaking poster presentation and discussion session.
The stock was up 8.4 percent to $11.78 at time of publication.
Oncolytics Biotech, Inc. (NASDAQ: ONCY)
The company announced positive trial results for its pelareorep, an intravenously delivered immuno-oncolytic virus turning cold tumors hot, being tested for treating patients with KRAS mutant metastatic colorectal cancer.
The stock was up 1.5 percent to $3.22.
Loxo Oncology Inc (NASDAQ: LOXO)
Updated data for larotrectinib, an investigational CNS-active TRK inhibitor, that included data from one year of additional follow-up for the 55 patient initially enrolled, and additional 67 patients subsequently enrolled, showed that median duration of response was not reached with one year of additional follow-up. Meanwhile, the 67 newly enrolled patients showed 81 percent ORR.
Shares of Loxo were last seen trading up marginally to $160.59.
See Also: The Week Ahead In Biotech: PDUFA Dates, Clinical Trial Results, Large-Cap Pharma Earnings And IPOs
The Losers
Bristol-Myers Squibb Co (NYSE: BMY) announced multiple presentations pertaining to its Opdivo in combination with Yervoy for treating:
Patients with platinum-pretreated metastatic urothelial carcinoma (Phase 1/2 CHECKMATE-032 trial showed Opdivo and Yervoy in 1:3 ratio showed higher response rate as well as numerically longer progression-free survival, or PFS, and overall survival, or OS, than when used in 3:1 proportion or when Opdivo is used as a monotherapy)
Previously untreated patients with MSI-H or dMMR metastatic colorectal cancer (new data from CHECKMATE-142 study of Opdivo and low-dose Yervoy showed durable clinical benefit as a first-line treatment option)
Advanced melanoma (4-year data from the Phase 3 CHECKMATE-067 trial showed long-term survival benefits as a first-line treatment option)
Previously untreated advanced or metastatic renal cell carcinoma( Phase 3 CHECKMATE-214 study showed Opdivo-Yervoy combo showed significantly longer treatment-free survival.
The negative stock reaction could be traced back to a release from the company late Friday, which said the U.S. regulatory review period for its Opdivo-low-dose Yervoy combo for treating metastatic first-line non-small cell lung cancer patients, or NSCLC, with tumor mutational burden greater than or equal to 10 mutations/megabase has been extended by three months. The extension relates to the additional time the FDA needs to look at the overall survival analysis data the company submitted. The new PDUFA date has been fixed for May 20, 2019.
Shares were down 5.43 percent to $51.35.
Neon Therapeutics Inc (NASDAQ: NTGN)
Updated Phase 1b data on Neon's NEO-PV-01, its personal neoantigen vaccine, evaluated along with Bristol-Myers' Opdivo demonstrated safety and tolerability.
The stock was down 13 percent to $7.65.
Mirati Therapeutics Inc (NASDAQ: MRTX)
Mirati presented updated analysis from the Phase 2 trial of its sitravatinib in combination with Opdivo, which showed significant clinical activity in patients with checkpoint-refractory NSCLC. Of the 56 evaluable patients, only 16 patients showed partial or complete responses, while tumor regression was seen in 45 patients.
Following an end-of-Phase 2 meeting with the FDA, the company said it will initiate a Phase 3 trial in second-line patients comparing sitravatinib plus a checkpoint inhibitor with docetaxel.
The stock was down 18.3 percent to $32.67.
Exelixis, Inc. (NASDAQ: EXEL)
Exelixis announced results from two analyses that evaluated the effect of PD-L1 expression or prior treatment with checkpoint inhibitors on the efficacy of its cabozantinib in patients with advanced renal cell carcinoma, or RCC, which showed improved clinical outcomes relative to comparators.
Another presentation made Monday on the Phase 1b COSMIC-021 study of cabozantinib in combination with atezolizumab in previously untreated advanced RCC showed the combo was well tolerated and produced promising anti-tumor activity.
Exelixis was down 3.4 percent at $15.72.
Athenex Inc (NASDAQ: ATNX)
Results from a 24-patient Phase 2 trial of its Oraxol for treating metastatic breast cancer who failed previous chemotherapies showed 45.8 percent partial remission, 41.7 percent stable disease and the remainder having progressive disease.
The stock was down 5 percent at $12.27.
TESARO Inc (NASDAQ: TSRO)
Updated Phase 1 GARNET study data of its anti-PD-1 antibody TSR-042 in patients with recurrent or advanced microsatellite instability high endometrial cancer showed robust activity. Interim safety data from the Phase 3 PRIMA trial of niraparib in patients with first-line ovarian cancer regardless of biomarker status showed favorable tolerability profile when dosed according to the patient's weight and platelet count.
The company said it expects to release top-line results from the PRIMA study in late 2019.
The stock slid 8.8 percent to $38.05.
Incyte Corporation (NASDAQ: INCY)
Updated Phase 2 data for Pemigatinib, Incyte's selective FGFR inhibitor, in patients with advanced/metastatic or surgically unresectable bile duct cancer, who failed at least one previous treatment, showed that the trial met both primary and secondary endpoint.
Incyte was down 1 percent at $65.40.
Beigene Ltd (NASDAQ: BGNE)
Phase 1 trial investigating Beigene's PARP inhibitor pamiparib in combination with low-dose temozolomide in patients with advanced or metastatic solid tumors demonstrated antitumor activity across a variety of indications and regardless of known BRCA mutation status.
The stock was down 5.2 percent to $118.16.
Stocks Showing Muted Reaction
Roche Holdings AG Basel ADR (OTC: RHHBY)
Roche presented positive data for
Tecentriq in combination with Abraxane for PD-L1-positive metastatic triple-negative breast cancer studies in a Phase 3 trial.
Personalized medicine Entrectinib evaluated in two Phase 1 and a Phase 2 study for solid tumors.
Tecentriq plus chemotherapy as an initial treatment of patients with advanced non-squamous NSCLC.
AstraZeneca plc (NYSE: AZN)
New Phase 3 data presented at an oral late-breaking abstract session at the ESMO showed that MET-amplification and the epidermal growth factor receptor C797S mutation were among the resistance mechanisms found after first-line Tagrisso treatment of patients with previously-untreated EGFR-mutated NSCLC. The company said it initiated a new Phase 2 clinical study dubbed ORCHARD in advanced NSCLC patients who have experienced disease progression following first-line treatment with Tagrisso.
AstraZeneca along with Merck presented detailed results from the Phase 3 SOLO-1 trial that tested Lynparza tablets as a maintenance treatment for patients with newly-diagnosed advanced BRCA-mutated ovarian cancer who were in complete or partial response following first-line standard platinum-based therapy. The results confirmed the statistically-significant and clinically-meaningful improvement in PFS for Lynparza compared to placebo.
Novartis AG (NYSE: NVS)
Novartis made three presentations.
New analysis of Lutathera in patients with low, medium or high liver tumor burden showed significant improvement in PFS as well an 80 percent reduction in estimated risk of tumor progression or death vs comparator, regardless of baseline liver tumor burden.
The company along with Incyte presented preliminary Phase 2 results of the GEOMETRY mono-1 clinical trial of MET inhibitor capmatinib in advanced NSCLC, which showed an ORR of 72 percent and 39.1 percent, respectively in treatment-naïve and previously treated patients with advanced MET exon-14 skipping mutated NSCLC.
A Phase 3 trial that evaluated its BYL719 plus fulvestrant nearly doubled median PFS in patients with PIK3CA mutated HR+/HER2- advanced breast cancer.
View Comments and Join the Discussion!
Posted-In: Biotech News Health Care Events Top Stories Movers Trading Ideas General Best of Benzinga