Everything We Know About Merck's Keytruda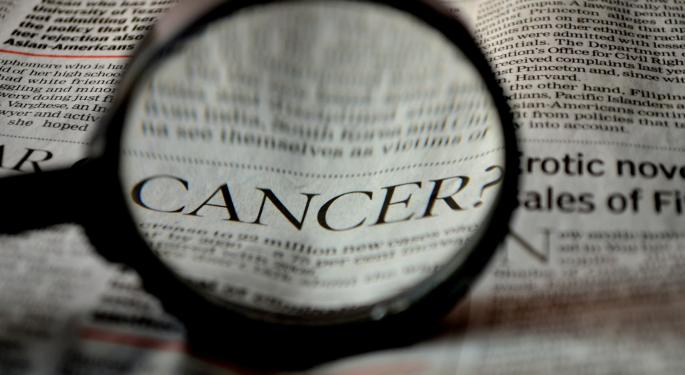 Merck & Co., Inc. (NYSE: MRK)'s KEYTRUDA is a therapy used to combat a form of skin cancer called melanoma. It can also be used to treat a kind of lung cancer called non-small cell lung cancer.
The U.S. Food and Drug Administration announced on Nov. 28, 2016, it has granted a Priority Review with PDUFA, or target action date, of Wednesday, March 8, 2017. Merck is seeking approval for KEYTRUDA for the treatment of previously treated patients with advanced microsatellite instability-high (MSI-H) cancer.
"The FDA's acceptance of this application represents an important advance for the field of immuno-oncology and is further evidence of Merck's commitment to identifying patients most likely to benefit from KEYTRUDA treatment," said Roger M. Perlmutter, M.D., Ph.D., president, Merck Research Laboratories. "We believe that patients whose tumors harbor DNA repair defects may be especially responsive to KEYTRUDA, and we look forward to working with the FDA to bring this important new therapy to these very challenging treatment situations."
Keytruda's Timeline
On Sep. 4, 2014, the FDA granted an accelerated approval of Keytruda at a dose of 2 mg/kg every three weeks and also a Breakthrough Therapy designation for advanced melanoma.
The therapy went on to receive an accelerated approval for the treatment of patients with advanced non-small cell lung cancer on Oct. 2, 2015. On Dec. 18, 2015, the FDA approved Keytruda for the treatment of patients with advanced melanoma.
On Dec. 21, 2015, Merck's CEO Kenneth Frazier tells Fox Business News that patience using Keytruda could reduce the risk of death by 30 to 40 percent and extends the life of a patient by 13 months on average.
Latest Developments
Here is a summary of the latest Keytruda developments:
December 7, 2016: Merck reported data from a Phase 3 trial called KEYNOTE-024 which showed that patients receiving KEYTRUDA compared to chemotherapy saw a meaningful improvement in their quality of life outcomes.
December 12, 2016: Merck reported interim results from a Phase 1b/2 study evaluating a combination of Keytruda and Eisai's HALAVEN.
January 10, 2017: The FDA accepted for review Merck's sBLA for Keytruda for the first-line treatment of patients with advanced non-squamous non-small cell lung cancer. A PDUFA, or target action date of May 10, 2017 has been set.
Related Link: Goldman Confident In Merck's Keytruda
Related Link: Has Cancer Research Become Cancerous? Same Cancer Strategy Targeted By 'Too Many Drugmakers,' Say Regulators
View Comments and Join the Discussion!
Posted-In: Cancer TherapiesBiotech News Education Health Care FDA Movers General Best of Benzinga