What's Going On With Geron?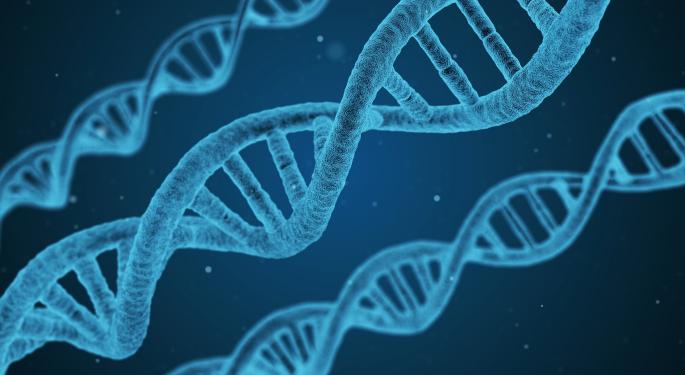 Geron Corporation (NASDAQ: GERN) stock is popping Friday without any major news from the company. Traders are speculating the huge jump in share price may have to do with a simple job posting.
Geron's stock was trading up 27 percent to $5.13 at time of publication.
What Happened?
On Friday morning, Geron stock skyrocketed as much as 38 percent before pulling back to a 23-percent gain by mid-day without any news from the company. According to StatNews reporter and biotech expert Adam Feuerstein, the huge move may simply be related to a new job posting by Johnson & Johnson (NYSE: JNJ).
$GERN trading +30% on a JNJ job posting that mentions imetelstat.

Yes, it's that ridiculous. Summer Fridays!

— Adam Feuerstein (@adamfeuerstein) August 24, 2018
Imetelstat is Geron's leading oncology drug, and Johnson & Johnson has exclusive development rights for the drug.
Why It's Important
Some traders are speculating the new job listing means JNJ has high hopes for Imetelstat and/or has received positive news on the drug.
Bloomberg reported Friday afternoon that a J&J spokesperson suggested the recent job posting mentioning Imetelstat isn't related to an expected decision for a licensing deal, and includes "responsibilities for a variety of disease areas."
Adding fuel to the speculative Friday fire is a post out on Seeking Alpha highlighting Geron's massive short position. According to Yahoo Finance, the stock has a massive short percent of float of 41.8 percent, and good news related to Imetelstat could trigger a massive and volatile wave of short covering.
What's Next?
Traders will be watching to see if Geron comments on the job listing or the future of Imetelstat.
In the meantime, some deep-pocketed traders are making large speculative bets on the situation. Benzinga Pro subscribers were notified of the following unusual options trading activity in Geron on Friday:
9:43am GERN Option Alert: Oct 19 $4 Puts Sweep (24) at the Bid: 2725 @ $1.005 vs 348 OI; Ref=$4.945
10:04am GERN Option Alert: Oct 19 $4 Puts Sweep (24) at the Ask: 2339 @ $1.051 vs 348 OI; Ref=$5.46
10:17am GERN Option Alert: Sep 21 $4 Puts Sweep (8) at the Ask: 995 @ $0.701 vs 5226 OI; Ref=$5.13
10:18am GERN Option Alert: Sep 21 $4 Puts Sweep (8) at the Ask: 890 @ $0.75 vs 5226 OI; Ref=$4.9644
12:47:52pm GERN Option Alert: Sep 21 $6 Calls Sweep (36) at the Bid: 1087 @ $0.75 vs 5968 OI; Ref=$5.075
1:37:28pm GERN Option Alert: Oct 19 $4 Puts at the Ask: 1939 @ $1.2 vs 348 OI; Ref=$5.15
1:41:36pm GERN Option Alert: Sep 21 $3.5 Puts Sweep (2) at the Ask: 4144 @ $0.451 vs 9794 OI; Ref=$5.1701
As a reminder, put options purchased at the ask are typically seen as bearish for the stock, whereas puts purchased at the bid are typically seen as bullish.
Related Links:
View Revisions Workflow Neurotrope Returns After 'Failed' Alzheimer's Trial, But Has Anything Changed?
The Daily Biotech Pulse: Immunomedics' Bottom-Line Miss; Kala, Regeneron Await FDA Verdict
Posted-In: Biotech News Rumors Options Top Stories Markets Movers Trading Ideas Best of Benzinga
View Comments and Join the Discussion!