The Daily Biotech Pulse: FDA Panel Backs Insmed, Eidos' Maiden Earnings, Paratek Awaits Adcom Verdict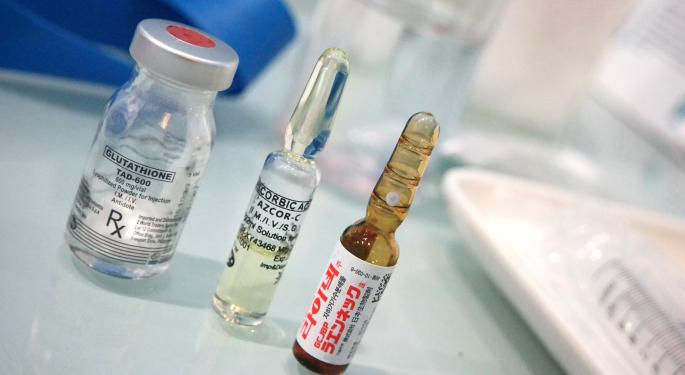 Here's a roundup of top developments in the biotech space over the last 24 hours:
Scaling the Peaks
(Stocks hitting 52-week highs on Aug. 7)
Down In The Dumps
(Stocks hitting 52-week lows on Aug. 7)
Stocks In Focus
Insmed Wins FDA Panel Backing
Insmed Incorporated (NASDAQ: INSM) announced FDA's Antimicrobial Drugs Advisory Committee, which met to discuss the safety and efficacy of its amikacin liposome inhalation suspension (ALIS) to treat non-tuberculous mycobacterial (NTM) lung disease caused by Mycobacterium avium complex (MAC), voted 12 to 2 in favor of the therapy.
The company said the committee also voted in favor of the surrogate endpoint of sputum culture conversion used in the Phase 3 COVERT study reasonably predicting clinical benefit.
However, the committee voted against the safety and effectiveness of ALIS in the broadest population of adult patients with NTM lung disease caused by MAC.
The PDUFA date for ALIS is set for Sept. 28.
The stock rallied 4.64 percent to $25.50 in after-hours trading.
ReShape, Progenics, Medpace Price Offerings
ReShape Lifesciences priced its previously announced underwritten public offering at $0.085 per share. The company expects to raise gross proceeds of $1.06 million from the offering, while the offering is expected to close on or about Aug. 10. All shares offered are to be sold by the company.
The penny stock tumbled 45.24 percent to $0.18 in after-hours trading.
Progenics Pharmaceuticals, Inc. (NASDAQ: PGNX) said it has priced its underwritten public offering of 9.09 million of its shares at $8.25 per share, with the gross proceeds from the offering estimated at $75 million. All the shares offered are to be sold by the company.
The stock fell 6.94 percent to $8.31 in after-hours trading.
Medpace Holdings Inc (NASDAQ: MEDP)'s underwritten public offering of 4.5 million shares was priced at $55 per share. The shares offered are being sold by selling shareholders.
The stock slipped 2.01 percent to $55.19 in after-hours trading.
Related Link: Attention Biotech Investors: Mark Your Calendar For These August PDUFA Dates
Stocks Reacting to Earnings
Eidos Therapeutics Inc (NASDAQ: EIDX) reported a wider loss of $1.38 per share for its Q2 compared to the consensus estimate for a loss of 23 cents per share. The company said it's financed adequately to continue developing its AG10 as a disease modifying therapy for transthyretin amyloidosis.
The stock climbed 9.03 percent to $16.55 in after-hours trading.
Jazz Pharmaceuticals PLC (NASDAQ: JAZZ) said its adjusted EPS of $3.49 for Q2 beat the consensus estimate of $3.23. Revenues rose 27 percent to $500.48 million. The company also raised its FY18 Xyrem sales guidance to $1.35 billion to $1.38 billion.
The stock slipped 6.61 percent to $168 in after-hours trading.
HTG Molecular Diagnostics Inc (NASDAQ: HTGM) reported a loss of 14 cents per share for its Q2 compared to a loss of 19 cents per share estimated by analysts. Revenues rose from $1.76 million to $4.91 million. The company also affirmed its full-year revenue guidance of $21 million to $25 million
The stock soared 12.20 percent to $3.22 in after-hours trading.
Prothena Corporation PLC (NASDAQ: PRTA) reported a sharp drop in its revenues from $26.8 million in Q2'17 to $0.3 million in Q2. The net loss per share widened from 46 cents to $1.50 per share.
The stock fell 7.67 percent to $13.24 in after-hours trading.
Inogen Inc (NASDAQ: INGN)'s Q2 EPS rose from 38 cents to 65 cents, ahead of the 44 cents per share consensus estimate. Revenues rose 51.6 percent to $97.2 million. The company raised its full-year revenue and earnings guidance.
The stock added 5.97 percent to $226 in after-hours trading.
FibroGen Inc (NASDAQ: FGEN) said its Q2 loss narrowed to 28 cents, thanks to a milestone payment for an upcoming Japan NDA submission. Analyst had expected a loss of 59 cents per share for the quarter.
The stock moved up 6.43 percent to $67 in after-hours trading.
PTC Therapeutics, Inc. (NASDAQ: PTCT) reported Q2 revenues of $68.7 million, up 43 percent year-over-year. The loss per share narrowed from 44 cents to 21 cents, while analysts had forecast a loss of 29 cents.
The stock advanced 5.25 percent to $40.30 in after-hours trading.
On The Radar
Adcom Meeting
The Antimicrobial Drugs Advisory Committee is also scheduled to meet to discuss the NDAs for omadacycline tablets and omadacycline injection submitted by Paratek Pharmaceuticals Inc (NASDAQ: PRTK). The candidate is being considered for treating community-acquired bacterial pneumonia as well as for acute bacterial skin and skin structure infections.
Earnings
Before the Market Open
After The Market Close
View Comments and Join the Discussion!
Posted-In: Biotech Earnings News FDA Top Stories Trading Ideas Best of Benzinga