Benzinga's Daily Biotech Pulse: ARMO Skyrockets On Eli Lilly Deal, Akcea Meets FDA Panel, vTv Alzheimer's Trial Results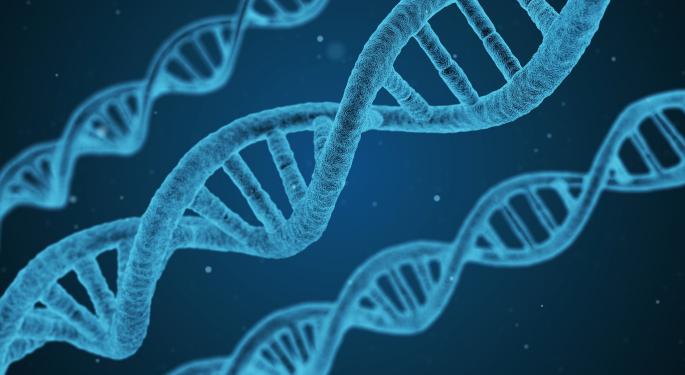 Here's a roundup of top developments in the biotech space over the last 24 hours.
Scaling the Peaks
(Stocks hitting 52-week highs on May 9)
Down In The Dumps
(Stocks hitting 52-week lows on May 9)
Stocks In Focus
ARMO-Eli Lilly
ARMO Biosciences Inc (NASDAQ: ARMO) announced a deal to be bought by Eli Lilly And Co (NYSE: LLY) for $50 per share or $1.6 billion in total in an all-cash deal.
The stock was skyrocketing 67.57 percent to $49.97 in Thursday's pre-market trading.
Exelixis' Late-Stage Study of Colorectal Cancer Combo Drug Fails
Exelixis, Inc. (NASDAQ: EXEL) announced that a Phase 3 pivotal trial dubbed IMblaze370 that tested cotellic, its MEK inhibitor, and Roche's Genentech unit's tencentriq did not meet the primary endpoint of improving overall survival versus regorafenib. The combo drug was evaluated for use by patients with difficult-to-treat, locally advanced or metastatic colorectal cancer, whose disease had progressed or who were intolerant to at least two systemic chemotherapy regimens.
Integra Lifesciences Pulls Back On Pricing Of Common Stock Offering
Integra Lifesciences Holdings Corp (NASDAQ: IART) announced it has priced its offering of 5.25 million shares at $58.50 per share.
The stock fell 4.45 percent to $61 in after-hours trading Wednesday.
Sellas Gains On Orphan Drug Status
Sellas Life Sciences Group Inc (NASDAQ: SLS) said the FDA has granted orphan drug designation to its galinpepimut-S for treating multiple myeloma. The designation is given to develop therapies for rare diseases or disorders affecting fewer than 200,000 in the U.S. It vests the company some advantages, such as a 7-year market exclusivity if the drug is approved, tax credits for qualified clinical trials and an exemption from FDA application fees.
The stock added 2.34 percent to $5.69 after hours Wednesday.
vTv Therapeutics' Alzheimer's Therapy Found Effective In Subpopulation
vTv Therapeutics Inc (NASDAQ: VTVT) said post-hoc analyses of data from Part A of it Phase 3 STEADFAST study that evaluated its Alzheimer's therapy azeliragon threw up a subpopulation that showed statistically significant benefit relative to placebo.
The subpopulation consisted of participants with peak azeliragon blood plasma concentration of less than 7.5 ng/ml.
Based on this, the company said it will submit to the FDA a revised study plan for the Part B study.
Topline efficacy results from the Part B study based on 12-month data is due in June.
The stock jumped 20.47 percent to $2.06 after hours.
Catalyst Pharma Posts In-line Loss
Catalyst Pharmaceuticals Inc (NASDAQ: CPRX) reported a Q1 non-GAAP loss of 6 cents per share, in line with estimates.
The stock jumped 17.86 percent to $3.30 in after-hours trading.
Wright Medical Loss Narrows
Wright Medical Group NV (NASDAQ: WMGI) reported a narrower Q1 loss of 1 cent per share and revenues of $198.54 million, ahead of the consensus estimates. The company reiterated its FY18 guidance.
The stock gained 8.44 percent to $22.75 after hours.
Inovio Q1 Misses Estimate
Inovio Pharmaceuticals (NASDAQ: INO) reported a Q1 loss of 36 cents per share, wider than the 14 cents per share loss estimated by analysts.
Inovio slid 6.83 percent to $4.50 after hours trading.
See Also: Attention Biotech Investors: Mark Your Calendar For These May PDUFA Action Dates
Adverum'a Q1 Revenues Light
Adverum Biotechnologies Inc (NASDAQ: ADVM) reported a narrower-than-expected Q1 loss, while its revenues were slightly below estimates.
The stock shed 5.90 percent to $5.50.
Mannkind Disappoints With Q1 Results
MannKind Corporation (NASDAQ: MNKD) reported a wider-than-expected Q1 loss and below-consensus revenues. MannKind stock declined 5.03 percent to $1.70.
PDL Biopharma Q1 Trails Estimates
PDL BioPharma Inc (NASDAQ: PDLI) announced Q1 results, showing a profit of 1 cent per share compared to 6 cents per share expected by analysts. Revenues of $38.52 million also missed the consensus estimate of $50.4 million.
The stock receded 6.45 percent to $2.90 in after-hours trading.
Cara's Q1 Miss
Cara Therapeutics Inc (NASDAQ: CARA) reported below-consensus Q1 results.
Cara fell 6.42 percent to $12.10 in after-hours trading.
Other Stocks That Reacted to Earnings
(Thursday after-hours quote)
Portola Pharmaceuticals Inc (NASDAQ: PTLA) – Up 2.41 percent to $43.30
Novavax, Inc. (NASDAQ: NVAX) – Down 2.92 percent to $1.66
Puma Biotechnology Inc (NASDAQ: PBYI) – Down 1.99 percent to $64
Savara Inc (NASDAQ: SVRA) – Down 1.94 percent to $9.60
Immunomedics, Inc. (NASDAQ: IMMU) – Down 3.55 percent to $18.20
On The Radar
The following companies are scheduled to report earnings on Thursday:
Adcom Meeting Schedule
The Endocrinologic and Metabolic Drugs Advisory Committee is scheduled to meet to discuss the safety and efficacy of Akcea Therapeutics Inc (NASDAQ: AKCA) subcutaneously injected volanesoren solution for patients with familial chylomicronemia syndrome.
FDA Tidbits
The FDA filed with the federal court, seeking permanent injunctions against two stem cell clinics for deviating from current good manufacturing practice requirements. These clinics are also prohibited from marketing stem cell products without the agency's approval.
View Comments and Join the Discussion!
Posted-In: Biotech Earnings News Guidance FDA Top Stories Trading Ideas Best of Benzinga