5 Weed Stocks To Watch In 2018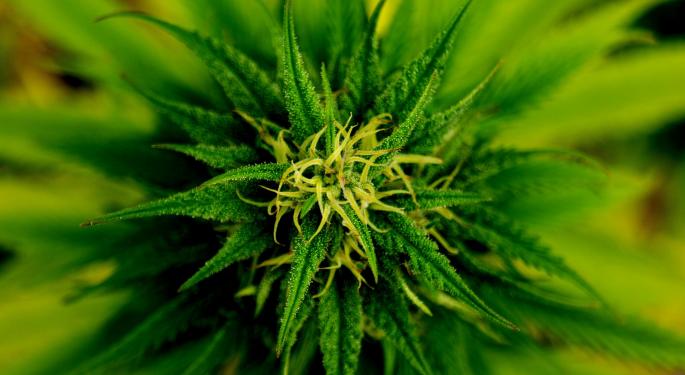 2017 had a bullish tone, as assets across categories shone the brightest, although cryptocurrency could be singled out as the standout performer. Marijuana stocks also joined the party, as reflected by the 18.5-percent advance by the U.S. Marijuana Index.
Momentum Extending Into The New Year
The U.S. Marijuana Index has rallied further in early 2018, adding 7.3 percent despite negative headlines such as movement by Attorney General Jeff Sessions on federal marijuana policy.
Spending on legal cannabis in North America is estimated to have grown 33 percent in 2017 to $9.7 billion, according to the fifth edition of the "The State of Legal Marijuana Markets" report by Arcview Market Research/BDS Analytics.
Spending is expected to grow at a 28 percent CAGR, hitting $24.5 billion in 2021.
Related Link: How to Invest In Marijuana Stocks
Sessions' Threat To The Marijuana Industry
Attorney General Jeff Sessions dropped a bombshell by rescinding the "Cole Memo" Jan. 4.
The memo, drafted in August 2013 by then-Deputy Attorney General James Cole during former President Barack Obama's tenure, prevented federal prosecution of state-licensed cannabis businesses.
The industry as well as the general public apparently haven't taken the move as a serious threat. New Hampshire and Vermont are continuing their legislative route to legalizing pot, while California, which already recognizes medical marijuana, went ahead with legalized recreational marijuana on schedule on Jan. 1.
The Fed still considers marijuana as a Schedule I substance, treating it on par with heroin and LSD.
About 58 percent of American voters support marijuana legalization, with 70 percent opposed to a federal clampdown, according to a VICE report on a Quinnipac University poll.
The U.S. Legalization Map
California's shift to recreational marijuana follows Colorado, Washington, Oregon, Alaska and Nevada.
Massachusetts and Maine are the latest states to join.
California's pot sales could hit $5.1 billion in 2019, according to a BDS estimate.
As of now, about 22 states have legalized medical marijuana use, while recreational marijuana use has been made legal in eight states and the District of Columbia.
Source: Governing.com
"It's very important at times like this when the speculative tide shifts to make sure that you're out of the names that are most speculative," Alan Brochstein, author of the 420 Investor said on Jan. 4.
See also: 7 Best Marijuana Stocks That Blazed A Trail In 2017
5 Marijuana Stock Opportunities
Marijuana stocks were screened with the following criteria:
Daily volume of 15,000 or more.
Market cap of at least $300 million to qualify as a small-cap. Positive revenues for at least three years.
Current ratio (Current Assets/Current Liabilities) over 1.
The prevalence of upcoming catalysts.
Catalyst-Rich Year For GW Pharma
GW Pharmaceuticals PLC- ADR (NASDAQ: GWPH) is a U.K.-based pharma company engaged in the development of plant-derived cannabinoid therapeutics. Its lead product Epidiolex, a cannabidiol, is being tested for certain rare and severe early-onset, drug-resistant epilepsy syndromes.
Goldman Sachs analyst Salveen Richter said in a December note she expects a June 2018 PDUFA date and up to 90 days for DEA rescheduling, which suggests a third- or fourth-quarter launch.
The analyst estimates 2025 worldwide peak sales of $2.2 billion, of which 56 percent is expected to be derived from off-label use. Richter also sees pipeline optionality from additional studies that are underway, with the candidate now being tested for Dravet Syndrome, Lennox-Gastaut syndrome, tuberous sclerosis and infantile spasms.
Sativex, a cannabis-derived prescription medicine GW co-developed with Otsuka Holdings Co., Ltd. (OTC: OTSKF), is being approved for treating spasticity due to multiple sclerosis in over 30 countries outside of the U.S.
Recently, both companies terminated the license agreement, with the Japanese company returning the U.S. rights to GW Pharma. The clinical trials conducted earlier by the companies for testing Sativex for cancer pain did not produce positive results.
GW Pharma shares rose 18.13 percent in 2017, moderating from a 61-percent gain in 2016.
A Grow Play
CANOPY GROWTH CORP (OTC: TWMJF) is expected to be a beneficiary of medical and recreational marijuana in the U.S. and Canada.
Canopy Growth has about 5.6 million square feet of diversified cannabis-growing operations, according to a Jan. 3 release from the company.
Another positive catalyst could be the 9.9-percent stake Constellation Brands, Inc. (NYSE: STZ) recently picked up in Canopy, with Constellation working to bring a cannabis-based drink to the market.
The stock was up about 247 percent in 2017.
Aphria: Leveraging Production, Retailing
APHRIA INC (OTC: APHQF) is in the businesses of both growing and retailing marijuana. The company recently struck a deal with Canadian pharmacy chain Shoppers Drug Mart to supply medical marijuana.
The company announced a strategic relationship in January with Double Diamond Farms to supply an incremental 120,000 kilos of cannabis annually. Along with the existing production capacity, Aphria said it would have 220,000 kilos of annual cannabis production available for sale in 2019.
Aphria shares swelled by 292 percent in 2017.
MedReleaf Bets Heavily On Sector
Sensing the opportunity, MEDRELEAF CORP (OTC: MEDFF) is on an expansion spree.
The company announced an agreement with CANACCORD Genuity and GMP Securities on Jan. 9 to place 3.8 million units of the company at a price of $26.50 per unit, intending to raise gross proceeds of $100.7 million in the process.
The company said it intends to use the net proceeds to finance the acquisition and/or construction of additional cannabis production and manufacturing facilities, as well as sales and marketing initiatives.
With low production costs, expanded capacity and a focus on high-quality cannabis, the company remains a compelling opportunity to ride out a potential marijuana rally.
The shares were up 149 percent in 2017.
Scotts Miracle-Gro's Marijuana Link
For those wary of investing in penny marijuana stocks or over-the-counter listings, this mainstream company could offer a safer way to invest. Scotts Miracle-Gro Co (NYSE: SMG)'s hydroponic products are being used to grow marijuana.
Scotts has been acquiring companies that manufacture and sell equipment and services to marijuana growers.
View Comments and Join the Discussion!
Posted-In: Biotech Cannabis Long Ideas Emerging Markets Top Stories Markets Trading Ideas General Best of Benzinga