Is Transenterix Really A Threat To Intuitive Surgical?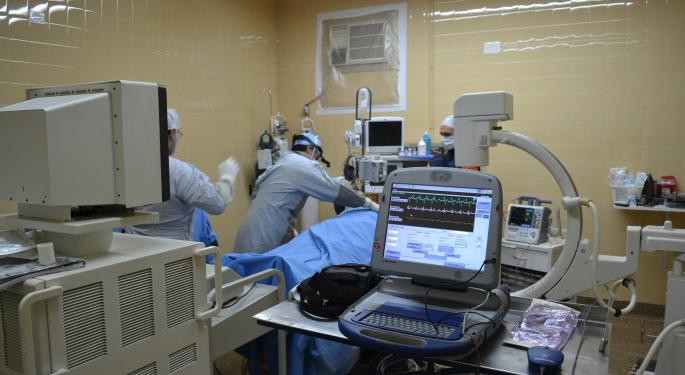 Transenterix Inc (NYSE: TRXC) stock is up more than 56 percent Monday after the company gained FDA clearance for its Senhance surgical robot. The company was previously denied clearance from the FDA for its SurgiBot System back in April 2016.
According to the company, Senhance is now the first new market entrant in abdominal surgical robotics since 2000, when Intuitive Surgical, Inc. (NASDAQ: ISRG) gained clearance for its da Vinci Surgical System.
After initially dropping as low as $337.56 in Friday's after-hours session, Intuitive Surgical shares are holding up relatively well on Monday, down just 0.8 percent in early trading. Clearly, the market doesn't see Senhance as a major threat for Intuitive's business.
However, for Transenterix traders looking at Intuitive as a possible blueprint for what to expect in coming years, it could be a long road ahead for bulls. After going public in 2000, the same year the da Vinci System was cleared by the FDA, Intuitive's stock drifted mostly sideways for its first several years on the market. In fact, Intuitive's stock began trading at around $6.00 following its June 2000 IPO and finished 2003 at around $5.70.
It was only after years of patience that Intuitive's share price began to take off and investors were handsomely rewarded. In roughly 17 years since the stock went public, Intuitive shares are now up more than 5,860 percent.
In the near term, Transenterix traders will be watching Monday's close closely. From a technical perspective, a close above $2.30 may be important. The stock hasn't closed above $2.30 since the FDA rejected SurgiBot back in April 2016. If the $2.30 level holds, it could provide a support base for a longer-term bullish move toward the $6.00 level, which represented the stock's high point prior to the 2016 FDA rejection.
Joel Elconin contributed to this report.
Related Link: All The Sell-Side Responses To Spark Therapeutics' Strong AdCom Meeting On Luxturna
View Comments and Join the Discussion!
Posted-In: Biotech News Health Care Technicals FDA Tech Trading Ideas General Best of Benzinga