Attention Biotech Investors: September Ushers In Another Slew Of PDUFA Catalysts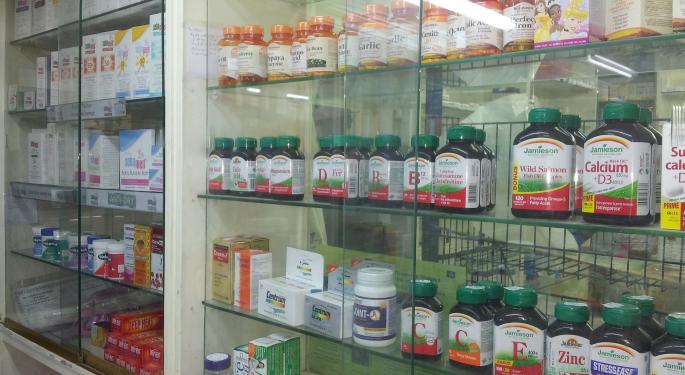 Biotech stocks had a somber performance in August, as they reacted to earnings news flow, FDA decisions and M&A news, among other catalysts. The iShares NASDAQ Biotechnology Index (ETF) (NASDAQ: IBB) is nearly flat, clocking in a loss of a 0.69 percent thus far this month.
Meanwhile, the NYSE ARCA BIOTECH INDEX has fared better with a 1.72 percent gain.
As recently as this week, Gilead Sciences, Inc. (NASDAQ: GILD) announced a deal to buy Kite Pharma Inc (NASDAQ: KITE) for $11.9 billion, as it strives to diversify away from its core area and into the immune-oncology space.
August's Torrent Of Events Now Past
See also: Playing The US Pharma Space: Buy Portola, Hold Corvus, Sell Teva
2017 Seeing Strong Pace Of NME Approvals
New Molecular Entities approvals thus far this year have numbered 29, with three NME approvals coming through in August alone. In comparison, the year 2016 saw only 22 NME approvals. NMEs contain active ingredients, which have not been previously approved by the FDA.
AbbVie's Mavyret, Pfizer's Besponsa, and Celgene and Agios' Idhifa were the NME's approved in August.
Source: ycharts
A Peek Into September FDA Decisions
Mylan's Race To Bring Out First Breast Cancer Drug Biosimilar
Company name(s): Mylan N.V. (NASDAQ: MYL) And India's Biocon
Type of Application: BLA, filing through the 351(k) pathway.
Drug/Treatment Candidate: Trastuzumab Biosimilar.
Indication: HER2-positive breast cancers.
Date: Sept. 3
Trastuzumab, sold under the brand name Herceptin, is a monoclonal antibody meant to treat breast cancer that is HER2 positive. Developed by Roche Holding Ltd. (ADR) (OTC: RHHBY)'s Genentech unit, it is administered as a slow injection into a vein.
Herceptin fetched Roche revenues of $6.79 billion in 2015, although sales are likely to dwindle to $3.98 billion in 2022, given the likelihood of generics entering the fray. The U.S. patent on it is set to expire by 2019.
On July 13, FDA's Oncologic Drugs Advisory Committee recommended approval of the biosimilar, voting 16-0 in support of eligible indications of the reference product.
Allergan And Amgen's Quest For Multiple-indication Cancer Biosimilar
Company name(s): Allergan plc Ordinary Shares (NYSE: AGN) and Amgen, Inc. (NASDAQ: AMGN)
Type of Application: BLA.
Drug/Treatment Candidate: ABP 215.
Indication: Oncology.
Date: Sept. 14.
The Allergan-Amgen ABP 215 is a biosimilar candidate to bevacizumab sold under the brand name Avastin. It is developed by Genentech. Avastin is used to treat a host of cancers, including unresectable, locally advanced, recurrent or metastatic non-squamous NSCLC, as well as metastatic carcinoma of the colon or rectum, metastatic renal cell carcinoma, and other region-specific indications.
Bevacizumab is a recombinant immunoglobulin G1 monoclonal antibody that binds to vascular endothelial growth factor, or VEGF, and inhibits the interaction of VEGF with its receptors, VEGF receptor-1 and VEGF receptor-2, thus inhibiting the establishment of new blood vessels necessary for the maintenance and growth of solid tumors.
Neos Looking To Bulk Up ADHD Portfolio
Company name(s): Neos Therapeutics Inc (NASDAQ: NEOS)
Type of Application: NDA.
Drug/Treatment Candidate: NT-0201.
Indication: Attention Deficit Hyperactivity Disorder.
Date: Sept. 15.
Neos' NT-0201 is an amphetamine XR liquid suspension used to treat ADHD.
Glaxo, Innoviva's 3-as-1 Combo Awaits FDA Scrutiny
Company name(s): GlaxoSmithKline plc (ADR) (NYSE: GSK) and Innoviva Inc (NASDAQ: INVA)
Type of Application: NDA.
Drug/Treatment Candidate: Closed triple combination therapy fluticasone furoate/umeclidinium/vilanterol.
Indication: Chronic obstructive pulmonary disease.
Date: Sept. 21.
The regulatory filing for the combo therapy was filed in November 2016, much ahead of the planned first-half 2018 filing.
J&J Unit Expects FDA To Overrule Panel Recommendation
Company name(s): Johnson & Johnson (NYSE: JNJ) Unit Janssen Pharma
Type of Application: BLA.
Drug/Treatment Candidate: Sirukumab.
Indication: Rheumatoid Arthritis.
Date: Sept. 23.
The BLA for this human monoclonal antibody was filed with the FDA on Sept. 23, 2016. However, in a major setback, FDA's Arthritis Advisory Committee, which met on Aug. 2, voted against recommending it to the FDA.
Bristol-Myers Squibb Seeks Versatility For Opdivo
Company name(s): Bristol-Myers Squibb
Type of Application: sBLA.
Drug/Treatment Candidate: Opdivo.
Indication: treating hepatocellular carcinoma after prior sorafenib therapy.
Date: Sept. 24
IntelliPharmaCeutics Bets Against FDA Panel Verdict
Company name(s): IntelliPharmaCeutics Intl Inc (USA) (NASDAQ: IPCI)
Type of Application: sBLA.
Drug/Treatment Candidate: Rexista.
Indication: treating: Abuse and alcohol-deterrent treatment for pain.
Date: Sept. 25.
Rexista is an abuse-deterrent oxycodone hydrochloride extended release tablet meant to treat pain. However, the Anesthetic and Analgesic Drug Products Advisory Committee and Drug Safety and Risk Management Advisory Committees of the FDA, which met on July 26, voted 22 to 1 against approval of the drug.
View Comments and Join the Discussion!
Posted-In: Biotech News Previews FDA Trading Ideas General Best of Benzinga