Pegfilgrastim To Help Chemotherapy Patients Fails To Clear Regulatory Hurdle; Coherus Receives CRL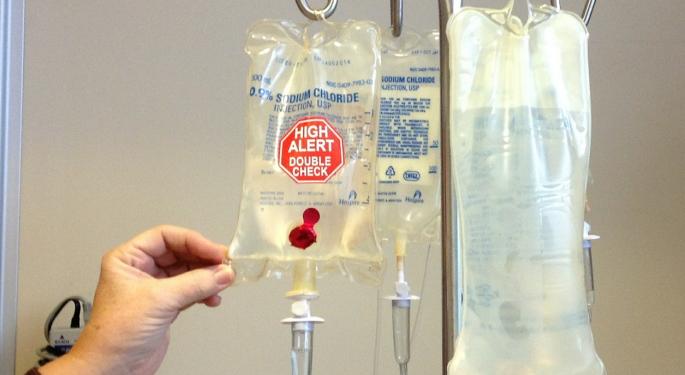 Coherus Biosciences Inc (NASDAQ: CHRS) shares were down steeply in pre-market trading after the company announced it has received a complete response letter from the FDA for its abiologic license application, or aBLA, for CHS-1701, a pegfilgrastim biosimilar candidate to Amgen, Inc. (NASDAQ: AMGN)'s Neulasta.
Coherus clarified in the release that the FDA has requested a subset of subject samples with a revised immunogenicity assay and certain additional manufacturing-related process information, although it did not request a clinical study.
The Product Candidate
Pegfilgrastim, also known as G-CSF, or granulocyte-colony stimulating factor, is a biologic response modifier. The medication is given as a shot underneath the skin, 24 hours after the chemotherapy to stimulate the growth of new, healthy, white blood cells.
The Mechanism Of Action
Pegfilgrastim is filgrastim with a substance called polyethylene glycol attached to it by the process called pegylation. It allows the active substance, i.e., filgrastim, to remain the body longer before it can be broken down and eliminated.
The treatment candidate stimulates the production, maturation and activation of neutrophils, while also stimulating the release of neutrophils from the bone marrow. In patients being given chemotherapy, pegfilgrastim can accelerate the recovery of neutrophils, reducing the neutropenic phase, a period when people are susceptible to infections.
Competition And Potential
The U.S. patent on Amgen's branded pegfilgrastim, Neulasta's patent, touted to be a product with the potential of $4 billion a year, expired in 2015. According to Fierce Pharma, Neulasta fetched Amgen revenues of $4.4 billion in 2013. It was approved in January 2002.
Apart from Coherus, Novartis AG (ADR) (NYSE: NVS)'s Sandoz division, Mylan N.V. (NASDAQ: MYL) and Apotex have also applied for approval for Neulasta biosimilars, although they are yet to get regulatory clearance.
The FDA had accepted Sandoz's sBLAfor Neulasta in November 2015, with a 10-month review period. However, in July 2016, the FDA rejected the application, although the company claimed it would initiate an additional study in a bid to submit additional data to the FDA in support of its application in 2018. Meanwhile, Sandoz voluntarily withdrew its application for Neulasta biosimilar, pending before the European Medicines Agency, or EMA.
Apotex announced FDA acceptance of its aBLA for Neulasta in December 2014, although it has not been approved till date.
Mylan and Biocon, meanwhile, announced the EMA acceptance of a Neulasta biosimilar for review in July 2016.
Fearing generic competition, Amgen filed a complaint in May 2016 under the Biologics Price Competition and Innovation Act, claiming that the biosimilar application filed by Sandoz infringed two of its patents.
Meanwhile, Amgen announced on May 1, it has sued Coherus in a Delaware court for infringing its patent covering Neulasta.
Thus, for those looking to a get a piece of cake of the pegfilgrastim market, it could be the question of scaling two hurdles, of getting the blessings of the regulatory bodies as well as warding off patent challenges posed by Amgen, the innovator.
Coherus seems to be have dropped down on the first hurdle. A lot will now hinge on efforts the company takes to convince the FDA.
At the time of writing, Coherus shares were down 30.75 percent at $14.30.
Related Links:
Tracking The Busy June PDUFA Calendar
View Comments and Join the Discussion!
Posted-In: ApotexBiotech News Health Care FDA Movers Trading Ideas General Best of Benzinga