Meet The 37-Year-Old Prodigal, JD And Neuroscientist Who's Making Matrix's Thought-Downloading Brain Chip A Reality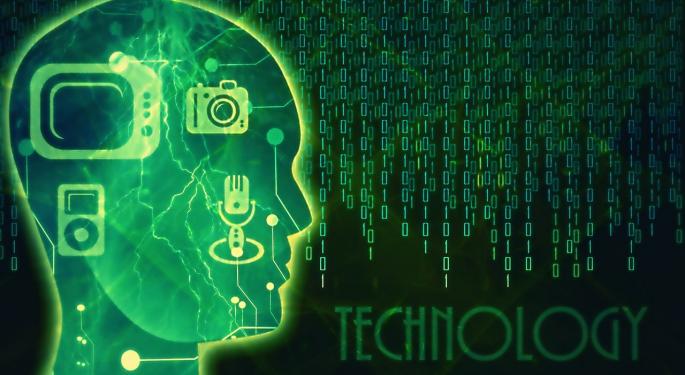 Will Rosellini is a 37-year-old, retired pro baseball player who now holds six graduate degrees, including an M.B.A., master's degrees in neurobiology and neurosciences, and a juris doctor degree.
After a relatively short run with the Arizona Diamondbacks, Rosellini left baseball to focus on his studies and ended up developing a "deep brain stimulation implant that downloads and streams thoughts."
Neurotechnology is not new to the market, despite being perhaps relatively overlooked on the Street. Over the course of the year, Facebook Inc (NASDAQ: FB)'s Mark Zuckerberg and Tesla Inc (NASDAQ: TSLA)'s Elon Musk announced their companies would make incursions into the neurotech space.
Meet Will, Another Kind Of Fresh Prince
During his time as a pro with the Arizona Diamondbacks, Rosellini received the same training as future hall of famers. "I had the same body in terms of skeleton and muscles," he pointed out.
So, at one point, he noticed there were two main things that separated the big leaguers from the Double-A guys like himself, and none of them were corporeal:
Major leaguers could reproduce the motions under a wide variety of conditions, and that was a brain function.
Adrenalin seemed to have a positive effect on performance, even though physical conditions remained unchanged — he picked up on this by comparing his pitching speed in practice and in a game.
At 22, Rosellini retired from baseball so he could dedicate his time to studying. Interested in neuroscience, he took all kinds of courses to help him better understand how the brain works and how he could "take metal and push electrons off the metal to disturb the ions next to a nerve."
"I'm focused on all the different failure modes associated with the nervous system and devices interfacing," he told Benzinga.
Getting Into The Biz
In addition to being an eternal student, Rosellini is a serial entrepreneur. Throughout the course of his life, among other ventures, he founded a company focused on stereotactic neurosurgery, which he then sold; a telemedicine business; and a firm using electrical currents on the vagus nerve to help learning and healing of the brain.
Nowadays, the impresario serves as the CEO of Nexeon MedSystems, a company that has developed a neurostimulation system for the treatment of neurological diseases. As described by the company, "The system uses a surgically implanted medical device that delivers pulsed electrical signals to the brain and nervous system."
Benzinga: Please explain how Nexeon's brain chip works.
Rosellini: Nexeon has developed a deep brain stimulator. This is a pacemaker-like device with a battery and circuit that goes next to the heart, in an implant.
We run a wire up into the brain and put that wire and electrode into a grapelike segment of a Parkinson's-affected brain. We then fill up that grape size area with electricity, which allows us to regulate the neurons in that area and stop tremors.
What differentiates our device from others is that we can not only stimulate the brain, but we can record what's happening at the same time, learn a lot more about the disease itself and even reprogram the device to potentially handle other aspects or symptoms of the disease.
We are also doing quite a bit of Internet of Things, which allows us to grab the biggest amount of data for implanted brain signal and IoT data that is coming out of everyday life. So, we hope to learn more about the disease in order to stimulate the brain better and more effectively.
BZ: We also learned you're manufacturing devices for GlaxoSmithKline plc (ADR) (NYSE: GSK). Please tell us about this partnership.
Rosellini: GlaxoSmithKline has a 20-year vision that says the future of traditional drug development is over; the low hanging fruit is gone. They are now betting big on neurostimulation because these devices can be made small. You can put them wherever you want. You can make them precise. That allows them to turn the device on and off, and it also allows them not to have to worry about testing for the systemic effects of a drug.
The company is doing things outside of the brain and in the periphery, trying to control organs. So, we're helping them by selling them devices, so that they don't have to build their own device — because it takes about $50 million to develop a device like ours.
BZ: What can you tell us about Mark Zuckerberg and Elon Musk's foray into the neurotech arena?
Rosellini: Over the last couple of months, we've learned that Mark Zuckerberg and Elon Musk are working on neural interfaces for healthy patients.
Elon Musk wants to do this to enable healthy patients to merge with artificial intelligence, but it is not quite clear what he's planning to do yet. Then, Mark Zuckerberg wants to create a Facebook environment, a neural interface that allows users to not touch the keyboard to interface with Facebook.
My opinion is that these bioelectronics are what's next after the cell phone handhelds because your nervous system craves connection and Facebook represents connection to the network, and the barrier to connection now is having to touch a phone to navigate to see the pictures.
Nowadays, we're running our implant off an app on the phone. But eventually, the technology between the brain and the phone is going to go away, and you're just going to have a nervous system run by software.
I've been working on it for 15 years. Now we're seeing a flood of new entrants, which is really exciting to herald the promise of what amounts to nearly 600 neurological diseases that could be improved. Ultimately, this could lead to an advancement on human cognition and education for healthy patients.
More From Benzinga:
Meet MSNBC 'Pot Baron' Andy Williams And His Multiple Marijuana Businesses
Meet One Woman Entrepreneur Who's Fighting For Diversity In The Cannabis Industry
Posted-In: Biotech Health Care Top Stories Startups Exclusives Tech Interview General Best of Benzinga
View Comments and Join the Discussion!