Exclusive: Orexigen Therapeutics Execs Talk Contrave And The Stock's Roller-Coaster Ride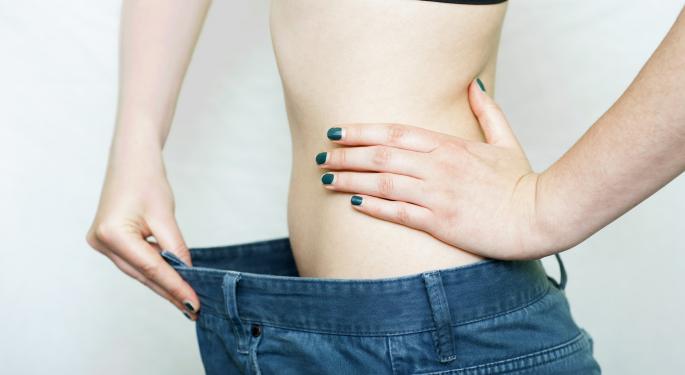 Meet Orexigen Therapeutics, Inc. (NASDAQ: OREX), a micro-cap biopharmaceutical company delivering one of the strongest stock market performances of 2017 so far. After losing almost 90 percent of its value over 2016, shares have recuperated more than 80 percent this year.
Benzinga recently spoke with Orexigen CEO Michael Narachi and Chief Financial Officer Jason Keyes to talk about what has been going on recently, what all the volatility is about and what the company is up to.
Getting To The Patients
Orexigen is focused on weight loss. Although the company's name might not ring many bells, its FDA-approved product, Contrave, probably does.
"Contrave is the number one prescribed branded agent the United States," Narachi began. "What we are focused on is making sure that we can help as many patients as possible in their struggle to lose weight [...] by trying to make sure that we bring consumers into the mix here. Many therapeutics, including the obesity therapeutics that have recently launched, are focused on the physician and making sure that physicians are aware of the agents. Therefore, physicians are armed with information so that they can decide whether or not they want to prescribe the new agents to patients."
"We've discovered that the physician/patient dialogue around weight loss and obesity, and how to treat it, is not very effective; there is a stigma with it," he said. "Patients blame themselves, society sometimes blames patients —The conversation is not typically productive [...] So, we felt that it's essential to reach out to the patient side and then drive higher-quality conversation between healthcare providers and patients."
Narachi continued, "Contrave is believed to work in two areas of the brain, to help you control hunger and reduce cravings. So, we've changed the conversation to the science around why it is so hard and how might get help to lose weight. Those are activating messages, and we've demonstrated that patients become very activated there and are seeking help, seeking more information, seeking treatment."
Overcoming Old Stigma
People often believe weight loss drugs have amphetamines and other counter-productive components in them — and they're not that far from the truth. Others understand the problem comes from combining phentermine and dexfenfluramine, or from the use of ribonabant, which can cause depression, and sibutramine. No matter what the level of understanding of each person is, the fact is that, in many cases, there's a bad reputation associated with weight loss pills.
So, how is Orexigen dealing with this issue, and how is their product different?
Regulators demand drug makers to meet considerably higher safety standards and endpoints than in the past, Narachi explained. Moreover, Contrave is "one of the only oral non-scheduled, not-DEA-controlled substances, with no abuse liability. The vast majority of the markets for prescription anti-obesity today is still phentermine, the amphetamine congener [which can cause addiction]. And, the other two oral agents that were more recently approved are also DEA-controlled substances."
"Because of the scrutiny that the regulators put on obesity drugs, Contrave uniquely has produced an enormous amount of safety data, including a completed cardiovascular outcome study that generated an enormous amount of cardiovascular and other safety data in 10,000 patients," Narachi said.
Benzinga: What do you think the size of the addressable market is, and what percentage can you capture?
Narachi: The addressable market is massive. Today only 3 to 4 percent of eligible patients are treated with a therapeutic. Contrave is the No. 1 branded agent in the U.S. market and, right now, among branded agents, we're approaching 50 percent market share.
In the overall market for obesity therapeutics we're at about 8-percent market share. I think we can continue to grow share in that market, and I think that market can grow a little bit too overall.
Keyes: We haven't made long-term quantitative projections, but last year, the average revenue per script was $77 per script. We're expecting that to grow to $85 to $90 per script this year, and we expect to increase that significantly out into the future.
Narachi: I will say though, this is a volume business, not a price business. That is one of the challenges of primary care, and we're ready for the challenge. The demand elasticity data says that products with attributes like ours, patients are willing to pay in the range of $140 to $170 a month. Our price point is far below that. We're just in the classic $3 to $5 a day range, so very affordable product for our patients.
The Stock Roller Coaster
BZ: Last year, the stock lost almost 90 percent. This year, it rebounded about 82 percent. What has been going on?
Keyes: Last year, we saw a significant decline in our stock price following the acquisition of Contrave from our former partner, Takeda Pharmaceutical Co Ltd (ADR) (OTC: TKPYY) (OTC: TKPHF), in March, and I think that was largely driven by uncertainty in investors' eyes around the level of resources needed and our ability to take on a product like Contrave and successful commercialize it ourselves.
I will point out that, in order for us to purchase Contrave, we had to raise $156 million in a convertible bond financing vehicle in March to provide the funds to both purchase the asset as well as to build our commercial infrastructure and relaunch the drug ourselves. That obviously did provide a lot of potential dilution to shareholders. I think was certainly a factor.
However, I think a lot of it was just uncertainty, again, about the ability of a relatively small company like Orexigen (compared to Takeda) and our ability to grow the brand.
On the other hand, I think what we've seen this year is an inflection in the trajectory of prescriptions for Contrave. So, I think there is renewed confidence in our ability to grow the brand and create enterprise value, especially following the announcement and then the launch of our direct consumer campaign.
Narachi: [I also believe] it was a bold move when we decided to go from a royalty-earning company to a fully integrated commercializing, compliant entity in primary care. However, we've exceeded all of the all-time highs since, in shares, in TRx growth, the new therapy starts… In every metric across the board.
The Valeant Deal
BZ: You recently announced that Health Canada had accepted Contrave for marketing approval review. The New Drug Submission was filed by Valeant Pharmaceuticals Intl Inc (NYSE: VRX)'s Canada subsidiary. Can we go into this deal?
Narachi: When we got the product approved in the United States, with that large new data set from the cardiovascular outcomes trial, we filed also in Europe. Europe has been tougher on anti-obesity agents, having denied two of the agents already that were approved in the U.S. So, when we got the European approval [...] we immediately started a more aggressive partnering campaign.
In Canada, it was a multi-company process. We ended up selecting Valeant Canada, which is very strong in Canada [...] and had the experience of marketing bupropion, which is a key ingredient in Contrave.
So, they have a big team, a large footprint, good commercial development, a good regulatory team — and, we've transferred the license application to them, and we're confident that it can be a positive outcome in the Canadian regulatory process, which is also historically pretty tough on obesity agents.
More From Benzinga:
Anthrax And Government Contracts: PharmAthene And Altimmune Ahead Of Merger
View Comments and Join the Discussion!
Posted-In: ContraveBiotech Health Care Top Stories Exclusives Trading Ideas Interview General Best of Benzinga