6 IPOs On Tap For This Week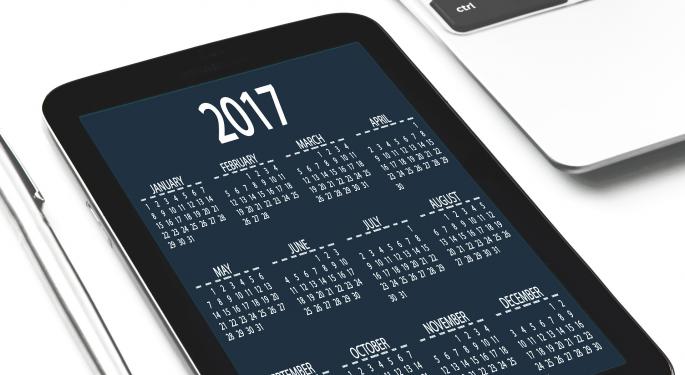 Last year wasn't incredibly receptive to the IPO market, but prospects appear to be brighter for the current year, as an Ernst & Young report predicts that the United States will lead a recovery in global IPO activity in 2017.
The report said there is now a pipeline of more than 130 companies ready to list, excluding those that have filed their IPO registrations confidentially. The firm projects 2017 will surpass the number of IPOs in 2016, and the trend toward lower deal sizes may likewise persist.
"Although uncertainty remains over what President-elect Donald Trump's policies will mean for companies, investors, markets and the U.S. economy, early market signals are positive," the report said.
Meanwhile, six firms will celebrate their trading debut this week, with three of them expected to list on Nasdaq, two on NYSE and one on NYSE MKT.
The Week Ahead
Following is a brief overview of the companies that will start trading this week:
Braeburn Pharmaceuticals (NASDAQ: BBRX):
Braeburn Pharma, an Apple Tree Partners company, is focusing on medicines in neuroscience. Braeburn's commercial product, Probuphine (buprenorphine) implant, was approved by the FDA in May 2016.
Braeburn's investigational product pipeline consists of long-acting implantable and injectable therapies for serious neurological and psychiatric disorders, including opioid addiction, pain and schizophrenia.
The company is expected to issue about 7.7 million shares at a price range of $18–$21.
Invitation Homes (NYSE: INVH):
Invitation Homes is engaged in offering homes for lease in 13 markets across America. The operating markets include Atlanta, Chicago, Las Vegas and Seattle.
It is expected to issue 77 million shares at a price range of $18–$21.
Kimbell Royalty Partners LP (NYSE: KRP):
Kimbell Royalty owns oil and natural gas mineral and royalty interests across twenty states. KRP is managed by its general partner, Kimbell Royalty GP, LLC, and owns more than 48,000 gross producing wells with over 29,000 wells in the Permian Basin.
It will issue 5 million common units at a price range of $19–$21.
Laureate Education (NASDAQ: LAUR):
Laureate, a public benefit corporation and a certified B corporation, offers professional-oriented programs in a wide range of disciplines. It has a network of more than 70 campus-based and online universities in 25 countries, offering undergraduate and graduate degree programs to over 1 million students worldwide.
The company will issue 29 million shares at a price range of $17–$20 a share.
Ramaco Resources (NASDAQ: METC):
Ramaco is an operator and developer of high-quality, low cost metallurgical coal in central and southern West Virginia, southwestern Virginia and southwestern Pennsylvania.
The company said it will issue 6 million common shares at price between $12 and $15 per share.
Sachem Capital (NYSE: SACH):
Sachem Capital Partners, LLC, a private lender, has been funding real estate transactions in the New England area. The company's loans are of short duration (usually not exceeding 36 months) and all loans are secured by first mortgages on real estate.
The lender is expected to issue 3 million shares at $5 and debut on the NYSE MKT exchange.
Posted-In: Biotech News Education Health Care Commodities Previews IPOs Markets Best of Benzinga
View Comments and Join the Discussion!