Verastem's CEO Talks DYNAMO Study, The Competitive Landscape And Pitch To Investors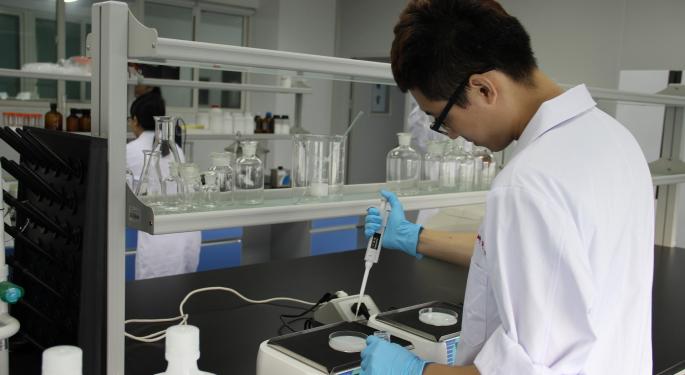 Verastem Inc (NASDAQ: VSTM) is a biopharmaceutical company that focuses on discovering and developing therapies for the treatment of patients with cancer.
Verastem acquired a license agreement from Infinity Pharmaceuticals granting Verastem exclusive worldwide rights to develop and commercialize Infinity's oncology product candidate duvelisib, an oral drug for the treatment of some blood cancers, including Chronic Lymphocytic Leukemia, a form of leukemia, and non-Hodgkin's lymphoma.
Benzinga had the opportunity to chat with Verastem's management team, including its CEO Robert Forrester.
DYNAMO Study
Verastem reported results from a Phase 2 clinical study called DYNAMO, which was tasked with exploring the safety and efficacy of duvelisib.
Forrester explained to Benzinga that the therapy showed it was able to achieve a reduction in the size of a tumor. In fact, 83 percent of the patients in the study saw a reduction in target lymph nodes, which is a reduction in the size of the tumor.
Forrester stated within CLL there are around 18,000 patients duly diagnosed. The executive added its target market isn't so much in the academic centers, but more in the regional country centers where 80 to 90 percent of patients are treated.
"They tend to be slightly older patients, late 60s, early 70s. They are treated in the community," Forrester said. "So our target market is the community doc, the community patient where they want to have another oral drug with a safety profile is predictable and manageable, where the drug is active. We just showed you in non-Hodgkin's lymphoma, this drug is clearly active. It's clearly doing something of benefit for the patient and the side effect profile again is predictable and manageable."
Forrester continued that the market opportunity in the United States only in CLL is "at least several hundred million dollar" range.
Competition
Forrester pointed out that his company does face competition from Gilead Sciences, Inc. (NASDAQ: GILD), which markets Idelalisib.
However, Gilead ran into issues in March of 2016 when it had an imbalance in safety on its trials that were ongoing due to a higher infection risk and a subsequent fatality in their treatment arm.
Forrester touted the fact that since the therapy was in a phase 1 trial, Infinity and now Verastem have been monitoring patient management techniques, including mandating prophylaxis. In other words, the companies have been doing pretreatment with drugs that reduce the infection risk to try and make sure patients do not get these infections.
"In the DYNAMO study there were no fatal serious opportunistic infections which is something that gives us real confidence when we refer to market research that physicians are really learning how to use this class of drugs to be able to manage the safety profile so you reveal the efficacy that lies underneath in a safe, effective manner," the executive touted.
Challenges Moving Forward
Forrester was then asked what the biggest challenges the company faces moving forward are.
He answered that a major issue around its therapy is the "negative perception around the drug" and potential side effects. However, Forrester argued the data from the DYNAMO study is addressing these concerns.
Forrester also stated another worrisome aspect is biological risk, but similarly, this is greatly diminished by the activity it has seen from the DYNAMO studies.
Another risk the executive identified is the fact that many investors see positive data from a study and then assuming the next logical step is discussions with the U.S. Food and Drug Administration and its European counterparts. This is not always the case and there is still risks associated with the whole regulatory process.
"There are always a number of risks associated with drug development," Forrester also said. "The nice thing for this drug compared to most drugs that are earlier in development is that it is so late in development and there's been so much encouraging clinical data. No guarantee of success of course, however, the data, activity, and safety are very encouraging so we are hopeful that this year that investors will begin to appreciate what we have here and the opportunity for us to take this active drug and hopefully get it approved and then lead to commercial opportunity which should lead to greatly enhanced shareholder value one would hope."
Pitch To Investors
Forrester offered a final pitch to the investment community:
"Primarily we are a company that is trying to change the way the cancer is treated. We are very passionate about bringing novel therapies, novel science to patients to change the experience for patients to allow them to live longer and with convenience and with a good side effect profile.
"By convenience I mean having oral drugs they can go home with. As you know, many cancer drugs are infusions such as chemotherapy, some of these IO drugs that we hear a lot about which is you've got to go to a doctor's office or even a hospital in some cases to get treated and on a regular basis.
"What we're trying to do is develop novel therapies where there is the convenience of oral therapy, where there is a high level of activity, and where patients can live longer lives with a good side effect profile with a good quality of life. That quality of life is really important, particularly for elderly patients such as the ones that we're treating with duvelisib, so that is really, really important for us."
Posted-In: DuvelisibBiotech News Health Care FDA Top Stories Interview General Best of Benzinga
View Comments and Join the Discussion!