Exclusive: Myriad Genetics Discusses The Growing Market In Genetic Testing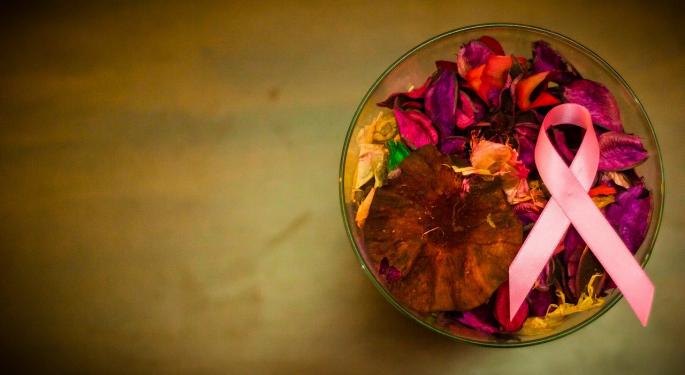 Myriad Genetics, Inc. (NASDAQ: MYGN) is a molecular diagnostic company engaged in the development and marketing of transformative molecular diagnostic tests.
The company recently announced a new relationship with ION Solutions, a part of AmerisourceBergen Corp. (NYSE: ABC), to deliver hereditary cancer tests and services to its members.
Benzinga had the opportunity to chat with the company's executive vice president of corporate communications, Ronald Rogers, about the company's recent partnership and other aspects of the business.
Cancer Testing Market Size
Rogers stated that while it is difficult to quantify the market size for all cancer testing, the hereditary cancer testing market alone is greater than $30 billion and less than 10 percent of at-risk patients have undergone testing.
Since Myriad was first launched its hereditary cancer test in 1996 the company tested around 2.5 million people. From a historical point the hereditary cancer testing market has grown from 7 percent to 12 percent year.
Rogers added that the growth rate for new technologies could be even higher when the company obtains broad payer reimbursement for new products.
Rogers also stated that ION is an important customer because it manages one of the largest physician networks in the country with more than 3,200 oncology practices.
"ION selected Myriad over other less experienced laboratories because Myriad offers an exceptional value in terms of its proven commitment to high-quality genetic tests, its significant investment in ongoing R&D to advance the science of genetic testing, and its best-in-industry laboratory practices, including variant interpretation and customer service," he said.
Future Plans
Benzinga went on to ask, aside from the recent partnership with ION, what other opportunities and markets are being targeted.
Rogers noted that Myriad's vision of becoming a trusted advisor in transforming patients' lives has prompted the company to become a larger and more diversified global personalized company.
As such, the company is dedicated toward answering the four most pressing clinical questions (risk of disease, accurate diagnosis, prognosis and treatment selection) in six different medical specialties, including oncology, preventive care, urology, dermatology, autoimmune and neuroscience.
"Our pipeline of tests is designed to address significant unmet medical needs, representing a total addressable market exceeding $25 billion globally," Rogers said. "significant resources have been dedicated to personalized medicine in oncology, but the other five areas of focus for the company are in the very early stages of personalized medicine."
Rogers continued that one of Myriad's most exciting new products is GeneSight, a market-leading test to assist in psychotropic drug selection. The product marks the company's first commercial product in the high-growth neuroscience segment and was obtained through the acquisition of Assurex Health.
Top Priorities
Rogers pointed out to Benzinga that Myriad is operating in a "nascent" personalized medicine market that requires time to fully materialize.
He added that the top three priorities for the entire sector include: 1) obtaining payer reimbursement for new products, 2) ensuring intellectual property rights are fully protected and companies continue investing in next generation products and 3) developing regulators to protect patients while simultaneously encouraging innovation.
Posted-In: amerisourcebergen Cancer TestsBiotech News Health Care Trading Ideas Interview General Best of Benzinga
View Comments and Join the Discussion!