One Year Later: Valeant's 90% Fall From Grace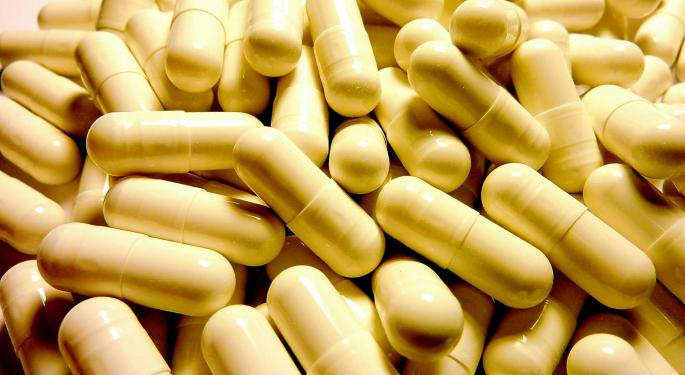 One of the most incredible market stories of the last year has been the absolute implosion of Valeant Pharmaceuticals Intl Inc (NYSE: VRX). In the not too distant past, Valeant was one of the top performing stocks in the entire market, and certainly for its size. In mid-2012, shares were trading for roughly $50, and by the Summer of 2015, Valeant had sailed north of $250 per share, giving the company an unbelievable market cap above $100 billion.
On August 11, 2015, the stock was at $247.79; it closed Wednesday's session at $27.32.
Consider that this is the same valuation as McDonald's Corporation (NYSE: MCD), which has 420,000 employees and operates around the globe. In 2015, McDonald's had sales of $25.4 billion while Valeant was trading at nearly 10 times revenue with sales of $10.4 billion. In any event, strong and consistent revenue growth in recent years had enticed a host of major institutional investors to buy the stock.
The Fall
Everything was going unbelievably well, until the Fall of 2015 when shares began a free-fall descent after a single short-seller, Citron Research run by Andrew Left, began publishing its bear thesis on Valeant. The first post came on September 27 and focused mostly on the company's policy of raising drug prices and gouging consumers. In the ensuing days, the stock began to fall precipitously. Although Citron has a phenomenal track record, it's very unprecedented for a single post to trim multiple billions off of a company's market cap - particularly a company as large and widely followed as Valeant.
Nevertheless, it was clear Citron had struck a nerve and investors were paying close attention. By October 20, the stock had fallen to $147. The following day, Citron released a report that basically put the nail in Valeant's coffin, titled "Could this be the Pharmaceutical Enron." The gist of the post was that Citron had discovered Valeant was using so-called "phantom accounts" in order to improperly book revenue and mislead the company's auditors. By the close of the market on October 21, Valeant had plunged to $110 and it has been all downhill since then as the stock eventually went on to hit a low of $18.55.
Related Link: More Trouble Ahead? Valeant Under Criminal Investigation
In the wake of Citron's report, Valeant was investigated by the U.S. Senate, and issued a restatement of its financials. Currently, Valeant is trading in the $28 range, which represents a decline of around 90 percent over the last 52 weeks. Interestingly enough, in July, Citron went short Valeant once again in the mid-$20s, with Left telling the Street.com, "I think it's obvious it's a zero now." He cited the exit of the company's largest shareholder, Sequoia Capital, from its entire 20 percent position as a surefire signal that Valeant has lost all credibility with Wall Street.
Earnings Rebound
Despite the extreme decline in the share price and all of the negativity surrounding the company, Valeant was back in the news this week after surging in the wake of its Q2 earnings results. Over the last five trading sessions, the stock jumped more than 24 percent and volume has been very heavy in the name.
For its fiscal second quarter, the company reported a net loss of more than $300 million, but on an adjusted basis, which is comparable to analysts' estimates and excludes extraordinary items, Valeant reported net income of $487.5 million or $1.40 per share. This was down from $751 million or $2.14 per share in last year's second-quarter and missed analysts' consensus EPS estimates of $1.48.
Sales for the period fell 11 percent to $2.42 billion, which also was below consensus estimates calling for revenue of $2.46 billion. Despite the worse-than-expected results for Q2, investors pushed the stock price up sharply after CEO Joseph Papa said the company had received unsolicited bids for its core assets. Investors were also pleased the company maintained its full-year 2016 guidance on its earnings call. Valeant continues to see adjusted EPS between $6.60 and $7.00 on total revenue between $9.9 and $10.1 billion.
More Bad News
On Wednesday, after the closing bell, Valeant was hit with more bad news as the Wall Street Journal reported the company is under a criminal investigation being run out of the U.S. Attorney's Manhattan Office.
WSJ reported an ongoing criminal probe focused on the company's relationship with a closely linked mail-order-pharmacy named Philidor RX Services LLC.
Philidor is the same pharmacy that had previously been connected to allegations of accounting improprieties at Valeant. Specifically, back in October's report, Citron accused the company of creating a network of linked pharmacies in order to book fraudulent revenue and deceive its auditors.
The stock fell more than 8 percent in after-market trading to $24.90.
In light of the sharp jump on heavy volume this week, traders are asking themselves if the stock has finally put in a bottom. Whereas an investor would have had to pay 10x 2015 revenue for the stock a year ago, shares can now be picked up at a much more reasonable 1x revenue. Going forward, headwinds remain at the company, particularly with regard to its huge debt burden.
View Comments and Join the Discussion!
Posted-In: Biotech Long Ideas News Short Sellers Short Ideas Hedge Funds Technicals Legal Best of Benzinga