Biogen, Ionis Reveal Nusinersen Meets Primary Endpoint At Interim Analysis Of Final Stage ENDEAR Trial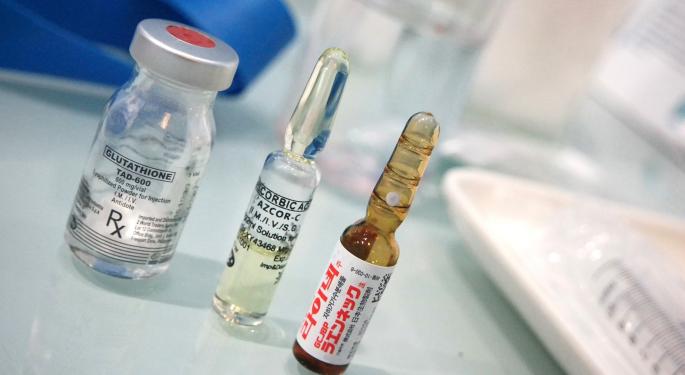 Biogen Inc. (NASDAQ: BIIB) and Ionis Pharmaceuticals (NASDAQ: IONS) revealed that nusinersen, their investigational treatment for spinal muscular atrophy (SMA), met the primary endpoint at interim analysis of the final stage of ENDEAR trial. The company added that the Phase 3 study assessed nusinersen in infantile-onset (consistent with Type 1) SMA.
Biogen and Ionis indicated that their analysis found that infants getting nusinersen witnessed a statistically considerable enhancement in the motor milestones achievement compared to those who did not get treatment. During the trial, Nusinersen illustrated an acceptable safety profile.
Related Link: Importance Of Phase III Trials
Therefore, Biogen has exercised its option to develop and commercialize nusinersen globally by paying Ionis a licensee fee of $75 million. The company would commence the regulatory filings in the upcoming months.
EVP and chief medical officer, Alfred Sandrock, commented, "We share the community's sense of urgency as we strive to bring the first treatment for SMA, the leading genetic cause of infant mortality, to families facing this devastating disease. We remain committed to understanding the potential of nusinersen in the broader SMA population and will continue to focus on the rapid completion of our ongoing studies."
According to the companies, they would also work together to transition the clinical programs that Ionis is conducting to Biogen. There is also tiered royalties on any potential sales of nusineren up to a percentage in the mid-teens apart from a maximum of $150 million milestone payments depending upon the approvals from the regulators.
Biogen traded $12.07 or 4.16 percent higher at $302, while IONS stock surged $7.81 or 26.76 percent at $37.00 at time of writing.
View Comments and Join the Discussion!