Government Study: Cellphone Radiation Linked To Cancer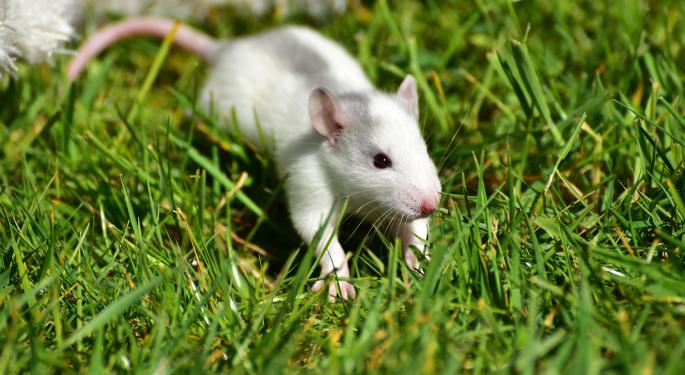 Radio frequencies frequently emitted by cellphones can cause cancer, according to partial findings of a government study on rats, reported the Wall Street Journal.
The National Toxicology Program (NTP) has carried out extensive toxicology and carcinogenesis studies of radiofrequency radiation (RFR) in rats over multiple years. The studies involved observing the effects of frequencies and modulations found in the U.S. telecommunications industry on the rodents, paying particular attention to the potential of cancer-cell developments.
The Study
The peer-reviewed study found "the occurrences of two tumor types in male Harlan Sprague Dawley rats exposed to RFR (radiofrequency radiation), malignant gliomas in the brain and schwannomas of the heart," according to the research team.
Related Link: AstraZeneca Remains Committed To Development of ZS-9 Despite Letter From FDA
"Given the widespread global usage of mobile communications among users of all ages, even a very small increase in the incidence of disease resulting from exposure to [radio-frequency radiation] could have broad implications for public health," the Wall Street Journal quoted a report of partial findings from the study.
Under these studies, rats and mice were exposed to radio-frequency "with two signal modulations [Code Division Multiple Access (CDMA) and Global System for Mobile Communications (GSM)] at two frequencies (900 MHz for rats and 1900 MHz for mice)," the NTP wrote.
The study also found that "the tumors in the brain and heart observed at low incidence in male rats exposed to GSM and CDMA-modulated cell phone RFR in this study are of a type similar to tumors observed in some epidemiology studies of cell phone use."
"All RF exposures were conducted over a period of approximately 18 hours using a continuous cycle of 10 minutes on (exposed) and 10 minutes off (not exposed), for a total daily exposure time of approximately 9 hours a day, 7 days/week," according to the study.
What Does It All Mean?
"Where people were saying there's no risk, I think this ends that kind of statement," the Wall Street Journal report said, quoting Ron Melnick, who ran the NTP project until his retirement in 2009.
The Journal said, "It's not clear how the results may impact the government's cellphone safety recommendations."
"Scientific evidence always informs FCC rules on this matter," an FCC spokesman told the Journal. "We will continue to follow all recommendations from federal health and safety experts including whether the FCC should modify its current policies and RF exposure limits."
View Comments and Join the Discussion!
Posted-In: BioRXIV cancer FCCBiotech News Health Care Media General Best of Benzinga