Martin Shkreli-KaloBios Saga An Example Of How Penny Stocks Can Be Misunderstood, Tim Sykes Says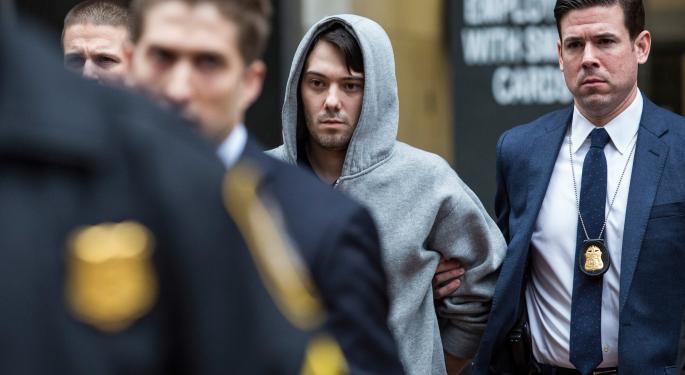 Hedge fund manager and biopharma CEO Martin Shkreli was arrested Thursday, charged with securities fraud relating to his time as CEO of Retrophin Inc (NASDAQ: RTRX), a company he founded.
"Prosecutors charged [Shkreli] with illegally taking stock from Retrophin Inc., a biotechnology firm he started in 2011, and using it pay off debts from unrelated business dealings. He was later ousted from the company, where he'd been chief executive officer, and sued by its board," Bloomberg reported. Shkreli was accused of engaging in a "shell game" after his now-defunct hedge fund MSMB Capital Management lost millions.
A press conference was held Thursday afternoon to discuss Shkreli's arrest. As The Washington Post noted, U.S. Attorney Robert L. Capers told reporters that Shkreli "engaged in multiple schemes to ensnare investors through a web of lies and deceit... His plots were matched only by efforts to conceal the fraud, which led him to operate his companies…as a Ponzi scheme."
Shkreli's arrest sent shares of KaloBios Pharmaceuticals Inc (NASDAQ: KBIO) down 50 percent in Thursday's pre-market session. It last traded at $11.75 before being halted at 6:50 a.m. ET. Nasdaq later Thursday morning said trading will remain halted until they satisfy request for additional information. Shkreli bought shares and become CEO of KaloBios last month.
See Also: KaloBios Plummets 50% After Martin Shkreli Is Arrested For Fraud
Timothy Sykes says traders and investors can learn a lot from this.
Smokescreen
Sykes said Shkreli can become an example of how penny stocks are covered, both from a trading and media perspective.
"What I want more investors to see and realize [is] these sketchy individuals who are behind these companies" don't accurately represent "the product that they put in their PRs," Sykes told Benzinga on Thursday.
"With most penny stocks, the game for these companies and insiders is to pump up the stock price so that they can either sell their shares -- sometimes on the open market, sometimes they just don't even report it.
"If you don't want to sell the shares," Sykes added, "you can basically just get paid from salary and compensation and bonuses, which is what a lot of these penny stocks CEOs and management do over months or even several years and they get the stock price up to raise money."
Related Link: Martin Shkreli Ask, 'Who's Tim Sykes?'
Sykes did say that some of these penny stocks do hold onto their spikes, using Jazz Pharmaceuticals plc - Ordinary Shares (NASDAQ: JAZZ) as an example. Jazz was trading under $5 in 2009, but has steadily risen over the last few years. The $8.7 billion market cap company last closed in the $138 handle.
A 'Constructed' Short Squeeze
Citing Shkreli's history as a hedge fund manager, who is proficient in the financial markets, Sykes believes "he basically constructed this short squeeze...he knows about short selling. He knows that if you buy a company that's fundamentally worthless, there's going to be a lot of shorts that got caught short."
Sykes continued, "Martin hyped up [KaloBios] then took back his shares creating essentially a margin call for short sellers. I wasn't shorting at $40 a share -- I was scared of what else Martin had up his sleeve -- I don't think anybody should necessarily short this.
"Now that Martin has been arrested, I'll be looking to aggressively short it because there could be some big shorting if it doesn't drop 90 percent over the next few weeks [but] I think it will."
Remember:
Retrophin

Filed Suit Against

Shkreli

In an August 17 securities filing, Retrophin said it had filed suit against its former chief executive: "Shkreli was the paradigm faithless servant. Starting sometime in early 2012, and continuing until he left the Company, Shkreli used his control over Retrophin to enrich himself, and to pay off claims of MSMB investors (who he had defrauded)."

Retrophin on Thursday announced an independent investigation, fully cooperative with the government probe.

Shkreli was released from jail on a $5 million bond, with travel restricted to eastern and southern districts of New York.

Nick Donato and Jason Shubnell contributed to this report.
Posted-In: Biotech News Short Ideas Health Care Legal Top Stories Exclusives Movers Best of Benzinga
View Comments and Join the Discussion!