Organovo CEO Keith Murphy: 'People Are Missing The Forest For The Trees'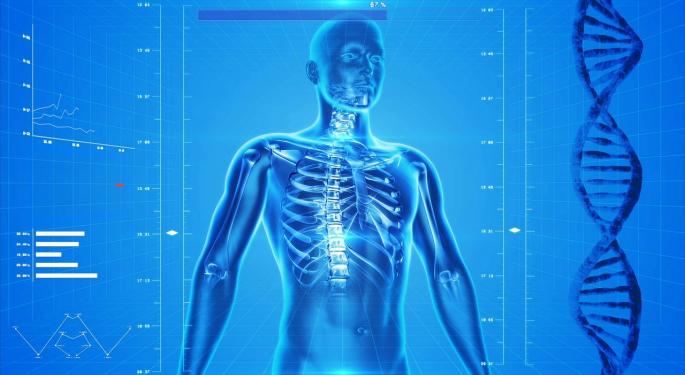 "I think people are missing the forest for the trees," Organovo Holdings Inc (NYSE: ONVO) CEO Keith Murphy told Benzinga.
Murphy's remarks were in reference to Cantor Fitzgerald's downgrade of Organovo from Buy to Hold following the company's reported $8.5 million Q1 loss in August.
The conversation with Murphy revealed a CEO anxious to share what he sees as a call for patience on the part of those watching the company, along with enthusiasm for a future he sees as bright.
Related Link: EXCLUSIVE: Organovo CEO Keith Murphy Talks Pipeline, Market Misconceptions
BENZINGA: In regard to Cantor Fitzgerald's downgrade, do Wall Street rankings and opinions have an impact on you and on Organovo?
Keith Murphy: Clearly, we want to maximize our investors' opportunity over time, so these things are important to us.
What I would say is that I think people are missing the forest for the trees here a little bit. We reported about $300K in revenue for the first quarter, and we're seeing some reaction to that, I would say.
The bigger picture is, last quarter we had $2 million in booked contracts. Analyst and shareholder reaction was positive. The fact that these (contracts) take a couple of quarters to be recognized as revenue shouldn't surprise anyone.
I think what people have lost sight of is that since we launched in November, we've been giving guidance that it's about a four- to six-month timeline to get to a contract and then it's a four- to five-month timeline to book the revenue from that deal.
If you add those two time frames together, just use a 10-month number, the 10 months from last November will be September.
BZ: Is the problem that, in this type of industry (biotech), it's a lack of understanding or of forgetting that there is this timeline?
KM: Great question. I think it's very common and not unexpected that investors focus on the revenue line, and can be unforgiving. I think you see with many companies people go through a downturn with reaction to initial product launch.
When we decided to pursue this path, we said to ourselves, "Well, you're gonna get beaten up, because once you start to show revenues, you can't please people for a period of time."
BZ: How do you see the collaborations with Merck & Co., Inc. (NYSE: MRK), L'Oréal and the Yale School of Medicine helping overall?
KM: The Merck deal is one with multiple aspects to what we're doing with them.
One is they've become a customer for the liver tox business. They are actively engaged in contracts with us on using our xVive3D human liver tissue for detecting toxicity of their compounds.
The reason we mentioned that as part of our Merck contract was the fact that it's part of a larger contract. The balance is focused on the development of specific tissues for use in drug discovery.
This is a nice aspect of our platform and something we think will be growing over time. We can work with pharma companies to develop disease models that can be better than animal models for predicting efficacy of a drug.
BZ: What about L'Oréal?
KM: Let me back up a step. With Merck, our goal is building tissues together. Organovo's goal is to deliver tissue that is so promising for Merck that we're going to get into a next larger stage contract with them where they would actively screen compounds in it. We'd like to get royalty and milestone from compounds found with these tissues.
L'Oréal represents just such a next-stage contract. We actually did a first contract with L'Oréal in mid-2013 and delivered on that in mid-2014. What it represents is that kind of next stage where we get backend on what we deliver.
BZ: So, what is the next stage with L'Oréal?
KM: 3D skin prototypes. We need to turn that into a final 3D bio-printed skin models as a first stage of this next contract. The contract anticipates that there will be royalty and milestone for Organovo for things that are discovered and moved forward commercially from those.
L'Oréal is in the beauty industry, so they're looking at finding cosmetic agents that are active and determining the activity of those. The contract anticipates activity back to Organovo for this.
In addition, we can do multiple other things in terms of revenue streams. As L'Oréal does the screening, the contract anticipates (Organovo) to be the commercial supplier of the model.
Further, we can choose together to sell that more broadly, meaning work with other folks in the industry and offer them the tissues if we choose to do that.
Finally, once you build a 3D skin like this, we're talking about the use with cosmetics companies. Organovo has the right to go out and use it in the pharmaceutical industry as well.
BZ: What are you doing with Yale?
KM: That's an early stage research project. Yale is key to the longer-term opportunities here. We can't, today, make large tissues like full organs. To get to the stage where we can do that, we need to cross certain barriers, such as the ability to make a vascular structure inside of a tissue.
With federal research grant dollars, they (Yale) can do big projects with the Organovo bio-printing platform and have opportunities to solve some of these key issues. Then we can work together to leverage them into commercial tissues that would be helpful in the clinic.
BZ: What has you most excited? Is it whole, intact 3D printed organs? Is that the ultimate end game?
KM: It's AN ultimate end game, I would say. One of the things that's excited me most about Organovo is the fact that we can have a big impact very quickly with smaller tissues in an in vitro setting.
For example, with diseases like Alzheimer's, one of the big barriers has been unpredicted toxicology of (medications) that have gotten to Phase II and then had a surprise.
Having better tools to do drug discovery and development really does help patients in a shorter term than these larger tissues will help patients.
Of course, it's safe to say that everyone at Organovo is heavily motivated by that longer-term goal, as well. We certainly want to take bio-printing technology as far as it can go and move it toward those goals longer term.
Related Link: Bayer's Latest Stage 2 Trial Could Be A Boon For Shares

BZ: Looking forward, what other areas are underway?

KM: One big area for us is cancer. We've been building a breast cancer tumor model that we believe has a lot utility in discovering new cancer drugs.

That is also part of a collaboration. We are working with the Oregon Health and Sciences University to do that work.

A breast cancer tumor has a core of cancerous cells surrounded by fat and skin type cells. We can build that structure. It's almost structured like the earth, if you think about it, with a core of molten lava and the crust on the outside.

We can produce that structure and we are looking to leverage that for drug discovery purposes.

At the time of this writing, Jim Probasco had no position in any mentioned securities.

Image Credit: Public Domain
View Comments and Join the Discussion!
Posted-In: Cantor FitzgeraldBiotech Health Care Top Stories Success Stories Exclusives Interview General Best of Benzinga