Talking With A Specialist About Aquinox's Enormous Day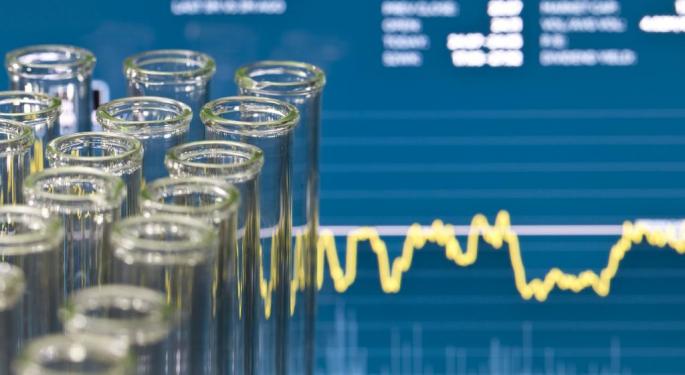 Aquinox Pharmaceuticals Inc (NASDAQ: AQXP) is the talk of the town on Monday. On Thursday evening, the company released promising secondary endpoint results from the Phase 2 trial of a new drug targeting interstitial cystitis (IC), a painful bladder condition.
"The encouraging effect of AQX-1125 observed on the primary endpoint of reduction in pain together with several statistically significant secondary endpoints, underscore the potential of AQX-1125 as a once daily, oral therapy for this debilitating disease," said CEO David Main in a press release.
Earlier in Monday's session, Aquinox shares reached $55.75, an astounding 3,000 percent rise since Thursday's close of $1.79. Along the way, Nanex reported there were nine circuit breaker halts in the first three hours of trading.
Related Link: Visualize Aquinox's 9 Circuit Breaker Halts In The First 3 Hours Of Trading
Jefferies analyst Biren Amin told Benzinga that the medication, if eventually approved by the FDA, could serve up to 400,000 patients with moderate to severe IC. Assuming 25 percent market penetration, the drug would generate about $600 million in annual revenue for the company by 2025, he said.
Talking With A Specialist
Dr. Scott Sircus, a partner at the Michigan Institute of Urology, delved into this issue further.
An obvious question: What is the status of current drugs on the market that are being used to treat the disease and its side effects?
One drug currently on the market is Elmiron, an oral tablet that reduces discomfort from IC. Sircus said it was likely the only effective pharmacological treatment available for the disease. He admitted that the treatment "doesn't work great for everyone," suggesting that Aquinox's developing medication may have a significant role to play.
Elmiron is also "very expensive," he said, "and you typically have to stay on it for a long time." Sircus also highlighted the utilization of neuromodulation therapies, which seek to placate the symptoms via electrical impulses sent to the nerve fibers in the bladder. "It's kind of like a pacemaker of sorts," he explained. "And that's really where the interest of urologists lies currently."
Time Will Tell
Despite Sircus's description of other alternative treatments for IC, he maintained that options for patients are still relatively limited. "If you ask any urologist what the three or four conditions are [for which] we don't really have a good treatment right now, most will put interstitial cystitis near the top of the list."
He was intrigued by the potential of Aquinox's new drug as an addition to the arsenal of methods used to stave off the painful condition.
Ali Hakim contributed to this report.
Posted-In: Premarket outlookBiotech Long Ideas Exclusives Movers Trading Ideas Interview General Best of Benzinga
View Comments and Join the Discussion!