A Last Minute Trade In Newmont Mining Won The Thinkorswim Challenge For UNC Students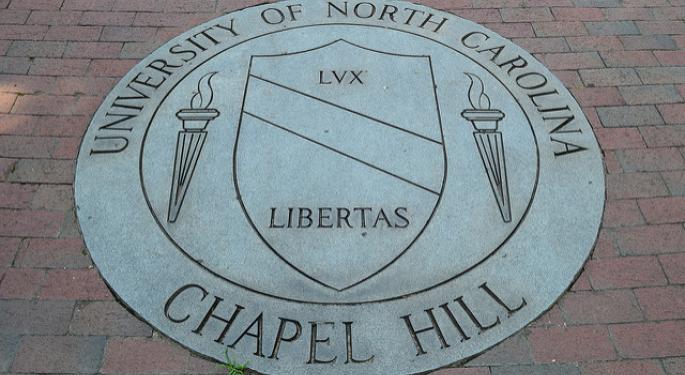 A last-minute bet on Newmont Mining Corp (NYSE: NEM) propelled "All For Tony, Tony For All," to victory in the third annual thinkorswim challenge, a trading competition between college students throughout the country.
The team from the University of North Carolina–Chapel Hill closed a gap of several hundred thousand dollars in the contest's waining hours by buying short term call options on the mining company to overtake a team from the University of Idaho.
"Throughout the day everybody had been dumping shares [of Newmont]" said Grahme Taylor, a member of the team. "We bought as much as we could have purchased, and it worked."
As a result of the trade, the team of four walked away with $30,000 total, iPad Pro's, and $3,000 each in a TD Ameritrade brokerage account.
The contest, which ran from October 10-November 5, consisted of 726 teams from schools in 49 states. Each team was given $500,000 in paper money to build portfolios that were measured based on overall profit and loss over the length of the contest. Participants could only trade stocks in the S&P 500, Dow Jones Industrial Average, and the most popular ETFs, and no single asset could take up more than 10 percent of a portfolio.
"All For Tony's" portfolio took the top spot with a closing value of $1,133,492 — a 127 percent gain over the course of four weeks. Their margin of victory was less than $13,000.
TD Ameritrade's Mary Ryan noted the use of options as something that changed the most from last year's contest.
"The biggest change year over year is that students adopted options products faster," Ryan said. "They've become savvier over the years and demonstrated a lot more advanced strategies, especially around derivative trading."
This proficiency with options trading is becoming a trend among competitors. In the 2016 competition, 80 percent of trades made at the beginning were straight equities. By the end, 64 percent of trades were of the options variety.
While the use of options was different from years past, the most popular stocks - Twitter Inc (NYSE: TWTR), Apple, Inc (NASDAQ: AAPL), Amazon.com, Inc. (NASDAQ: AAPL), Netflix, Inc. (NASDAQ: NFLX), and Tesla Motors Inc (NASDAQ: TSLA) - were consistent with years past.
Taylor attributed the win to the diverse expertise of the members. "We stuck to what we knew. Alex [Bryan] is an economics major. I'm health policy management and chemistry. Nyatefe [Mortoo] and Dhru [Patel] are economics and computer science majors. So we traded equities within tech, healthcare, biopharma."
Mortoo credited the team's increased exposure through options strategies as a integral part of their portfolio's performance. "I'd always heard that options and extremely leveraged trading can be pretty sketchy. But if you do your research and you know how to apply your leveraged trades, you can actually make pretty consistent returns and make really high profit/loss."
While the investment funds were hypothetical, the North Carolina team traded cautiously. "We were very careful about getting out when things started to shift," Graham explained. "We were mostly concerned with our own performance up until the last couple days, when we learned we'd have to trade options almost exclusively to keep up with people."
Image source: William Yeung, Flickr
Posted-In: General Best of Benzinga
View Comments and Join the Discussion!