What Benzinga is Thankful For This Thanksgiving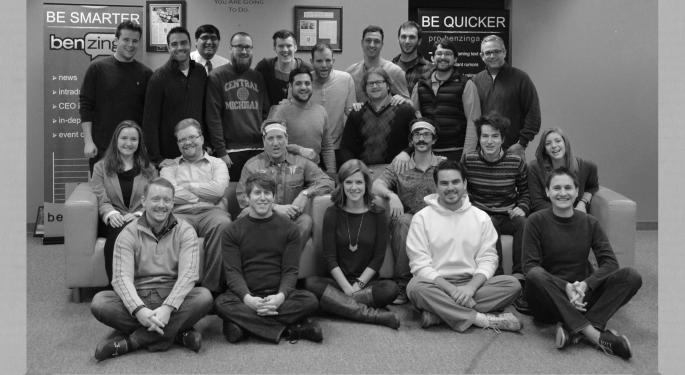 "Be thankful for what you have; you'll end up having more. If you concentrate on what you don't have, you will never, ever have enough." — Oprah Winfrey
As we indulge ourselves this Thursday with delicacies in the form of candied yams, thrice-stuffed turkeys, cornbread, green bean casseroles and cranberry slices all covered in gravy, all of us here at Benzinga would like to take a moment to give thanks.
Too often we see companies aimlessly meander along through the holiday season without realizing the true reason for their success — the people that make their existence amaZING!
We have been truly lucky in the four years of our existence to have not only met some extraordinary people, but also to have worked alongside them. We are only great because we are surrounded by awesome people doing incredible things.
To our Partners:
A message without delivery is like words spoken upon deaf ears. You allow us to reach our full potential as a company and are the microphone to our voice. Our network of partners has helped us to become well-known enough to have our Benzinga PreMarket Info show hosted with our dear friends at OptionsHouse.
We have continued to work closely with our relationships at Microsoft via Benzinga's Windows 8 app on Bing Finance and have become even more closely acquainted with the hard workers at MSN Money.
We are eternally grateful for the unbelievably intelligent and classy people in this industry. We are often awestruck by the amount of knowledge and street-smarts our partners have. To work alongside all of you makes this job a joy to do.
To our Readers and Customers:
You are the reason we do what we do: the reason we consume unhealthy amounts of caffeine during earnings season and the reason we never rest until each and every customer is satisfied. Providing true value in this hyper-technological trading world is fun for us.  
Without our loyal customers and readers, we would not have been able to donate 6,000 meals to those in need this year from our Marketfy Holiday Trading Summit!
To our Contributors: 
Our content has allowed us to put a dent in the finance world. To all of our experts around the world, we truly thank you for all your time and effort that you put into each and every piece. Your dedication, market knowledge and ability to translate the news into actionable ideas that are useful to traders are what make us a rare commodity in this industry.
Amidst the vast amount of financial posts each day, you are a meaningful voice that sets us apart from the herd. You are all true professionals that shine bright in the trading world. 
We are consistently looking for new ways to provide value to all of our users and hope that our new ventures can make your lives easier. We love hearing from new and old readers alike, that make (or save) money from what we do.
To give you a sense of how much we enjoy it, we have a big gong in our main office that is struck each and every time we hear from one of you praising our services. Your happiness and satisfaction means so much to each of us.
The moments that we celebrate are when we make your life easier.
Why? Because we were traders and analysts at the grind each and every day. We are now on a different side of the equation and are forever grateful for your business; without you we are nothing. You make us tick!
This holiday season and going into the new year, we promise to work as hard as humanly possible because we are overwhelmed with gratitude for everyone that makes up this great company — contributors, partners and readers alike! We proudly acknowledge our dependence and take it as an honor to bring you the most actionable content in the world.
Go Zing or Go Home.
All the best,
The Benzinga Family
Posted-In: General Best of Benzinga
View Comments and Join the Discussion!