SLIDESHOW: Models To Watch Out For In 2014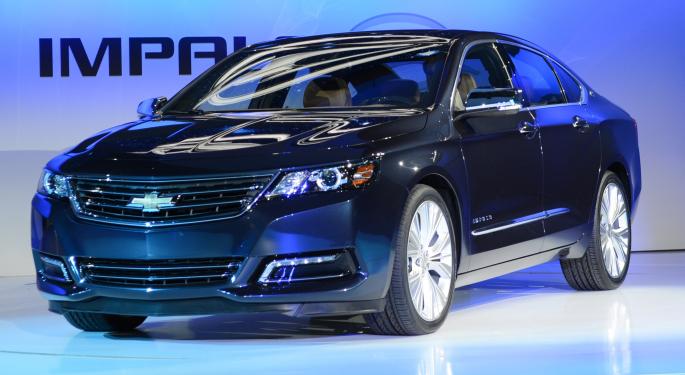 New cars are fun, especially when they come from companies that have made a comeback from struggles with bankruptcy, quality and union issues.
Domestic auto makers General Motors (NYSE: GM), Ford (NYSE: F) and Chrysler (OTC: FIATY) have made significant strides and have hot new model releases and refreshes for the 2014 model year.
Chevrolet brought life back to its mundane, people-mover geriatric Impala model, which was named the most improved resdesign of the year by Consumer Reports, while key model shortages at Chrysler production facilities of the 200, Town & Country and Dodge Ram have prevented some dealerships from hitting sales targets during the month of August.
All three domestic automakers have been attempting to expand their business globally, with Ford introducing a new luxury brand overseas called Vignale.
So what is there to look forward to regarding 2014 model releases? Check out the slideshow to see!
2014 Cadillac CTS

Make: Cadillac
Model: CTS
Change: Redesign
Emphasis on lightweight materials (almost 245 pounds less in base form). LED-enhanced lighting. Will offer eight different "environments," each with its own distinctive skew and premium materials, but all sharing a clear driver orientation. (Source)

2014 Cadillac ELR

Make: Cadillac
Model: ELR
Change: All-New
New premium coupe represents the first application of Extended Range Electric Vehicle technology by a full-line luxury automotive brand. Puts a unique spin on the division's sense of style, integrating signature vertical lighting units into angular but aero-contoured bodywork. (Source)

2014 Chevrolet Impala

Make: Chevrolet
Model: Impala
Change: Redesign
Stronger, stiffer body structure. wider and sleeker than the existing model and offers a bit more space for people and cargo. Lower, swept-back nose that features new, low-profile projector beam headlights flanking a wide grille that wraps around the fender edges with new LED running lights. (Source)

2014 Chevrolet Corvette

Make: Chevrolet
Model: Corvette
Change: Redesign
450 Standard Horsepower. 450 lb-ft of torque. 7-Speed manual transmission. Hood and removable roof panel are fashioned of low-weight carbon fiber, and sheet molded compound is used for fenders, doors and rear quarter panels. (Source)

2014 Chevrolet Silverado

Make: Chevrolet
Model: Silverado
Change: Redesign
High-strength steel is now used in over 60 percent of its cabin structure. Three new EcoTec3 engines are being introduced, featuring all-aluminum construction with truck specific tuning. They are backed by 6-speed automatic transmissions whether packaged with rear or 4-wheel drive. (Source)

2014 Chevrolet SS

Make: Chevrolet
Model: SS
Change: All-New
Can go from 0-60 mph in about 5 seconds. Features a weight-saving aluminum hood and deck lid that also help lower the center of gravity and bring its front/rear weight distribution to a near 50/50 balance. (Source)

2014 Ford Transit Connect Wagon

Make: Ford
Model: Transit Connect Wagon
Change: Carryover
Will offer the choice of regular and long wheelbase configurations and two familiar, well-proven 4-cylinder engines, both backed by an efficient 6-speed automatic transmission. Ford Chief Operating Officer Mark Fields said it will be the most fuel-efficient 7-passenger vehicle available and will appeal to young families and "on-the-go adventurers." (Source)

2014 GMC Sierra Pickup

Make: GMC
Model: Sierra Pickup 1500
Change: Redesign
A sculpted steel bumper adds even more presence to the fascia while the more aggressively contoured hood and fender designs impart a bolder character to the profile view. Complements its Z71 chassis tweaks with a painted grille and less chrome plus an ebony interior trimout. (Source)

2014 Jeep Cherokee

Make: Jeep
Model: Grand Cherokee
Change: Refresh
Matches its robust unitized structure with an all-new suspension tuned for smooth ride and good control in both front- and 4-wheel drive configurations. Its core structure uses nearly 65 percent high-strength steel that both reduces weight and adds to its rugged character. (Source)

2014 Land Rover Range Rover Sport

Make: Land Rover
Model: Range Rover Sport
Change: Redesign
The fastest, most agile and most responsive Land Rover in the history of the company. Fitted with a fully redesigned aluminum-intensive chassis that includes variable-height air suspension that also brings an additional 2.3 inches of ground clearance. (Source)
Posted-In: 200 Cadillac Chevrolet Chevy Impala Chrysler Corvette DodgeGeneral Best of Benzinga
View Comments and Join the Discussion!