Reviewing Supplier, Customer & Country Exposures With Yewno|Edge
Yewno is an Artificial Intelligence (AI) and data science company founded in 2015 and is based in Palo Alto, California. The company uses a unique approach to knowledge and learning via a powerful AI-driven platform. This technology is currently used in education, publishing, government, biomedical and financial applications.
Through what is known as an inference engine, Yewno's augmented intelligence incorporates machine learning, neural networking, cognitive science and computational linguistics that render a visual result called a KnowledgeGraph. This specialized chart distills massive amounts of data to enhance human understanding through the correlation of concepts derived from the data sources.
Yewno's Knowledge Graph. Source: Yewno Finance.
Basically, Yewno attempts to mimic the way the human mind uses intuition to make conceptual connections and dynamic links between disparate sources of data. The company's first offering was for education, which consists of a unique service specifically designed for students and academics. The service is currently in use at major research and academic libraries including Stanford, the University of Cambridge, and the National University of Singapore. Over the past several years, Yewno has developed tools for investors and financial professionals to benefit from the application of its AI technologies provided via Yewno Finance.
What is Yewno|Edge?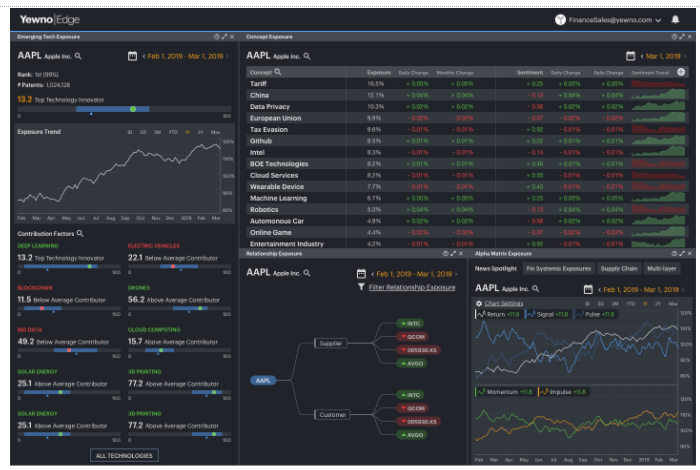 Screenshot of the Yewno|Edge platform analyzing Apple Inc. (NASDAQ: AAPL). Source: Yewno Finance.
Yewno|Edge is a sophisticated front end application for investment research driven by artificial intelligence. Yewno|Edge aims to take unstructured financial data and convert it into actionable knowledge displayed in a concise and intelligent manner. It empowers users to make inferences across multiple themes, allowing them to analyze complex problems and arrive at better results, faster.
The software sifts through millions of documents to obtain valuable insights into company profiles and entire industries. In addition, Yewno Finance has excellent technical and fundamental analysis resources to complement its AI-derived content delivered through Yewno|Edge.
One of the features most valuable to traders and investors is Yewno|Edge's intelligent newsflow, which delivers insights that would otherwise require a whole team of researchers. Yewno|Edge combs through various data sources to find information relevant to the companies you care about, and helps you build investment or trading strategies based on technical and fundamental analysis. A partial list of the financially relevant data sources used by Yewno|Edge include:
53 million government contracts
300K clinical trials
11 million patents
4 million court documents
71 million news articles
11 million corporate filings
85 million scientific articles
Yewno|Edge's AI algorithms let you review selected data that can affect a company's earnings, business prospects and stock price. The sensitive algorithm used by the Concept Exposure Module can even detect when a stock might be affected by non-traditional risk factors, such as tweets from U.S. presidents and other important political figures.
Yewno|Edge's extensive research features also allow you to review a company's exposure to its supply chains, customer orders, foreign exchange rates and other risks the company might have that could affect its business both domestically and internationally.
The AI-based financial platform vastly condenses the research process you would otherwise need to go through. It also facilitates quick comprehension and analysis by leveraging Yewno|Edge's proprietary KnowledgeGraph technology that helps uncover hidden investment opportunities that could assist you in forecasting stock price moves.
In addition to analyzing current news topics and sifting through millions of pieces of data, Yewno|Edge's online platform provides idea generation, a customizable watchlist, a strategy builder, a risk exposure module, and modules for concept and portfolio exposure.
Yewno|Edge also lets you assess a company's commitment to new technologies and innovation through its Patent Exposure Module. This platform feature searches for registered patents and lets you rank companies by the contribution they make to emerging technologies that can influence the stock market and pave the way into the future. At present, these might include such disruptive technologies as: AI, cloud computing, blockchain technology, the Internet of Things (IoT), virtual reality and big data.
Reviewing a Company's Supplier and Customer Relationships
When you sign into the Yewno|Edge platform, you will be prompted to select a template. Selecting the Pro template automatically lets you view the Company Relationships module in one of the squares on the lower right side of the page.
The Company Relationships module provides the names of the main suppliers and customers of the company that issues the stock you select, as well as the amount of exposure directly attributable to each customer or supplier of that company. You can use this feature to review the supplier and customer relationships for a company of interest in just seconds.
Up to five customers and suppliers are listed for the stock you select, and you can view the results for total company exposure, financial exposure, media exposure and economic exposure. Yewno|Edge allows you to visualize these supply chain relationships. An example of the Company Relationships window displaying results for Netflix is shown below.

Yewno|Edge Company Relationships KnowledgeGraph for Netflix, Inc. Source: YewnoFinance
As you can see from the graphic above, the Company Relationships module currently lists Netflix, Inc.'s (NASDAQ: NFLX) five main suppliers as:
Furthermore, it shows the 5 main customers for Netflix consist of:
Comcast
T-Mobile US, Inc. (NASDAQ: TMUS)
AT&T
Dish Network Corporation (NASDAQ: DISH)
Deutsche Telekom (DTE:GR)
Beneath the graphic, you can also see the amount of exposure expressed in percentage terms that the company has from its suppliers and customers. Exposure types include total, financial, media and economic exposures.
Reviewing a Company's Country Exposure
Companies that operate in other countries have considerable exposure to risk from foreign exchange rate shifts. Depending on the nature of the business it engages in, a company can also be exposed to changes in its supply or distribution chains that can result from events like trade wars or treaties.
Also, individual stocks and markets have correlations, and many companies are interconnected through complex relationships and second tier connections that are not immediately apparent. Rather than use traditional fundamental data like the breakdown of revenue by country, company earnings or the country of domicile, Yewno|Edge's Country Exposure Module instead analyzes exposures using global news items and stock returns for any publicly traded company.
You can access the window for this module quickly by selecting the Risk Template where it appears in the bottom right corner. Alternatively, you can click the platform's Menu button and find Country Exposure under Company Insights to add the component module to a blank workspace.
This module displays a firm's exposures in up to eleven major countries with developed and emerging market economies. The Country Exposure Module also determines three important risk elements by using this alternative data, which are: Financial Exposure, News Exposure and Aggregate Exposure. In the screenshot below, you can see three pie charts and tables of Apple Inc.'s exposure to various economies.
Screenshot of Yewno's Country Exposure Module for Apple Inc. Source: Yewno Finance.
Is Yewno for You?
If you've been overwhelmed by the tsunami of available financial information while conducting your financial research, then you should seriously consider getting access to the Yewno|Edge platform. Yewno Finance's flagship AI platform helps you distill massive amounts of fundamental and alternative data into actionable financial information you can readily base a trading or investment strategy on.
The two useful functions covered in this article barely scratch the surface of the potential of this amazing AI driven platform. For anyone who manages their own portfolio and wishes to conduct research for potential investments, then Yewno's Edge platform could be an invaluable resource. If you would like to assess the impressive platform before subscribing, you can request a free 14-day trial here or check out the Yewno|Edge review on Benzinga.
View Comments and Join the Discussion!