Small Businesses Are Using Design To Meet Safety And Distancing Requirements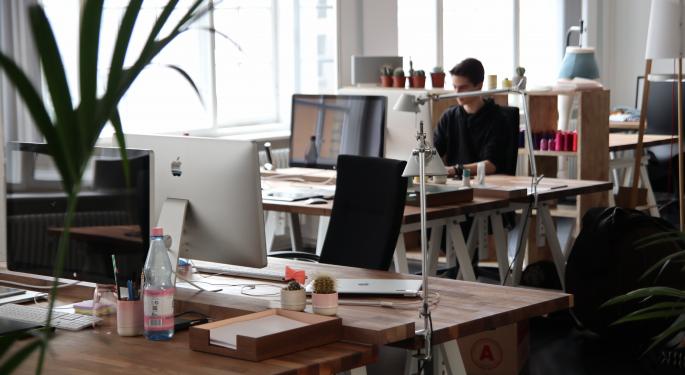 The following post was written and/or published as a collaboration between Benzinga's in-house sponsored content team and a financial partner of Benzinga.
The "new normal" that has emerged in the midst of the global pandemic has forced small business owners to confront some needed changes to how they operate, some that are hopefully temporary while others are a long time in coming. Businesses across the nation are financing large and small projects to better tackle the needs of this new normal, and Credibly has been there every step of the way to provide capital to drive these projects.
One of the most far-reaching results of the coronavirus is that businesses of all stripes are being forced to rethink their floor plan and retail spaces with a goal of optimizing those spaces for the safety, efficiency and, in some cases, comfort of their staff and customers.
Through innovative design choices and behavior-focused layouts, many businesses are finding new ways to remain safe throughout all levels of their business while rediscovering ways to maintain meaningful interactions with customers and foster productive and supportive working environments for their employees.
Guided By History
Something important for business owners to understand is that the coronavirus is not the first disease to prompt such drastic changes. In a recent article from The New Yorker, writer Kyle Chayka discusses how diseases of the twentieth century shaped modern architecture through the 20th century.
The article references the Paimio Sanatorium in southwest Finland as an example. Built in 1933, the Paimio Sanatorium was designed as a treatment facility for tuberculosis patients. The building, which was designed by architect Alvar Aalto, has been regarded as an internationally recognized masterpiece of modern architecture.
While innovative in design, the layout's function went beyond pure aesthetics. Aalto chose the ceiling's color because he believed it evoked an air of serenity. Heating was oriented toward the patient's feet. Expansive windows that welcomed broad daylight were installed as sunlight was a form of treatment for tuberculosis and terraces where patients could sleep was another design element chosen specifically for patient recovery.
Chayka reflects in the article how much of modern architecture might have been bred from a fear of disease, with designers making deliberate choices to emphasize light and airy layouts for interior design while steering away from dark spaces that harbored bacteria to more open spaces illuminated by the sun.
Redefining The Modern Office
One result of this shift in design mentality is that office and retail architecture became less segmented and focused on giving a sense of transparency and collaboration at the turn of the century.
Once completely unimaginable, the sharply divided layouts of cubicle- and office-based workspaces were gradually replaced by open designs, hot-desking (a seating arrangement where multiple employees occupy one workspace) and the use of conference rooms as additional workspaces are all aspects of the modern office.
Now, just as the transition to open workplaces seemed inevitable, many workplaces are being forced to rethink these collaborative spaces as the threat of COVID-19 persists. However, the desire to maintain the design esthetic of brightness and cleanliness remains.
One company embracing this challenge of merging safe layouts with pleasing design is commercial real estate company Cushman & Wakefield. The global services firm has implemented what they refer to as the "6 Feet Office." Desk barriers, 6-foot black circles encompassing each desk, indications for entering and leaving meeting rooms, and walking clockwise around the office are all components of the company's new safety measures that illustrate the parameters of safe working space without entirely segmenting the office.
"We started the 6 Feet Office Project with the ambition to get the world safer and back at work sooner. We believe that a safe and healthy workplace is at the center of what's next in business," said Jeroen Lokerse, Head of The Netherlands, Cushman & Wakefield.
Creative Small Businesses
But again, it's not just white-collar offices reconsidering how their workspaces are oriented. During this time, many small businesses from retail to manufacturing have been forced to find creative ways to conduct their business while adhering to government-imposed safety measures. This is a tall order, since they also hope to deliver, as much as possible, the core efficiencies and experiences that helped them succeed prior to the pandemic.
Factory floors and warehouses have also incorporated similar visual cues to the 6 Feet Office to guide and route workers and prevent unnecessary contact as much as possible. Consulting firm Mckinsey & Company highlighted an approach of designating workspace "pods" that materially segment their workspaces, but maintain the critical paths the employees take in the performance of their duties.
Then there are retail spaces In the suburbs of Chicago, La De Da! gift shop owner Jill Carlisle came up with an idea to provide personalized gift recommendations without customers needing to be physically in-store. Carlisle created a Google form for customers to fill out which consisted of questions that she used to pick out the perfect gift virtually.
Necker's Toyland in Simsbury, Connecticut, implemented a similar strategy in capturing the excitement of walking through their aisles without the risks now posed by actually doing so. The toy store offered a FaceTime browsing option where employees would virtually walk kids through the store so they could select a toy of choice from the comfort of their own home.
These solutions both cut down on the number of bodies in the store at once while also give customers and employees a way to communicate and maintain a somewhat traditional retail relationship.
Drawing Future Inspiration
Of course, these are only early solutions being made in desperate times. As the weeks and months roll on and, hopefully, the world gets a better handle on the virus, some of these solutions will be refined, with some possibly even becoming permanent answers to problems that businesses never knew they had.
Already, some cities have taken this moment to plan for what the "new normal" may be when the world again feels normal.
Back in June, the city of Baltimore put together a design competition for its local small businesses called Design for Distancing: Reopening Baltimore Together, which asked creative independent designers to submit their ideas for ways to implement CDC-approved safety practices in a way that was new and innovative. The winners were announced on June 8, and the selected designs were featured in an Ideas Guidebook which is available to view for free online.
Even as the world continues to fight against the pandemic, small business owners should look to initiative likes this and the examples above as inspiration and a source of hope for the potential of a better and more productive future in offices, factories and shops of all shapes and sizes.
The preceding post was written and/or published as a collaboration between Benzinga's in-house sponsored content team and a financial partner of Benzinga. Although the piece is not and should not be construed as editorial content, the sponsored content team works to ensure that any and all information contained within is true and accurate to the best of their knowledge and research. This content is for informational purposes only and not intended to be investing advice.
View Comments and Join the Discussion!
Posted-In: CrediblyFintech Success Stories Small Business General