Fintech Looks To Blockchain To Stem The Global Pension Meltdown
The global pensions industry is a disaster waiting to happen but nobody seems to be doing anything about it.
Concerns have already been raised concerning underperforming funds, which has sown seeds of distrust in workers who now worry that they may receive little to no pension when they eventually retire. This is also putting pressure on governments as well since social services will be the one ultimately strained if the pension industry fails.
In 2015, the World Economic Forum (WEF) estimated that there's a savings gap of over $70 trillion across the world's retirement funds. The WEF predicts that this gap will widen to $400 trillion by 2050 if a proactive and committed effort isn't made to fix the industry.
In the U.S. alone, pension funds are short by a massive $3.85 trillion. The deficit will continue to increase as fewer active workers avail of structured pension plans and more people retire. In the UK, there's $4 trillion pension deficit – more than the country's total GDP of $3 trillion. Last year, the WEF reported that the world's six largest pension economies – US, UK, Japan, Canada, Netherlands, and Australia can expect their pension deficit to be as much as $224T by 2050.
Thankfully, blockchain technology might offer a solution to solve the major issues concerning the pensions industry.
More people are pursuing unconventional employment
One of the reasons why there are pension deficits is that fewer people are getting employed in the traditional sense. 36% of the US workforce are engaged as freelancers. The downside is that freelance workers are often excluded from pension plans.
Companies only offer these benefits to full-time employees while others have to be part of workers unions. Otherwise, they have to find a fund to contribute to voluntarily. Unfortunately, most don't bother.
Not only does this create a problem for freelancers as they miss out on securing their financial future, but funds miss out on bringing them on board as contributing members. Pension funds need the contributions from young workers to be sustainable. But because of this trend, retirement funds are getting leaner.
Pension funds are rife with fraud and mismanagement
Many pension funds are also mismanaged. Last year, the fund manager in charge of New York State's Common Retirement Fund pleaded guilty to misappropriating funds up to the tune of $3 billion. Illinois policymakers were also accused of investing as much as $1 billion of Illinois Teachers' Retirement System in worthless junk bonds.
Unless these corrupt actors can give stolen or lost funds back, it's the workers who ultimately suffer. They often have to stay in the workforce longer in order to rebuild at least a portion of the funds they lost.
In some places, employers are simply not setting aside enough money to cover the future retirement benefit of their workers. For instance, only 7 US states have enough funds to cover retirement benefits according to data from the Center for Retirement Research.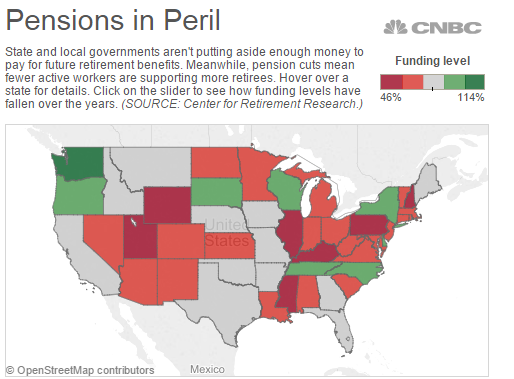 Source: CNBC
A blockchain-based solution for pensions
Fortunately, trust and transparency are areas where blockchain shows a lot of promise. Since the technology has already distinguished itself as a problem-solving tool for other sectors, blockchain technology could hold a solution for optimizing pension management.
Blockchain venture Akropolis is working on a technological platform designed to solve several of the deep-rooted issues plaguing the global pensions industry. As a decentralized marketplace, Akropolis allows workers to create pension accounts and connects them to pension funds. Members will be able to shop around for the fund that fits their needs. The blockchain helps keep track of transactions. Records are kept transparent so members will be able to audit their accounts and see how well their funds perform.
The platform also links funds with fund managers who can reinvest and grow their funds. They are all subject to a reputation and ranking system which compels them to perform well and provide their promised returns to members. Since they can be held accountable, funds and fund managers are encouraged to focus on the common good.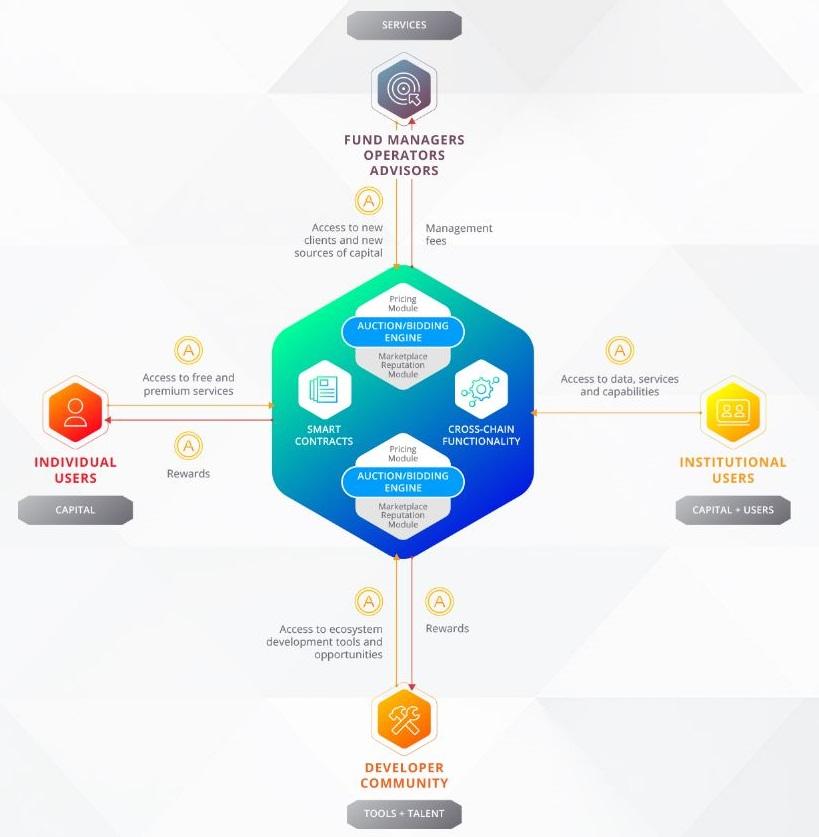 These address several issues concerning the pensions crisis. First, it provides members control over how they can build their pension portfolio. Second, it provides members with transparency allowing them to know the true state of their funds – something that existing systems don't even provide. Third, the system also discourages acts of malfeasance from funds and fund managers since the transparent records can be used to hold them accountable. Fourth, the trust the platform creates could inspire younger workers to participate in pensions contributing to overall solvency and sustainability of the industry.
Startups like Akropolis understands that current retirement and pension systems are inefficient. It seeks to become the definitive alternative by decentralizing the mechanisms that facilitate transactions and strengthening the relationships between users and the people entrusted with managing their retirement funds.
The preceding article is from one of our external contributors. It does not represent the opinion of Benzinga and has not been edited.
View Comments and Join the Discussion!
Posted-In: Fintech Personal Finance General