StockX CEO Josh Luber: 'Maybe One Day You Can Invest In The Jordan Index Instead Of The Dow'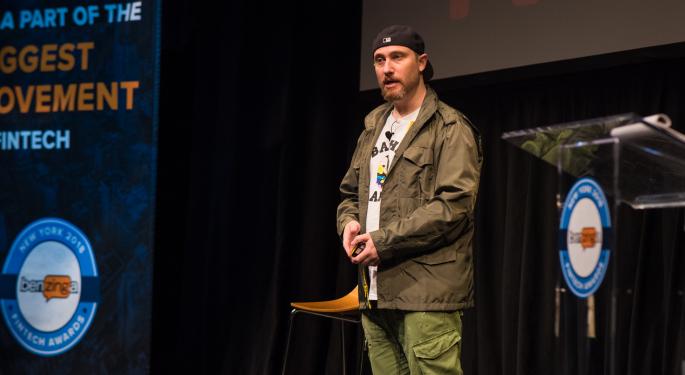 Is it possible that, one day, someone would invest in an index of Michael Jordan shoes as opposed to commodities on the New York Stock Exchange? According to Josh Luber, this could be the future of investing.
The CEO and co-founder of Detroit-based StockX spoke Wednesday morning at the 2018 Benzinga Global Fintech Awards about the history, success and prospect of his revolutionary sneaker and consumer goods firm changing the way people buy and sell "things."
'Stock Market Of Things'
Following a basic model of scarcity, supply and demand, the essence of the business is centered around limited edition goods. In Luber's words, it's "basic econ 101" that a style of shoe with only 10 available pairs will sell for much higher on the resale market than a style of shoe with thousands of available pairs.
Luber gave a real-world example of this by explaining the resale patterns of a typical black and white retro Air Jordan 4 shoes and a limited edition Eminem version of black and white retro Air Jordan 4 shoes. The former goes for about $40 more than retail price on StockX, where as the latter goes for about $23,000 more than retail price.
How Is StockX Different?
So what makes StockX different from eBay Inc (NASDAQ: EBAY) or Amazon.com, Inc. (NASDAQ: AMZN)? It operates in a way that allows people to buy and sell goods in the same exact way that traders buy and sell stocks. It eliminates the discrepancy in ask price and want price by letting people sell goods on the spot at a market price derived from data aggregation and evaluation, Luber said.
Unlike eBay, selling on StockX doesn't entail listing a product and waiting for buyers to come in and negotiate. The sellers simply enter the site, see the current market price for their shoe, and decide if they want to sell. Luber said this is similar to how traders enter a trading platform, see the current market price for a given stock in their portfolios, and decide if they want to sell.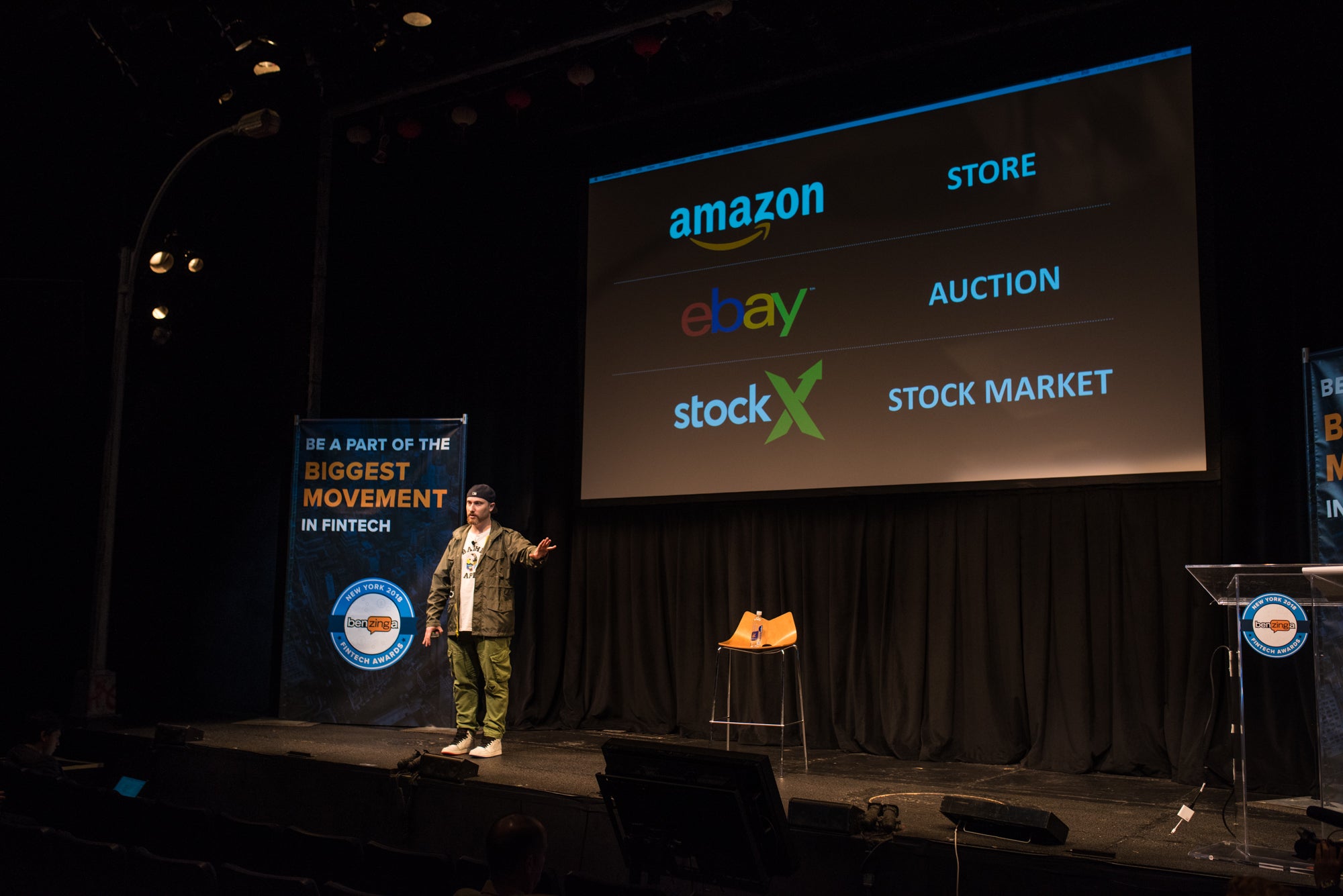 Josh Luber. Photo by Mandar Parab.
What's Next?
Today, two years after its creation, Luber says StockX does about $2 million in sales per day and about 12,000 transactions per day. Its three tenets -- anonymity, transparency and authenticity -- make sure sellers are safe and shoes are authentic, allowing someone not familiar with the market to buy and sell consumer goods.
"For a 15-year-old kid who couldn't care less about bids or asks or what a stock market is, he knows what he is getting is real," Luber said.
As far as the future goes, StockX has moved from a data company to a resale company and now is beginning to blur the lines between retail and resale. It recently "IPO'd" new Nike Lebron shoes to the public alongside Nike Inc (NYSE: NKE) earlier this year, which prompted the first-ever instance that a person bought and resold shoes without ever possessing the shoes in the process.
This is why StockX is so revolutionary. Eventually, Luber sees his company competing on a global scale with markets.
"Maybe one day you can invest in the Jordan Index instead of the Dow Jones," he said. As StockX grows and the value of the shoe resale industry continues to rise, don't rule it out.
Related Links:
'A Mix Of Art And Science': CMOs Talk Risk-Taking, Creativity At Benzinga Fintech Awards
Why Amazon Web Services Is Closely Linked To Finance: 'Access To Infinite Computing Power'
View Comments and Join the Discussion!
Posted-In: Benzinga Global Fintech AwardsFintech Emerging Markets Entrepreneurship Sports Top Stories Markets General Best of Benzinga