A How-To Guide To Growing Women-Led Startups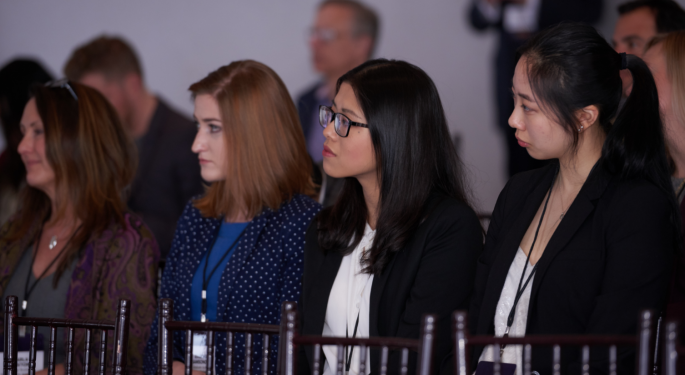 Christina Qi didn't get too deep in her trading career before realizing other ambitions. They were risky ambitions, but she resolved to give them a shot.
"I thought, 'it's okay if I start a company and it fails, I can just go back to work,'" Qi, now the CEO of Domeyard, said at the Benzinga Women's Wealth Forum. "That was my mindset at the time, and that helped me get the confidence to be able to take that leap of faith [and found Domeyard]."
It took years to get started, but Qi's $1,000 account has since grown to support $1 billion in daily trades.
Qi's story is common among startup founders, some of whom gathered at the WWF last week to share lessons from their journeys. Here's what they advised.
Develop A Plan
An endgame and a mission are critical, but they're not enough.
"People always talk about founding a company and how you need to have passion," Morty co-founder Nora Apsel said. "I think that's true, but that alone won't get you there. It's important to also have a sound business model."
Live Simply And Find Capital
That model may take time to play out, and when the product's still premarket or not yet profitable, life isn't glamorous.
Some founders lived off Ramen as they directed resources to the business. Others sought relief.
"If your product doesn't make money right away, you need to find some outside investment," Apsel said. She advised finding accelerators like TechStars Mobility.
Just Do It
At some point, though, the startup just needs to attempt a sale.
"Certainly sometimes when you're designing a product, you have this grand vision, and at the end of the day, if you're too focused on perfection — and I won't dismiss high standards, that's fair, consumers expect amazingness — you have to go to market," Kathryn St. John, senior director of user experience at Recognia, said.
Ready or not, the product needs to see daylight.
"Your idea has no value if it's not in the real world, so get it out there and then keep going," The Rudin Group CEO April Rudin said.
Be Humble
Once the product is out there, startups have to adapt to consumer needs. This requires detachment from ideas and a willingness to scrap them as soon as the data dictates.
"It's taking something, getting it to fruition, setting it free in the world, and then reading the data and following the data to the tee," Dale Sperling, CMO of Stash Invest, said. "You can't let your emotions get involved."
It also means knowing when to resurrect old ideas. Rudin said she's had multiple ideas that she's shelved until the industry has caught up.
"I call myself a 10-year overnight success because sometimes when you have a good idea or a new idea, you could be ahead of the curve and killing it just might mean that you're not at the right place at the right time," she said. "It doesn't mean it's a bad idea."
Be Active
Success also demands noncomplacency.
"Be careful that it's not about what you learned in the past or what you've given in the past," St. John said. "It's what you're giving today, what you're learning today."
Network
One thing all the founders stressed was that they achieved nothing on their own.
Qi attended multiple events to build relationships and get in front of people, and after a time, she finally caught a break.
"It took two and a half years years," Qi said. "It wasn't easy. Two and a half years of going to these events, and finally, someone in the audience noticed and liked it and it worked."
Leaning on community was critical for Rudin, who now advises leveraging connections.
"The fear of failure was what motivated me to call on my network," Rudin said. "I think that is a really important skill, and it's okay to have those feelings of fear of failure and also being enamored with success."
Be Flexible
As the company grows and more people bring more ideas, it requires greater prioritization of goals.
"There's a reward in systemizing and establishing a process," St. John said.
But it's important to be open to changing demands.
"The key to success is knowing that every day, minute, hour, things can be changing, so you need to be flexible," Rudin said. "You never know what's going to happen. Yes, you can lean back on processes, you can have processes, however, that doesn't mean it's going to save you on a rainy day."
Related Links:
4 Ways These Women Hustled To Reach The Top Of Their Business
Women In The Workforce Talk Gender-Based Challenges, Advantages
View Comments and Join the Discussion!
Posted-In: April Rudin Benzinga's Women's Wealth Forum Christina QiFintech Entrepreneurship Movers & Shakers Startups General Best of Benzinga