4 Ways These Women Hustled To Reach The Top Of Their Business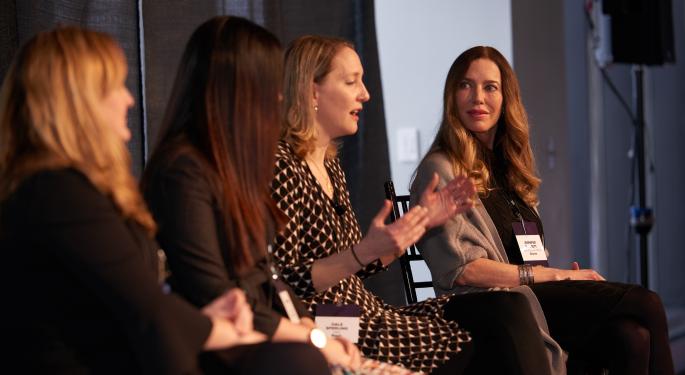 Underrepresentation, overt bias and pay disparities haven't discouraged contemporary women from succeeding in business.
Here is how some of the sector's top leaders did it.
1. Pick A Path
Apeksha Garga, head of design at Wealthfront, said step one is finding companies whose missions align with personal values.
"Irrespective of the industry or gender makeup of the industry, success is a byproduct of how inspired you are about your work," Garga said March 21 at the Benzinga Women's Wealth Forum.
That was a pivotal concept for Christina Qi, CEO of Domeyard. While at a former job, Qi reflected on whether she'd want to look back on her life and know she'd stayed in that position for 30 years. She quickly confessed other ambitions.
"I thought, 'it's ok if I start a company and it fails, I can just go back to work,'" Qi said. "That was my mindset at the time, and that helped me get the confidence to be able to take that leap of faith [and found Domeyard]."
2. Lean On Community
Then it's a matter of making the right connections to rise to the desired role. Part of Unison Finance Director Laura Wensley's path was seeking mentorship.
"It's about finding people who can give you insight and knocking on their door repeatedly," Wensley said on a panel.
In fact, a number of panelists championed relationship building — a skill seen to serve to the advantage of women.
"That's something women do very naturally, community building, networking and socializing," The Rudin Group CEO April Rudin said.
3. Do The Dirty Work
From there, it's about proactive effort. Stash Invest CMO Dale Sperling said the most influential moment of her career was the choice to learn from ostensibly mindless grunt work. When given 18 months of files to catalogue, Sperling turned it into a learning opportunity and read every document.
"I learned the whole business. It took me two weeks, but I understood every file that I put away, and I was able to then contribute to conversation," Sperling said. "I took a terrible situation, something you wouldn't expect, I was humble, and I inserted myself in there and I took advantage and turned it into an opportunity."
Wensley underwent a similar challenge. She advised internalizing the narrative and numbers of a company, proving oneself with time-intensive dirty work, and speaking up. "It's not about sitting back and waiting," she said.
Kathryn St. John, senior director of user experience at Recognia, attributes success to continued growth and relentless pursuit of improvement.
"Be careful that it's not about what you learned in the past or what you've given in the past," St. John said. "It's what you're giving today, what you're learning today."
4. Find A Place To Grow
For the most part, panelists considered academic origins irrelevant to their success. Neither course of study nor institution made a difference.
However, they affirmed the importance of early-career jobs. Some leaned into corporate experiences, and others found value in startups.
For Sperling, both environments were formative. The major firms afforded vast networking opportunities, awareness of corporate structure and divisions, and instruction in procedures and professional skills. They also inspired competitiveness to promote personal achievements.
"You have to hustle harder, you have to raise your hand higher, you have to impress," Sperling said.
Sperling said starting at a big company was critical in equipping her with skills for Stash, and the startup experience later on was no less important.
"At a startup, you're completed exposed," she said. "If you don't know your shit, you're screwed. You are the last stop. You're pressing the button. You're coming up with the concepts, so your idea has an opportunity to shine."
It challenged Sperling to learn and execute quickly while being accountable to her ideas. St. John agreed.
"The owner mindset that comes from working at a small company has been instrumental to my professional success," St. John said.
Related Links:
Women In The Workforce Talk Gender-Based Challenges, Advantages
How The Top Strategist Of A Major Investment Firm Keeps Her Cool In A Suddenly Uncertain Market
View Comments and Join the Discussion!
Posted-In: Apeksha GargaEntrepreneurship Movers & Shakers Top Stories Success Stories Startups Media General Best of Benzinga