3 San Francisco-Based Startups That Can Help You Manage Your Portfolio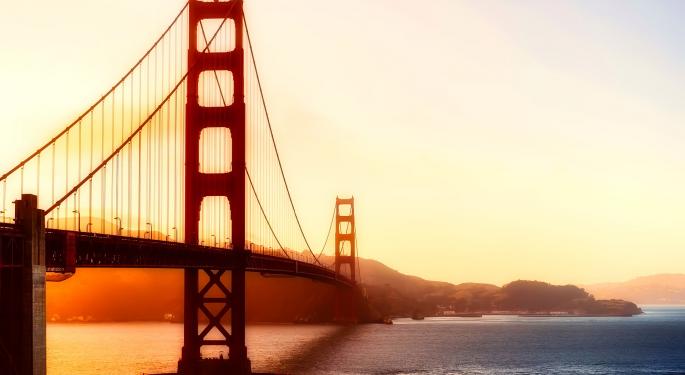 Thanks to the proliferation of robo-advising—investing algorithms that can potentially replace human financial planners—more and more people are starting to move away from the routine time drag of physically meeting a financial advisor and monitoring their activity through phone calls and meetings. Robo-advising eliminates much of the work of managing an advisor and allows people to get financial help on their own time.
San Francisco, the site of the Benzinga FinTech Summit on September 28th, is a hub for this robo-advisor industry. Read on for a few of the top financial advising startups in the Bay Area.
Collective2: Collective2 connects independent traders with investors through an online web platform. Traders from around the world ask Collective2 to track their trading results in real-time. Other investors can "subscribe" to these traders, and can automatically follow their trades in their own brokerage account. Providing retail investors access to true "alternative" investments, Collective2 has grown to over 100,000 users tracking over 5,000 active strategies. Over $75 million of investor capital is linked to strategies on the Collective2 platform.
SigFig: SigFig allows users to create custom portfolios based on their long-term financial goals that are then run by their algorithms. The app also offers advisor analysis to compare the fees they're being charged against the performance of their portfolios. SigFig also offers diversified income management that will optimize the bonds, CD's and other fixed income assets in your portfolio.
Wealthfront: Wealthfront is one of the leading players in the robo-advisor fintech vertical, and this year has redefined what it means to be an automated advisor. The company offers a hands-off digital investment and financial planning app that manages investments for clients and allows them to plan for life events like retirement, sending kids to college, and so on all through their smartphones. Its focus on mobile technology and younger clients put it in good shape to dominate the industry going forward.
If you're looking for cool fintech startups and access to top financial institutions, and are sick of attending stuffy corporate conferences, the Benzinga Fintech Summit is the event for you. Visit www.bzsummit.com for more details.
Connect with us on social media — use the hashtag #BZsummit and #Fintech to spread the word!
Posted-In: Benzinga Fintech Summit Collective2 SigFig WealthfrontFintech Reviews General
View Comments and Join the Discussion!