Wealthfront Plans To Be Market Leader For Millennials, 'Absolutely' Plans To Make It To An IPO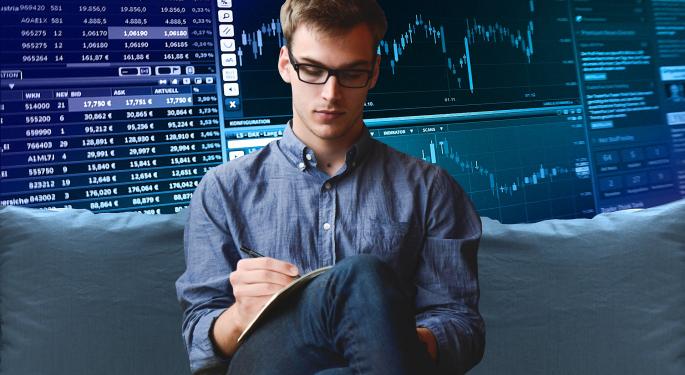 Wealthfront is one of the leading players in the growing robo-advisor fintech vertical and this year has redefined what it means to be an automated advisor.
Based in Redwood City, Calif., the company offers a hands-off digital investment and financial planning app that manages investments for clients and allows them to plan for life events like retirement, sending kids to college and so on all through the ease of their smartphones, without ever having to email or call an advisor.
In an interview with Benzinga, Wealthfront Senior Director of Communications Kate Wauck explained that the company is the "only one who is narrowly focused on using only software to deliver financial services."
Mobile Focus
Wauck says what Wealthfront does different from other fintech and institutional robo-advisors is its mobile focus.
"We do everything on our phones," Wauck said. "Why should our financial services be any different? We're really optimizing around mobile because that's where our client is."
The company's target audience is the older set of millennials – people in their 30s and 40s. These are the people that Wauck says want to move away from the run-of-the-mill financial institutions. She says these customers want to use technology while going through important financial phases of life, such as getting married or saving for a child's college tuition.
Instead of having to call and email to schedule a yearly face-to-face meeting a traditional advisor, Wealthfront allows people to "get answers on your own time waiting for your morning coffee or on the subway during your morning commute." The company can provide this level of granularity entirely on mobile because they connect to all of your financial accounts – bank, brokerage, mortgage, student loans – you name it. This allows the app to consistently use your most up to date data to give you the answers you're searching for in that moment.
What's Different?
Although Wealthfront was a big player in introducing robo-advising, traditional institutions like Fidelity, TD Ameritrade Holding Corp. (NASDAQ: AMTD), and Blackrock, Inc. (NYSE: BLK) are have all entered the field. Wealthfront believes its younger target audience combined with a pure play software approach vastly differentiates them from the competition.
Wauck said, "[The competition's] average client is a lot older than ours. They're late 50s, 60s, in retirement, about to enter retirement. They're not digitally native. They don't want a Wealthfront service; they want to speak to someone. Our core audience, they really do not want to speak to someone. That technology-only approach really allows us to go after a new whitespace that no one else is really paying attention to."
Wealthfront's focus on technology is interesting, given that other robos have begun to develop "cyborg" advisors with a blend of algorithmic and human advice.
New Products
Wealthfront has also launched new products in 2017 and plans to roll out more to fit the needs of their growing user base. It's launched the first-ever software-based financial planning service called Path earlier this year, as well as a line of credit product. Both have driven growth numbers for the company this year.
According to Wauck, the company's expansion into other aspects of financial management outside of the robo-advisor offering is what truly differentiates Wealthfront.
"For us, in order to really be an automated investor you need to cover investment management, you have to cover financial planning, you have to cover personal banking," she said. "We're currently the only one in all three of those areas."
Organic Growth
Although recent reports have shown that competitor Betterment is worth $800 million, any comparisons of the two should note the differences in the two company's business models. Customer acquisition costs in the roboadvisor space are rumored to be high, but Wauck said Wealthfront's are lower than the competition's.
"We are not [raising money]," Wauck said. "One of the big differences between our business model and that of the competition is that we've grown almost exclusively organically. We don't spend any money on marketing. That means that our cash burn is a lot lower, and we don't need to raise money as frequently."
The company seems confident in its strategy—it's long-term strategy involves an eventual IPO.
"Yes absolutely [we want to have an IPO]," Wauck said. "That's definitely the goal to reach an IPO someday. I think you'll see a few players remaining at that point [in roboadvising before that time], but honestly no one is approaching it the way that Wealthfront is therefore we plan to have the biggest share of our market."
If you're looking for cool fintech startups and access to top financial institutions, and are sick of attending stuffy corporate conferences, the Benzinga Fintech Summit is the event for you. Visit www.bzsummit.com for more details.
Connect with us on social media — use the hashtag #BZsummit and #Fintech to spread the word!
View Comments and Join the Discussion!
Posted-In: Benzinga Fintech Summit Kate WauckFinancial Advisors Fintech IPOs Markets Personal Finance General Best of Benzinga