How Foursquare Quietly Became A Data-Science Powerhouse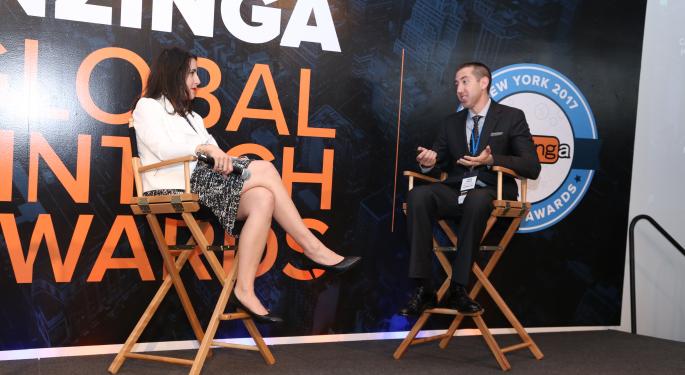 Social media's war for your mind-share has largely settled into a stalemate between the Facebook Inc (NASDAQ: FB)/Snap Inc (NYSE: SNAP)/Twitter Inc (NYSE: TWTR) triumvirate.
There's only so much time people can spend on social media, and besides, we've always been at war with Oceania.
The social media sites of yore, like MySpace, have graduated to the realm of memes for internet veterans. One app, however, has reinvented itself as a global tracker of where people are and commoditizes that data for Wall Street's consumption.
That's what Foursquare's director of enterprise business development Conor Moran told the audience at the 2017 Benzinga Global Fintech Awards. In an interview with International Business Machines Corp. (NYSE: IBM) Watson's product management leader Suzanne Livingston, Moran described how Foursquare can tell when people are visiting over 93 million locations worldwide without them even opening Foursquare or its sister app, Swarm.
"Since the company's inception, we've been building a technology that we call Pilgrim," Moran said. "What Pilgrim allows us to do is record 'passive visits' without the user having to do anything on their phone. Your phone's in your pocket or purse and you stop by one of these 93 million venues, you're there for a certain amount of time, [which the app determines] based on velocity and a lot of machine learning work, but then we know that you're actually there. That's where we derive our insights from."
Move Your Feet, Move The Street
Those insights have significant material impacts. In April 2016, Foursquare CEO Jeff Glueck predicted in a Medium post that first-quarter Chipotle Mexican Grill, Inc. (NYSE: CMG) sales would be down nearly 30 percent, based on Foursquare foot traffic data. Two weeks later, Chipotle reported comps were down 29.7 percent, and the stock slid on the news.
While Foursquare and Swarm may have faded from the general public's memory, Foursquare has widened its reach by integrating into thousands of other consumer apps, Moran said. The company launched a software developer kit in early 2017, and over 100,000 developers pipe data to and from Foursquare using its API for various apps.
These mountains of data inform the predictions Foursquare's team decides to make. The company aggregates data from around 10,000 chains globally, according to Moran.
"Our data scientists take the approach that a hedge fund manager would—big picture, what are we seeing in terms of trends to locations?" Moran said.
What To Do With All This Data?
Foursquare's data library has given rise to multiple business lines. There's enterprise data, which sells data and analytics to hedge funds, lenders and even retailers looking to gauge foot traffic. In tandem, Foursquare offers data solutions to marketers that can measure the effectiveness of digital advertising.
Moran said Foursquare is handling over 1 billion data queries a day, and the company's passive tracking mechanisms are formidable. Livingston asked Moran how the company's customers felt about the fact that their locations are being tracked and commoditized.
Moran responded by saying that Foursquare makes it clear to consumers what's going on when they use its product.
"All of our data is anonymous, aggregated data," Moran said. "We're very clear and transparent about what we do with data, how we analyze it and who we distribute it to. Our terms and conditions have been vetted by compliance officers at some of the most discerning hedge funds out there, and they refer to it as the gold standard."
______ Image Credit: Benzinga Global Fintech Awards
View Comments and Join the Discussion!
Posted-In: Conor Moran FoursquareFintech News Psychology Events Tech General Best of Benzinga