Uber Vs. Lyft: Most Dynamic Clash Since Pepsi And Coke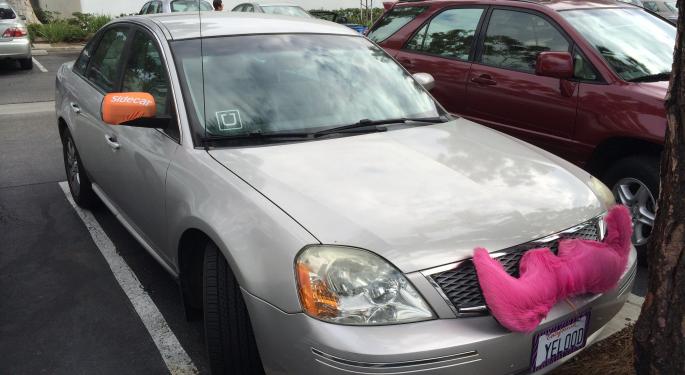 Kimberly Trautmann says Uber Technologies, Inc. vs Lyft, Inc. is the most dynamic clash of competitors since the cola wars took root more than a century ago.
"It is the best example of competitive dynamics since Coke [The Coca-Cola Co (NYSE: KO)] and Pepsi [PepsiCo, Inc. (NYSE: PEP)]," said Trautmann, director of venture capital investments at DRW VC. "It's not a winner-take-all market. You're just competing on price."
Trautmann personally got in early when Lyft was an Uber upstart because the latter was too big not to lose market share. This was before General Motors Company (NYSE: GM) last year made a $500-million investment in Uber.
"It didn't make sense that [Lyft] wouldn't share that market," she said. "If you take the market cap of all the ride-sharing programs and add them up, it's [about] $100 billion."
Trautmann, one of the judges of the Benzinga Global Fintech Awards, said she's been doing fintech since back in the days it was called e-commerce. Her group at Goldman Sachs Group Inc (NYSE: GS), where she was vice president for principal strategic investments, was doing fintech "way before it was cool."
DRW is broadly diversified and even has an investment in Apervita, Inc., which uses analytics to predict health outcomes, and is active in cryptocurrency trading. She works a lot in what's known as "insuretech," noting it has parallels to the revolution in financial services.
See Also: A Day In The Life Of The Fintech CEO Attacking Student Loan Debt
Breaking Down The Rideshare Market
But she's particularly excited about the game-changing phenomenon of the ride-sharing boom, noting that one driver she caught a ride with had four different phones using four different platforms.
She thinks four ride-sharing services will eventually control the market.
"Uber has been the scapegoat on a lot of negative press and I think they don't want that. As much as I think they want to kill Lyft, I think they also benefit from having them [to advocate with]."
Using publicly available sources, here's how Trautmann breaks down the market caps of the privately held companies (she got into Lyft when its cap was under $2 billion):
Uber: $70 billion.
Lyft: $7.5 billion.
Gett, Inc.: $1 billion.
Via Transportation, Inc.: $1 billion-plus.
Juno: $5 billion-plus.
Entrepreneurship As Art
When she isn't investing, Trautmann cultivates her artistic side by painting and drawing. She thinks she impressed her employers with her entrepreneurial spirit when she, during her interview, made her own jewelry and sold it to stores.
"I've always been artistic," said Trautmann, 32, a native of the upstate New York town of Massena.
She's also a supporter of the Chicago Tech Academy High School, a college prep school focused on STEM education and real world experience with the Chicago tech community.
For someone on the cutting edge of financial technology, her current cocktail of choice is, well, distinctly Old Fashioned.
If you're looking for cool fintech startups and access to top financial institutions, and are sick of attending stuffy corporate conferences, the Benzinga Global Fintech Awards is the event for you. From its first year in 2015, the competition grew to over 250 applicants and over 500 attendees in 2016.
Connect with us on social media — use the hashtag #BZAwards and #Fintech to spread the word!
________
Image Credit: By Colin@TheTruthAbout [CC BY-SA 2.0 (http://creativecommons.org/licenses/by-sa/2.0)], via Wikimedia Commons
Posted-In: ApervitaFintech Travel Success Stories Exclusives Tech Interview General Best of Benzinga
View Comments and Join the Discussion!