HealthcareTTU Helps Hospitals Secure Greater Liquidity From Banks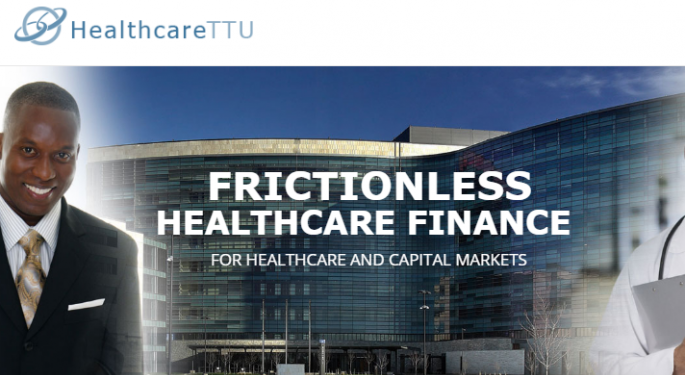 It's almost that time of year.
The 2017 Benzinga Global Fintech Awards is a competition to showcase the companies with the most impressive technology that are paving the future in financial services and capital markets.
To get you prepared for this year's awards, Benzinga will profile each fintech company that has applied. Want to get involved? Submit your company here.
For this installment, we spoke with HealthcareTTU President Pearson Talbert.
What does your company do?
The Healthcare Transformation Trust Utility, HealthcareTTU, is an award-winning healthcare fintech solution that provides complete and hyper-accurate predictive analytics and cash-flow forecasting for hospital/health systems and their financial partners. Through a transparent distributed ledger, HealthcareTTU facilitates more efficient capital financing and lessens the operational burden on hospitals and their financial partners.
What unique problem does it solve?
At $3 trillion per year, U.S. healthcare is big business, and it is complex. Nationally, hospitals average 51 days in accounts receivable, are paid less than half what they charge and often can't identify the final payer.
Hospitals struggle each month to accurately predict cash-flows. Because of the complexities and uncertainties in the payment models of healthcare, when banks finance hospitals, they are forced to rely on aged and imperfect information. This forces the banks to hedge more than they normally would in other commercial business lines. Hospital loan advance rates are typically less than half that of other commercial businesses. There is remarkable predictability in healthcare cashflows that isn't efficiently leveraged today.
By utilizing a complete and transparent distributed ledger technology, offered through an independent custodial utility that provides hyper-accurate cash-flow forecasts, banks may offer greater liquidity to their healthcare customers. Banks win by deploying more capital as they now have better information. Hospitals win by receiving greater liquidity when they need it. Both parties reduce the amount of operational effort that it takes to support their side of the financing equation. Additionally, hospitals may use the near real-time financial information from the HealthcareTTU to streamline their own internal operations, reducing financing costs, diligence M&A activity, etc.
Who are your customers?
Health systems, banks, audit partners, ratings agencies, financial advisors.
How long have you been in business?
We formed in 2014 and went live in 2017.
Where are you located?
Franklin, TN, a suburb of Nashville.
Who is your company's leadership?
Art Thomas — Chairman of the Board.
Bill Anderson — CEO.
Pearson Talbert — President.
John Kellar — Chief Technology Officer.
Chris Birk — Chief Product Officer.
Jae Waldron — Treasury Services Officer.
Amy Calton — General Counsel and Chief Compliance Officer.
What kind of experience do they have?
Our team brings more than 300 years of operational experience from the fields of finance, accounting, legal, healthcare and banking.
Is there anything else Benzinga should know about your company?
2017 Cedars-Sinai Accelerator powered by Techstars.
2015 UBS Future of Finance–Regional Winner — Americas.
2015 UBS Future of Finance–Global Finalist.
_________
For another fintech profile, click here to read about how Validis, a cloud-based fintech, extracts and standardizes financial data.
If you're looking for cool fintech startups and access to top financial institutions, and are sick of attending stuffy corporate conferences, the Benzinga Global Fintech Awards is the event for you. From its first year in 2015, the competition grew to over 250 applicants and over 500 attendees in 2016.
Connect with us on social media — use the hashtag #BZAwards and #Fintech to spread the word!
_____
Image Credit: screenshot from HealthcareTTU
Posted-In: HealthcareTTUFintech Health Care Top Stories Tech Interview General Best of Benzinga
View Comments and Join the Discussion!