Alternative Stock Exchange IEX Aims To Eliminate High-Frequency Trading Advantages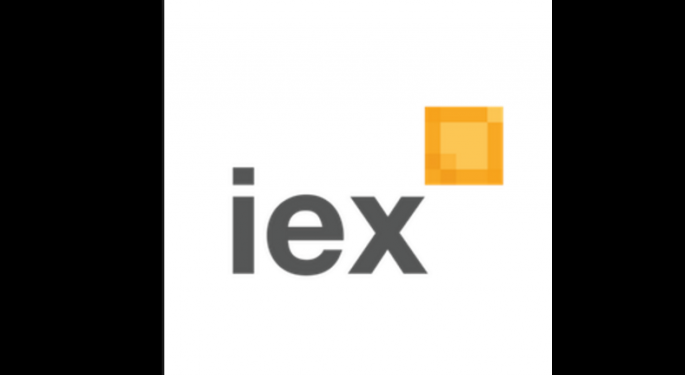 It's almost that time of year.
The 2017 Benzinga Global Fintech Awards is a competition to showcase the companies with the most impressive technology that are paving the future in financial services and capital markets.
To get you prepared for this year's awards, Benzinga will profile each fintech company that has applied. Want to get involved? Submit your company here.
For this installment, we spoke with IEX Group.
What does your company do? What unique problem does it solve?
IEX was founded as an alternative to a stock market that — instead of governing the market in the interests of investors and publicly traded companies — had evolved to monetize speed at the expense of long-term investors.
Built on the belief that every investor is entitled to the same right to trade on equal terms on every trade, IEX is on a mission to level the playing field by eliminating unfair advantages from the markets.
Who are your customers?
IEX's ideal "customer" can be a broker-dealer Member that trades directly on the venue, an investor who trades through a broker-dealer or a company that lists on IEX. That customer believes in a marketplace where, over the long term, skill, ideas and ingenuity win over purchasing faster data connections.
How long have you been in business?
IEX was founded in 2012, debuted as an off-exchange marketplace in 2013, was approved in June 2016 and formally launched on Sept. 2.
Where are you located?
IEX is headquartered in New York City, and its trading technology is located in New Jersey.
Who is your company's leadership?
IEX is led by CEO Brad Katsuyama, a veteran of the Royal Bank of Canada who uncovered the way stock exchanges were selling unfair advantages to certain high-speed traders at the expense of longer-term investors. Katsuyama assembled a team of experts at RBC that doggedly investigated the issues their clients were experiencing and built a new product that transformed how large investors traded on the market.
Ultimately, he and his co-founders decided that the best way for them to scale their impact on the system was to build a new exchange from scratch. Katsuyama and his team — including IEX president, Ronan Ryan (a networking infrastructure expert); chief operations officer, John Schwall (a 20-year, cross-functional financial services veteran); and chief technology officer, Rob Park (a quantitative and algorithmic trading expert) — left RBC to launch IEX in 2012.
Is there anything else Benzinga should know about your company?
Since launching as an exchange, IEX has grown its market share by more than 50 percent and now handles more than 140 million shares daily with a notional value of over $6 billion (as of Feb. 2017).
IEX competitor Bats Global Markets ranks IEX No. 1 among the exchanges in effective spread, the metric Bats uses as a proxy for trading quality.
IEX plans to begin listing publicly-traded companies in 2017.
________
For another fintech profile, click here to read about how Private Wealth Systems empowers ultra high-net-worth individuals.
If you're looking for cool fintech startups and access to top financial institutions, and are sick of attending stuffy corporate conferences, the Benzinga Global Fintech Awards is the event for you. From its first year in 2015, the competition grew to over 250 applicants and over 500 attendees in 2016.
Connect with us on social media — use the hashtag #BZAwards and #Fintech to spread the word!
Posted-In: Brad Katsuyama IEX Group John Schwall Rob ParkFintech Success Stories Interview General Best of Benzinga
View Comments and Join the Discussion!