Private Wealth Systems Empowers Ultra High-Net-Worth Individuals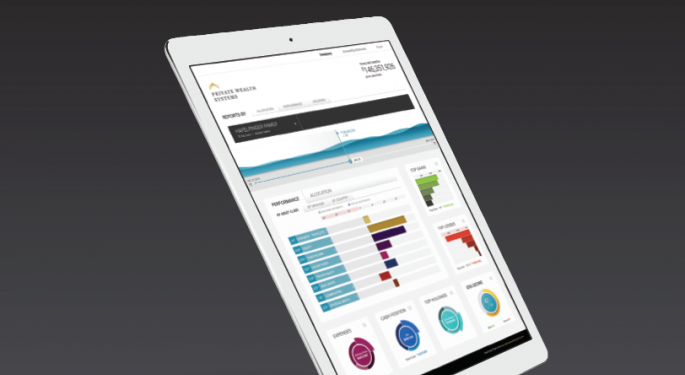 It's almost that time of year.
The 2017 Benzinga Global Fintech Awards is a competition to showcase the companies with the most impressive technology that are paving the future in financial services and capital markets.
To get you prepared for this year's awards, Benzinga will profile each fintech company that has applied. Want to get involved? Submit your company here. For this installment, we spoke with Private Wealth Systems CEO Craig Pearson.
What does your company do? What unique problem does it solve?
Private Wealth Systems is a global financial technology company that is revolutionizing the way ultra-high net worth investors, and their trusted advisors, engage in the management of complex global private wealth. The company's subscription based software platform captures, consolidates, cleanses, calculates, and presents actionable investment information across complex multi-asset, multi-manager, multi-jurisdictional portfolios, for better, faster decision making.
We are unique because we are solving the industry's three greatest challenges; data capture, data processing, and data presentation that impact those who influence the world's economies. Without our system, the 187,500 individuals who have over $30 million in private wealth must rely on Excel to gain active oversight over the drivers of risk and return across their entire wealth. Our system empowers wealth owners to take control and engage their advisors in a way that was not possible just a few years ago.
Who are your customers?
We work with ultra-high net worth individuals, private bankers, family offices, and registered investment advisors across the Americas, Northern Europe, Asia, and the Middle East.
How long have you been in business?
We were founded in January 2015 and launched our initial release in June 2016. We now have clients across seven countries. Although we're a fintech startup, we have the most experienced team in the industry which is comprised of industry pioneers who have provided consolidated reporting software and services for over 270 family offices across eight countries, often times working with the wealthiest families within their home jurisdictions.
Where are you located?
Charlotte, North Carolina, with plans to open our EMEA headquarters in Switzerland in 2017.
Who is your company's leadership? What kind of experience do they have?
Craig Pearson was president of WealthTouch which was the largest and fastest growing provider of family office reporting until the company was sold in November 2014. Craig worked with 270 family offices in eight countries and had exclusive relationships with Citi, JPMorgan, Credit Suisse, UBS, Golman-Ayco.
Co-Founder EVP – Joanne Frawley. Joanne has helped design and build consolidated UHNWI reporting platforms for several of the top software companies and family offices in the world, including the Rockefeller family. Joanne is among the very few female fintech entrepreneurs who has hands on responsibilities for coding and building out the platform.
Anything else Benzinga should know about your company?
In October 2016, Private Wealth Systems was ranked among American Bankers Top 20 Technology Companies to Watch. ACQ named Craig Pearson its FinTech Game Changer. In January 2017, Private Wealth Systems was shortlisted by Family Wealth Report for Best Client Reporting. Also In January, Private Asset Management (PAM) shortlisted Private Wealth Systems for Best Reporting Solution, Best Newcomer, and Best Family Office Service Provider.
If you're looking for cool fintech startups and access to top financial institutions, and are sick of attending stuffy corporate conferences, the Benzinga Global Fintech Awards is the event for you. From its first year in 2015, the competition grew to over 250 applicants and over 500 attendees in 2016.
Connect with us on social media -- use the hashtag #BZAwards and #Fintech to spread the word!
Posted-In: Benzinga Global Fintech Awards Private Wealth SystemsFintech Entrepreneurship Startups Small Business Interview General Best of Benzinga
View Comments and Join the Discussion!