KAI Banking Makes Consumer Experience 'As Natural As Texting A Friend'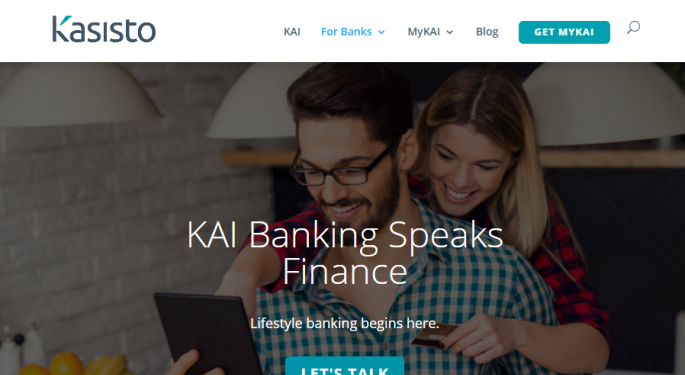 It's almost that time of year.
The 2017 Benzinga Global Fintech Awards is a competition to showcase the companies with the most impressive technology that are paving the future in financial services and capital markets.
To get you prepared for this year's awards, Benzinga will profile each fintech company that has applied. Want to get involved? Submit your company here.
For this installment, we spoke with KAI Banking Co-Founder Dror Oren.
What does your company do?
Kasisto's conversational AI platform, KAI, powers smart bots and virtual assistants on messaging platforms, mobile apps, web, wearables and IoT. Kasisto licenses KAI to the world's leading financial institutions to empower intelligent conversations with their customers. KAI-powered bots and assistants have the expertise to help customers with payments, transaction and account insights and personal finance management, as well as provide banks with new ways to support and sell to their customers. The consumer experience is as natural as texting a friend.
With KAI, financial institutions are able to provide their digital customers with immediate answers, personalized recommendations and excellent user experience. KAI-powered conversations enable financial institutions to reduce customer care costs by empowering customers to self-serve, increase sales with contextual and personalized offers and increase engagement via omnichannel interactions — meeting customers where they are, whether that's their bank's mobile app or website, or Facebook Messenger.
Who are your customers?
Kasisto is licensing KAI Banking to financial institutions, including the world's most innovative retail banks, credit card companies, brokerage houses and wealth management firms. Many leading FIs are in various stages of deployment under NDA. Publicly announced customers include DBS Bank, Mastercard, Royal Bank of Canada and Varo Money.
How long have you been in business?
Kasisto was founded in 2013.
Where are you located?
It is headquartered in NYC with offices in Mountain View, California and Singapore.
Who is your company's leadership? What kind of experience do they have?
Zor Gorelov, co-founder and CEO, has over 20 years of experience in the software industry. He was the co-founder and CEO of SpeechCycle, a market leader in cloud-based contact center optimization solutions for the telco market. SpeechCycle was acquired by Synchronoss Technologies, Inc. (NASDAQ: SNCR). Before that, Gorelov founded and ran BuzzCompany.com, a provider of enterprise collaboration and messaging software, which was acquired by Multex.com.
Dror Oren, co-founder and vice president of Product, has over 10 years of experience in software engineering, marketing and product management. Prior to Kasisto, Oren was an executive director in the SRI Ventures team at SRI International, where he focused on commercialization of technologies in information and computer sciences and helped spin out companies such as Tempo.ai and Desti.
__________
For another fintech profile, click here to read about how Private Wealth Systems empowers ultra high-net-worth individuals.
If you're looking for cool fintech startups and access to top financial institutions, and are sick of attending stuffy corporate conferences, the Benzinga Global Fintech Awards is the event for you. From its first year in 2015, the competition grew to over 250 applicants and over 500 attendees in 2016.
Connect with us on social media — use the hashtag #BZAwards and #Fintech to spread the word!
__________
Image Credit: screenshot from http://kasisto.com/kai-banking/
Posted-In: KAI BankingFintech Top Stories Tech Interview General Best of Benzinga
View Comments and Join the Discussion!