Betterment Pushes Personal Finance Into Age Of Automation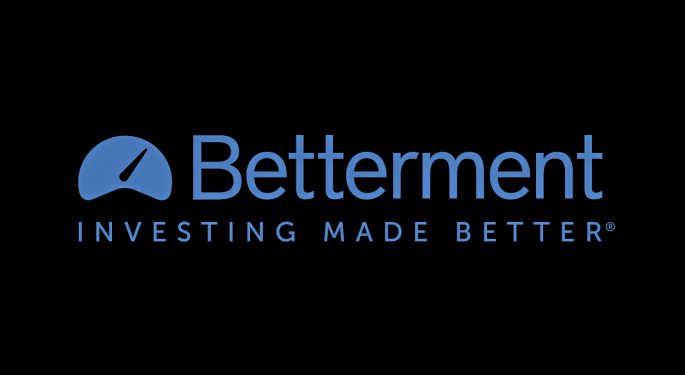 It's almost that time of year.
The 2017 Benzinga Global Fintech Awards is a competition to showcase the companies with the most impressive technology that are paving the future in financial services and capital markets.
To get you prepared for this year's awards, Benzinga will profile each fintech company that has applied. Want to get involved? Submit your company here.
For this installment, we spoke with Betterment spokesperson Danielle Shechtman.
What does your company do?
Betterment is the largest online investment advisor managing over $7.8 billion in assets for more than 220,000 customers. We're taking what has worked for decades and using technology to make it more efficient, saving you time while helping to increase your after-tax returns. Betterment can provide advice to clients through our existing digital platform or through one of our licensed professionals. If you're someone who wants to have a dedicated advisor that you'll always work with, we can refer you out to an independent RIA who uses Betterment to manage their clients assets.
Who are your customers?
The average age for our customers is 36, however, 30 percent of our assets come from the 50+ segment.
How long have you been in business?
Betterment was founded in 2008 but officially launched in 2010.
Where are you located?
New York City.
Who is your company's leadership?
Jon Stein, founder and CEO of Betterment, earned his bachelor's in Economics from Harvard and his MBA from Columbia University. Prior to starting Betterment, Jon was a consultant at First Manhattan Consulting Group focusing on product development, risk management and investment portfolio policy. Stein started Betterment to re-invent the investing industry so that it would work as we want it to. Stein wanted a service that did all of this for him: told him what to do with my money, and then did it. He realized that the only way he was going to get something like that was to build it himself.
Eli Broverman is co-founder and president of Betterment and oversees the company's business operations, strategic initiatives and legal matters. Broverman had a vision that smarter technology will help people better plan for their financial needs and reach their goals. Through his work at Betterment, Broverman aims to make personal finance one of the first fields to reach the age of automation. Prior to forming Betterment, Broverman practiced law at the international law firm Proskauer Rose LLP, where he advised Fortune 500 companies and their senior management on securities, tax and compensation matters. Broverman is a graduate of Brown University and New York University School of Law.
For another fintech profile, click here to read about how Private Wealth Systems empowers ultra high-net-worth individuals.
If you're looking for cool fintech startups and access to top financial institutions, and are sick of attending stuffy corporate conferences, the Benzinga Global Fintech Awards is the event for you. From its first year in 2015, the competition grew to over 250 applicants and over 500 attendees in 2016.
Connect with us on social media — use the hashtag #BZAwards and #Fintech to spread the word!
Posted-In: BettermentFintech Success Stories Tech Interview Best of Benzinga
View Comments and Join the Discussion!