Web Financial Group Combines Intelligence Of Adtech With Fintech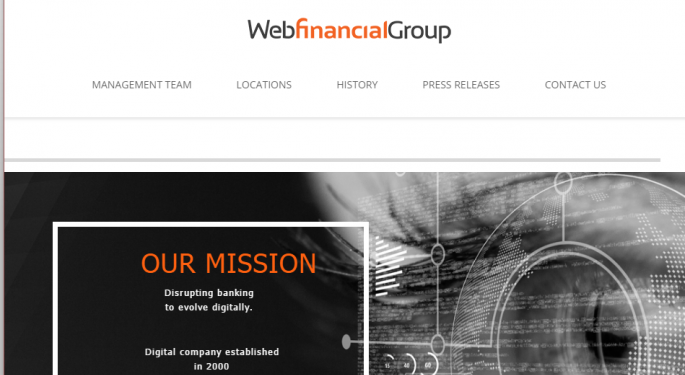 It's almost that time of year.
The 2017 Benzinga Global Fintech Awards is a competition to showcase the companies with the most impressive technology that are paving the future in financial services and capital markets.
To get you prepared for this year's awards, Benzinga will profile each fintech company that has applied. Want to get involved? Submit your company here.
For this installment, we spoke with Web Financial Group President Jeremy Diamond (answers have been edited for length and clarity).
What does your company do? What unique problem does it solve?
Web Financial Group is the only company that combines the intelligence of Adtech with the efficiency and user-driven approach of Fintech. Web Financial Group has focused on partnering with financial institutions to democratize access to market-moving investment information for retail investors around the globe. Today, Web Financial Group continues its commitment to innovation as a data-driven managed service solutions provider, bringing innovative technology solutions to help financial institutions better meet the evolving needs of investors.
Who are your customers?
We serve more than 170 financial services clients including retail and institutional banks, financial institutions and insurance companies.
How long have you been in business?
We were founded in 2002.
Where are you located?
We're headquartered in Madrid, Spain with a strong presence throughout Europe, North America and Latin America.
Who is your company's leadership? What kind of experience do they have?
I am the president of North America and possess deep experience launching new businesses, raising capital, creating go-to-market strategies, selling financial technology solutions to all sizes and types of financial firms, managing global P&L's, as well as product, technology and client development teams.
I have led minority investments in start-up companies as a strategic investor/partners served on multiple boards. He was also part of the founding team of Capital IQ joining in mid-2000, managing client development teams and geographic regions for the firm.
Specialties include financial, company & people data, alternative and quantitative research technology platforms.
Is there anything else Benzinga should know about your company?
Web Financial Group's Tech division integrates innovative technology to build the most efficient market and financial data platforms for financial institutions to meet the needs of their retail investors. Web Financial Group's Media division offers client acquisition & activation tools using its audience of more than 20 million unique users globally, allowing financial institutions to deliver targeted messages and ads to clients based on their online behavior.
If you're looking for cool fintech startups and access to top financial institutions, and are sick of attending stuffy corporate conferences, the Benzinga Global Fintech Awards is the event for you. From its first year in 2015, the competition grew to over 250 applicants and over 500 attendees in 2016.
Connect with us on social media — use the hashtag #BZAwards and #Fintech to spread the word!
Image Credit: Screenshot via Web Financial Group
Posted-In: Jeremy Diamond Web Financial GroupFintech Success Stories Interview General Best of Benzinga
View Comments and Join the Discussion!